The Mantra That Helped This Paralympic Medalist Thrive After Losing Her Legs
mbg Contributor
By Leigh Weingus
mbg Contributor
Leigh Weingus is a New York City based freelance journalist writing about health, wellness, feminism, entertainment, personal finance, and more. She received her bachelor's in English and Communication from the University of California, Davis.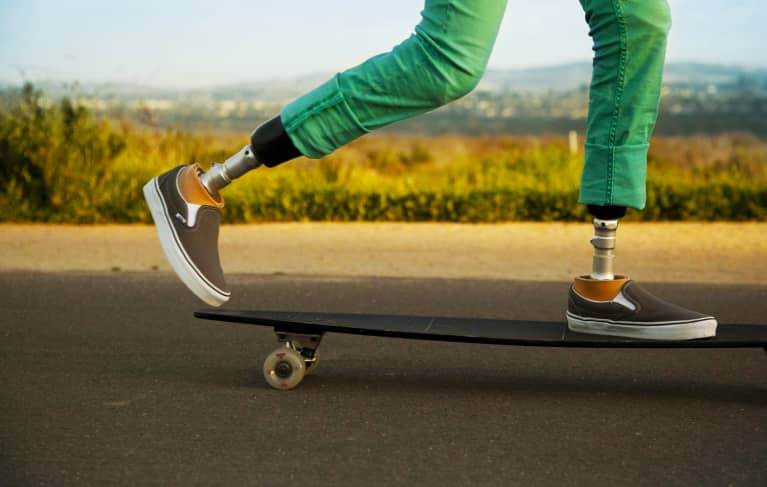 Amy Purdy was 19 when she was diagnosed with bacterial meningitis. A rare disease affecting just 4,000 people per year, it's very serious—10 percent of people who contract it die from it, according to the CDC. Purdy was lucky enough to live, but she went into septic shock and lost both her legs in the process.
"The doctors initially told me they didn't know if I would ever walk again," she says. "I just remember thinking, well, what if this just hasn't yet been done or figured out? I was determined to snowboard and use my legs again."
As determined and resilient as Purdy was for someone in her position, the days following her bleak diagnosis weren't easy. Still, she's gone on to win a bronze medal at the 2014 Paralympics, compete on Dancing With the Stars, and found her own nonprofit, Adaptive Action Sports. So, how did Purdy come out of a challenge like this with such strength and success?
"I wanted to focus on what I had left."
Before losing her legs, exercise had always been a huge part of Purdy's life. She loved to snowboard, and she went to the gym five times a week. When she lost the use of her legs, she decided to work with what she had left.
"Before I got my prosthetic legs, I would do floor exercises like crunches and donkey kicks and leg lifts and pushups, because I wanted to focus on what I had left," she explained. "I knew I couldn't do squats, but I also knew there were other ways I could get stronger. I had to find control somewhere, so I decided to control how I took care of myself. And since then I've gone on to do so much in my life, snowboarding at a high level, dancing on Dancing With the Stars. Things are different, but instead of focusing on what I can't do, I focus on what I have."
Finding resilience through visualizations.
The period following losing her legs was a dark one for Purdy. She spent a lot of it in bed, and even once she did get her prosthetics, it took her a while to feel comfortable in them—when prosthetics are even just a millimeter off, it can make all the difference for an amputee.
"There were moments when I thought to myself, Even if I snowboard again, how will I ever be happy again? But eventually I got sick and tired of being sick and tired," says Purdy. "I started actually visualizing what I wanted from my life. I didn't want people to feel sorry for me. I've always known myself as being active and healthy and capable, so I started visualizing what I wanted for my life, and I saw myself walking gracefully and snowboarding. I saw myself traveling and helping other people and letting them know everything would be OK, whatever it was they were going through."
The mantra that got her through.
In addition to her visualizations, Purdy had a mantra she called on every time she was feeling defeated. "I would say, 'If my life were a book and I were the author, how would I want this story to go?'" she says. "That was a key motivator for me. I decided I wasn't going to lie in bed and feel sorry for myself; I was going to have to use this to help better myself in the world."
Above all, she learned a lesson: What you have now can be gone in an instant. "You can't be too married to what you have, because it can leave in the blink of an eye," she says. "You don't want to have crazy attachments to who you think you are and what you have, you want to be accepting of what you have in your life. It's a matter of making the choice to persevere, getting creative, and finding a way."
To learn more about Amy, visit teamusa.org. The Olympics begin live on February 8 and The Paralympics begin on March 9.
,