The Difference Between People Who Achieve Their Goals & People Who Don't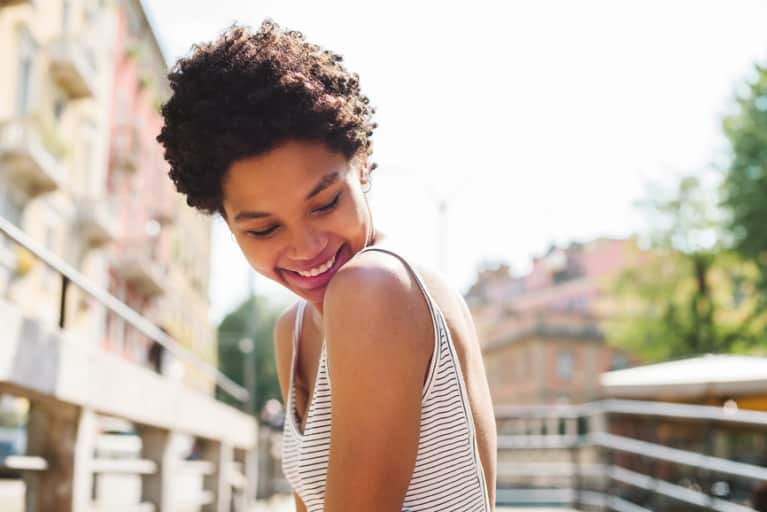 If you're reading this article, it's likely you're invested in taking care of your mind, body, and spirit.
You probably wake up early for an uplifting morning routine—yoga or meditation—followed by a healthy breakfast. Then you head to work, where you put your all into every project (always making time for walking meetings and regular stretch breaks) and choose matcha over coffee when you need an energy boost.
If you're a parent, you do all of this while also doing everything for everyone else.
But let me ask you this: How often do you actually give yourself any credit for doing these amazing things?
Most of us put so much time and energy into trying to care for ourselves and care for those we love that we don't have any left to put into self-encouragement. But when you're not giving yourself constant encouragement, your self-esteem takes a nose-dive; sticking to your healthy routine becomes a challenge; and trying to accomplish bigger things feels more like a pipe dream than a real possibility.
That's why I advise all of my coaching clients and readers to adopt one ridiculously simple, absurdly effective habit: Encourage yourself—at least 10 times a day.
It might sound like the kind of life advice you'd expect Barney to give to Baby Bop, right along with, "You're special!" But the most obvious insights are often the most powerful. Scheduling time to encourage yourself will allow you to finally give yourself the approval and support you've been craving. You become your own personal coach. You develop resilience.
As a coach, I guarantee my clients results when they do the work—sticking to fitness routines, planning and executing career goals, and so on. But I often find that they've already been doing the work consistently for years. They've created successful careers, and they've done everything "right"—but they still struggle with poor self-esteem, which makes them susceptible to toxic people and prevents them from trying new things that are good for them.
Almost inevitably when this is the case, the root of their stagnation is a lack of self-encouragement.
When someone comes to me with this issue, my primary function is to help them formalize the process of encouragement. It includes making a list of things that deserve appreciation—regular movement, meditation, fun, accomplishing something you've been procrastinating about, and creative expression. I have them write down "Encourage yourself!" 10 times, and put a checkbox next to each one. Even though I give each client support and motivation for their efforts, my program is only eight weeks long. In order for their results to stick, they must learn to encourage themselves.
After my clients complete one of their daily goals or make a good decision, they're instructed to applaud their effort. It might feel funny at first, but you'll get used to it before long. Your soul craves appreciation. Next time you do something good for yourself, try to thank yourself the way you'd thank a friend who'd done the same thing for you. "Thank you so much for taking the time to cook healthy food for me. Thank you for always doing what's best for me. I feel so appreciated when you do that."
No joke—many of my clients found this small habit powerful enough that they no longer felt they needed therapy. When you make positive self-talk a habit, you start feeling better—immediately—and you make better decisions.
Self-encouragement might feel strange at first—it did for me, too. That's because we're conditioned to talk negatively about ourselves. But when you stick with the habit, you get acceptance and encouragement for your good decisions, and you start feeling motivated to make even better decisions.
After a few days of this, you'll find yourself winding down some evening, and right when you'd normally drift off to the background noise of some trashy TV show, you'll think, "No. I'm doing something good for myself," and you'll spend that time journaling, or you'll take an aromatherapy bath and read a good book, or you'll decide to dive into a passion project.
And after you've made that amazing decision, you'll thank yourself. "You are blowing my mind right now with these incredible decisions—I'm so proud of you! And I'm so grateful for the effort you're putting into me!" How good does that feel?
With this attitude of continual self-encouragement, your good decisions are finally incentivized. In knowing that you'll be encouraged for your effort and accepted no matter what, you'll find yourself emboldened to do more amazing things, and when you consistently feel good about doing good things for yourself, you're in the sweet spot of life. Your self-esteem will rise to an all-time high and just keep growing. And you'll finally have the confidence to start taking those big risks in life—like undertaking the career you're passionate about.
Do you have room in your life for 10 little checkboxes?
If you commit to this daily goal of self-encouragement, these 10 little checkboxes could make all the difference in your life. But you'll never know unless you try.
If you're not sure where to start, here are some self-encouragement templates you can use:
"I am so, so, so, so, SO grateful for the amazing decisions you are making! Keep it up!"
"Thank you for living my dreams—I love you!"
"You are kicking so much ass that my foot is literally hurting! Good job!"
"That thing you just did—that's making my life amazing, and I am so thankful for your effort."
"Thank you so much for doing what's right for me."
If you just think these encouraging thoughts as you check off that self-encouragement box, you're off to a good start. But the positive effects intensify when you say them out loud and in front of a mirror.
There's no action too small to deserve appreciation. Here are a few things to consider thanking yourself for:
Making your bed.
Any self-care: brushing your teeth, showering, putting effort into your appearance.
Exercising.
Making any effort toward your happiest and healthiest self.
Making money and supporting yourself.
Accomplishing any goal you set for yourself.
Rejecting negative thoughts and accepting yourself instead.
Lifting up other people.
Doing what's right especially when it's hard.
Making yourself proud.
Making time for friends and family.
Forgiving someone instead of holding a grudge.
Donating your time and money to charity.
Working toward your dreams.
Giving your best effort.