This May Be The Key To Being Happy At Work, Study Says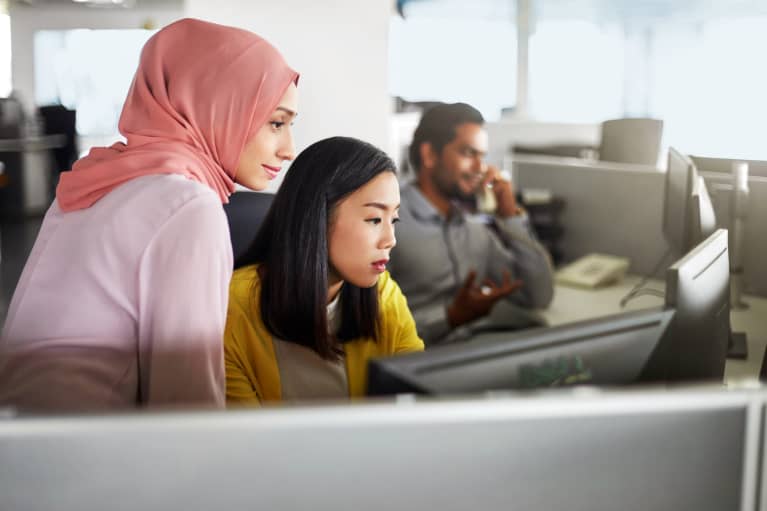 February 26, 2019 — 19:07 PM
If you find yourself taking on a new "workplace persona" every time you enter the office, you could be sabotaging your relationships and cluttering your mind with anxious thoughts. Yet disclosing honest information as intimate as your own mental health to your co-workers and bosses can be—simply put—terrifying. New research has found, however, that being open with unseen stigmas can actually work in your favor.
By reviewing more than 65 studies relating to happiness and work culture, research for the Journal of Business and Psychology found that all signs point to the benefits of being genuine. Talking about your anxiety or other mental health problems made people not only happier but also more productive in the office. When striking a work-life balance can be tricky, it seems like a no-brainer to want a work environment that feels like a truly supportive community.
As research has previously shown, support can be tantamount to helping you through difficult periods of depression, anxiety, or other mental health problems. The research didn't stop simply with mental health. Other unseen factors like sexual orientation, disability, or pregnancy, when shared, also fostered a sense of commitment and certainty to workplace roles, contributing to overall satisfaction.
Researchers chalk up these benefits to three central tenets: creation of new connections, improvement of relationships, and the mental release of unwanted thoughts are all said to go hand-in-hand with being open.
Mental health is finally gaining traction as a topic that should be brought to light and taken seriously. Sure, the key to becoming your most productive self could be getting organized or looking to nature, but simply being the most authentic version of yourself, despite the challenge of having those difficult conversations, will foster a workplace environment to truly keep you grounded.