The 4 Decluttering Tips Reese Witherspoon's Organizers Swear By
mbg Sustainability Editor
By Emma Loewe
mbg Sustainability Editor
Emma Loewe is the Sustainability Editor at mindbodygreen and the author of "The Spirit Almanac: A Modern Guide To Ancient Self Care."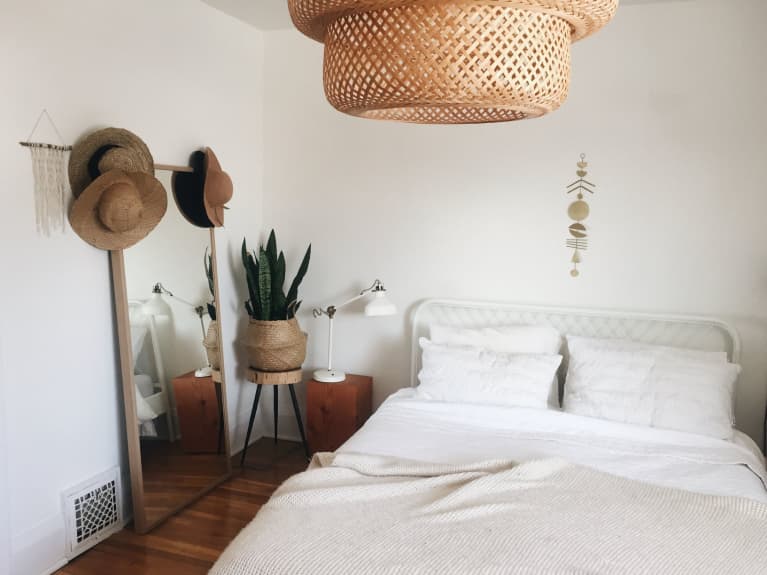 Our editors have independently chosen the products listed on this page. If you purchase something mentioned in this article, we may
earn a small commission
.
Spring cleaning season is upon us! In the coming weeks, mbg will be sharing some of the easiest, most effective tips and tricks we've heard for nixing germs at home. (Check out what we've run so far here.) Today, we've got decluttering tips from two celeb organizers.
Clea Shearer and Joanna Teplin, the duo behind the wildly popular organizing company The Home Edit, are all about that low-bar lifestyle.
The way they see it, dropping your kids off at school on time is something to celebrate, a trip to the grocery store is basically cardio, and cleaning one kitchen drawer is a feat of epic proportions.
For years, their friendly and uber-approachable decluttering philosophy has risen as an alternative to the more rigid KonMari Method created by Marie Kondo. The Nashville-based team now counts Mandy Moore, Molly Sims, and Reese Witherspoon as clients and 1.1 million Instagram followers as fans. They're still hoping to work with Michelle Obama and Oprah one day, but their new debut book The Home Edit: A Guide to Organizing and Realizing Your House Goals, the No. 4 best-seller on Amazon at the time of this writing, might just help them get there.
At Teplin and Shearer's NYC book launch, a panel at the 92Y as part of the XYZ series hosted by Cup of Jo's Joanna Goddard, it was easy to see why they've been so successful. Their tips are comprehensive but still feel doable; specific but still leave some wiggle room. mbg's managing editor and I left the evening event energized to take on the world—or at least our kitchen cabinets—and we both came to work the next morning with a tote bag full of things to give away.
Here are the top space-clearing tips that we learned from The Home Edit gals:
There's research to suggest that if your home is full of clutter, it could raise your cortisol levels. Instead of letting this stress response bum you out, listen to it. What's one small space that stresses you out the most? Make that the first thing you declutter. Whether it's a kitchen cabinet or underwear drawer, The Home Edit team says that getting that under control will give you momentum to move on to more daunting spaces, like your closet or pantry (which, according to them, is the Rubik's Cube of the home).
No matter what space you're working on, the steps they suggest are the same: Take everything out. Create groupings (hair care, body care, nail polish in the bathroom, for example). Get rid of anything you don't love or use. Put everything back, grouping them according to those categories you identified. And last but not least, label your groups!
2. Follow the 80 percent rule.
No matter how small your space may be (looking at you, NYC apartment dwellers), no part of it should be more than 80 percent full, according to Shearer and Teplin. "You have to respect the amount of space you have. It's like with eating: Nobody is comfortable at 100 percent max fullness," Shearer said.
A little breathing room can go a long way, and once you create it, you have to be judicious about maintaining it. "Constantly respect the space. Constantly go through it," she added, saying that for every one thing that comes into your home, you should consider getting rid of one thing.
3. Investigate negative space.
Where is there unused real estate in your home? Maybe it's the tippy-top of a shelf, the back of a deep drawer, or the door of a closet. Whatever it is, consider how storage systems can help you maximize it. The Home Edit team is a big fan of turntables, matching clear boxes, and basically anything from The Container Store. Their pro tip: Buy extras of everything upfront and keep the receipt so you can return them after you declutter. Having to run out to the store in the middle of your cleaning session can majorly derail progress.
If you organize your home too much, chances are it will be a mess again real quick. "Don't organize for a snapshot in time," Teplin said. "Create systems that make sense for your day-to-day, and be realistic about your lifestyle."
The example they gave was that some people aren't realistically going to take the time to pour their cereal into pretty clear containers every week. And that's OK! In that case, they should just designate an area on the shelf to store cereal boxes instead. "We're here to take the guilt away," they said. And that's advice worth keeping.