There Is A Heart-Healthy Reason Women Shouldn't Eat Late At Night
mindbodygreen Editorial Assistant
By Sarah Regan
mindbodygreen Editorial Assistant
Sarah Regan is a writer, registered yoga instructor, and Editorial Assistant at mindbodygreen. She received her bachelor's in broadcasting and mass communication from SUNY Oswego, and lives in Brooklyn, New York.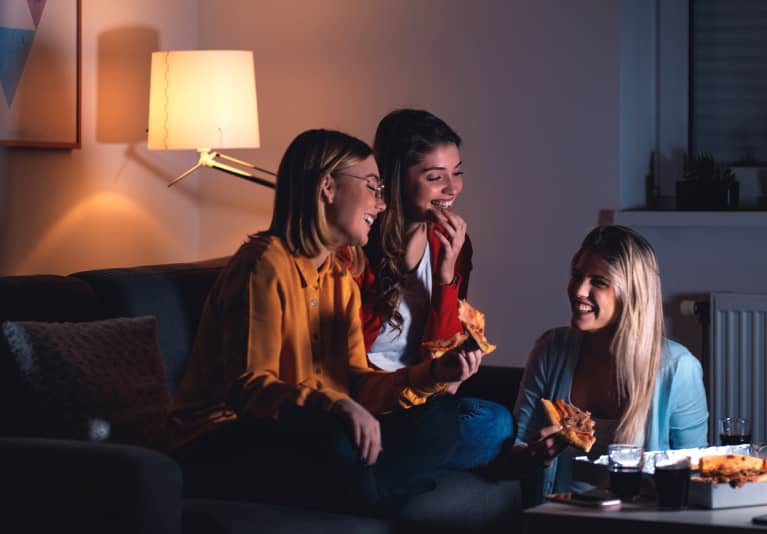 November 14, 2019 — 13:15 PM
When it comes to heart health, we know we have to eat our veggies, avoid processed foods, and manage our stress. But a new study by the American Heart Association (AHA) points to a seemingly innocent, all-too-common habit that correlates with the deadly disease: eating at night.
Seeing as heart disease is the leading cause of death for both men and women in the U.S. (accounting for one in every four deaths), we are open to any and all measures needed to improve our cardiac state.
The AHA set out to discover whether when we eat might affect heart health.
Over the course of one year, they studied the dietary habits of 112 women, including what they ate and when, looking for connections between heart health and the time of day participants reported eating.
The more women ate in the evening, the AHA found, the more likely they were to be at risk for cardiovascular disease.
Specifically, women who consumed more of their daily calories after 6 p.m. were more likely to have a higher BMI, higher blood pressure, and worse long-term control of their blood sugar, compared to women who ate less in the evening.
Although this study isn't the best news if you're keen on your nighttime snacking routine, it does offer a simple change to adopt a healthier lifestyle.
"Lifestyle approaches to prevent heart disease have focused on what we eat and how much we eat," notes Nour Makarem, Ph.D., lead study author and associate research scientist at Columbia's Vagelos College of Physicians and Surgeons. "These preliminary results indicate that intentional eating that is mindful of the timing and proportion of calories in evening meals may represent a simple, modifiable behavior that can help lower heart disease risk."
And while the AHA's study represents new findings that will require more research, Kristin Newby, M.D., chair of the oversight advisory committee for the Go Red for Women Strategically Focused Research Network, says it does offer "really interesting insights into an aspect of nutrition and how it relates to cardiovascular risk factors that we really haven't thought about before."
If timing is indeed critical, thankfully there are plenty of resources to make intermittent fasting, or even meal prepping, easier. (Because who can have dinner ready by 6 p.m. if it wasn't prepped ahead of time?)
Of course, eating your day's worth of food before night falls is not a foolproof way to avoid heart disease; lots of factors go into that. But if cutting back toward the end of the day can make a difference, we're happy to give our hearts a hand.