Is The Future Of Food Vegan (And Spiked With Marijuana)?
Contributing Food Editor
By Liz Moody
Contributing Food Editor
Liz Moody is a food editor, recipe developer and green smoothie enthusiast. She received her creative writing and psychology degree from The University of California, Berkeley. Moody is the author of two cookbooks: Healthier Together and Glow Pops and the host of the Healthier Together podcast.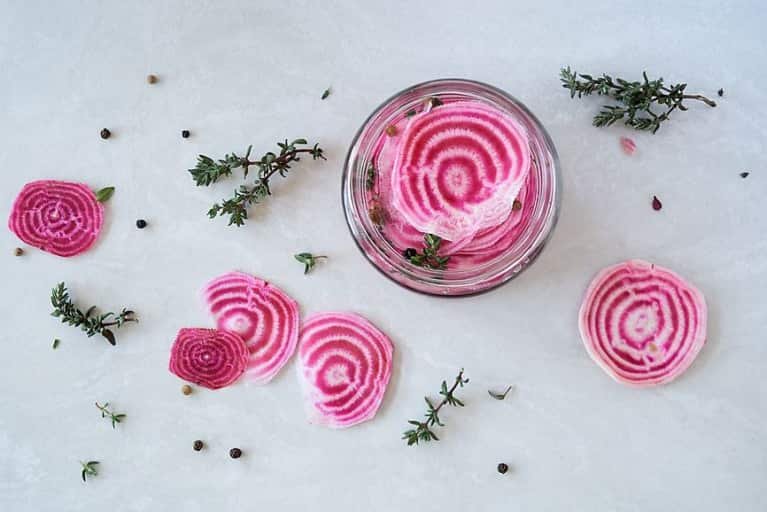 Our editors have independently chosen the products listed on this page. If you purchase something mentioned in this article, we may
earn a small commission
.
Here at mbg, we're gearing up for revitalize, where the biggest names in wellness come together to discuss the current state of food, fitness, and functional medicine—and where it's going next. Nutrition has always been, and continues to be, a backbone of mbg. We believe in the power of food as medicine and that the choices we make daily can help or hurt or bodies—and our souls. We've continually been on the forefront of the ever-evolving food world, pledging our love to turmeric before lattes hit the mainstream and proselytizing the importance of gut health back in 2013. More recently, we've joined all of you in a pact to gain control over our sugar intake, dove into the science behind trendy superfoods like charcoal and adaptogens with an optimistic but skeptical eye, and recognized the increasing movement away from labels in the dietary world.
Now, with revitalize just around the corner, we've asked some past and present attendees what they think is the next big thing in the functional food world. Will probiotic cupcakes hit the market? Will we be able to just take a pill for all of our nutrients? Will we ever get tired of kombucha?
Back to the Earth—kind of.
Joel Kahn, M.D., a past panelist at revitalize, sees plant-based food growing exponentially. "In five years, more factory-produced synthetic food substitutes that are environmentally friendly will appear due to the immense funding of this sector. The Impossible Burger and synthetic meat are just the beginning," he says, referring to the no-meat burger that looked, smelled, and tasted just like a grass-fed version. He also thinks that plastics will disappear from packaging, being replaced by non-hormone-disrupting innovative solutions. "Bottled water will be outlawed, and taxes on soda and foods with added sugar will be routine," he says.
Aviva Romm, M.D., a best-selling author and hormone specialist who's speaking at this year's revitalize, doesn't have the rosiest view of the future. "Unfortunately, I see a trend toward more options for eating on the go—more functional foods, protein powders, smoothies, energy bars, juices, and more reliance on nutritional supplements rather than real, whole foods. My hope is that we'll all take a breath, slow down, reclaim our kitchens, and realize we already need to know all we need to know about food, which Michael Pollan summed up so nicely: Eat real foods, not too much, and mostly plants."
Kahn, though, is excited about these innovations. "Foods will be enhanced with 'superfoods' and new agents like CBD routinely," he says. Amy Shah, an M.D. who consulted about attendees' gut health at last year's revitalize, thinks the next superfood will draw on ancient wisdom. "There are tons of studies to support the anti-inflammatory activity of saffron—in fact, it's found to be just as anti-inflammatory as ginger and garlic. I'm always surprised that we talk so much about tea, turmeric, ginger, garlic, and never about saffron."
Will Cole, D.C., a functional medicine practitioner and regular revitalize attendee, agrees with Aviva that a return to real food is necessary—although perhaps not likely. "GMO and food engineering at large, government encroachment, advancements in the tech industry, and society's insatiable need to have anything quick and convenient will continue to grow. These factors will produce some great things but, I believe, many more horrible things for our food supply." He isn't all pessimism, though! "I also believe this system will ultimately strengthen the counterculture of real food activism, foraging, sustainable living, and a farming renaissance—all out of necessity."
According to Shah, the future of food is all about function. "It's going to be all about eating for specific health conditions," she explains. "Creating customized recipes for strength, healing, or treating specific conditions like diabetes, high blood pressure will be easier than ever." Neil Grimmer, ounder and CEO of Habit, and Nathan Price, associate director of The Institute for Systems Biology, agree—they spoke about how personalized nutrition is the future of food at last year's revitalize.
This change, coupled with consumers' desire to eat healthier generally, will completely change the shape of the supermarket as you know it. "In fact, supermarkets will move to aisles and aisles of fresh and refrigerated foods, and there will be very few processed/packaged food aisles—like a flip-flop of current supermarkets," Shah hypothesizes. Another big change in your local shopping establishments? Less meat. "More and more meat, cheese, and milk substitutes will be in stores, hospitals, workplaces, and even vending machines," predicts Kahn, and Shah agrees: "Meat and dairy quality and standards will be highly regulated and probably less abundant."
While no one can predict the future, we can certainly change it and are in fact doing so with every dollar we spend. We'll find out more at this year's revitalize, but in the meantime, it's certainly food for thought.
Want to watch revitalize live? Get all the details here. And if you have any questions about the future of food you'd like answered, we want to hear them! Get in touch at editor@mindbodygreen.com.