5 Things You Need To Know (November 5, 2018)
mbg Contributor
By Caroline Muggia
mbg Contributor
Caroline Muggia is a writer, environmental advocate, and registered yoga teacher (E-RYT) with a B.A. in Environmental Studies & Psychology from Middlebury College.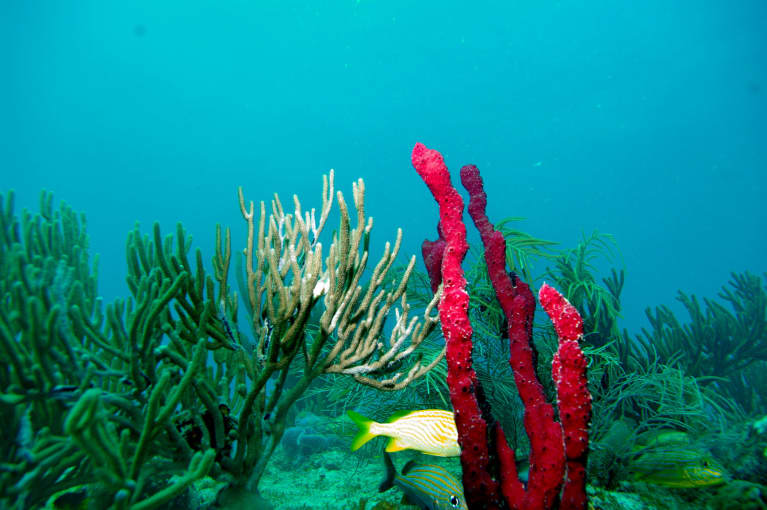 November 5, 2018 — 9:00 AM
1.
Palau is the first country to ban reef-toxic sunscreens.
Palau, a western Pacific nation is the first country to ban "reef-toxic" sunscreens, a ban that will take effect in 2020. Recent studies suggest that chemicals in sunscreen such as oxybenzone inhibit coral growth and could be toxic for algae living in the reefs. The ban will stop tourists from bringing prohibited sunscreens into the country and even fine retailers who continue to sell it. Palau follows in the footsteps of Hawaii, the first state in the United States to ban the sale of sunscreen with toxic chemicals. More research is needed on sunscreen's effect on coral, but in the meantime, many sunscreen manufacturers will be reviewing their ingredients and considering alternatives. (NYT)
2.
It turns out a strong immune system could also help your brain.
New research published in Nature Communications looked at how T-cells (critical players in the immune response) could affect brain disorders. They found that when T-cells are not working correctly, inflammation can build in the brain. An understanding of how T-cells exist in healthy brains could help scientists determine better treatments for multiple sclerosis and brain tumors. (EurekAlert!)
3.
As the temperature increases, so do the ticks.
Previous studies suggest that climate change could influence the prevalence of Lyme disease. The U.S. Environment Protection Agency even uses the number of Lyme cases as a way to measure climate change. A new study compared incidences of Lyme disease and meteorological data from 2000 to 2016 in 15 U.S. states with the highest rates of Lyme. From the data, researchers predict cases of Lyme disease in the U.S. will increase by about 21 percent by about 2050—8.6 percent more cases of Lyme disease. (ScienceDaily)
4.
Our shower heads may contain disease-causing bacteria.
The bacteria is called Mycobacterium and has been linked to lung disease. A new study tested 656 household showers across the United States and Europe and found the bacteria is more prevalent in the U.S. and mainly thrives in municipal tap water environments. The geographic discrepancy could have to do with the fact that chlorine-based disinfectants are more common in the U.S., and this bacteria appears to be resistant. The researchers also found more mycobacteria in metal shower heads than plastic ones. Next steps are to figure out why this bacteria is more prevalent in certain areas and what precautions can be taken to limit our exposure to it. (mbg)
5.
Fracking activity could increase the risk of earthquakes.
The energy industry produces a ton of water—about 10 barrels of water per barrel of oil. New research finds that the pressure associated with underground water storage could increase the risk of seismic activity. The study found that water stored deep in the earth along faults could carry more risk than water stored at shallower depths. Brigit Scanlon, lead author on the study, says about future management practices, "changes could come with trade-offs." (EurekAlert!)