The Truth About Organic Herbs + How To Find Truly Sustainable Options
mbg Contributor
By Adriana Ayales
mbg Contributor
Adriana Ayales is the founder and CEO of Anima Mundi Herbals. Her apothecary and herbal expertise has been featured in The New York Times, Glamour, Vogue, Travel + Leisure, and more.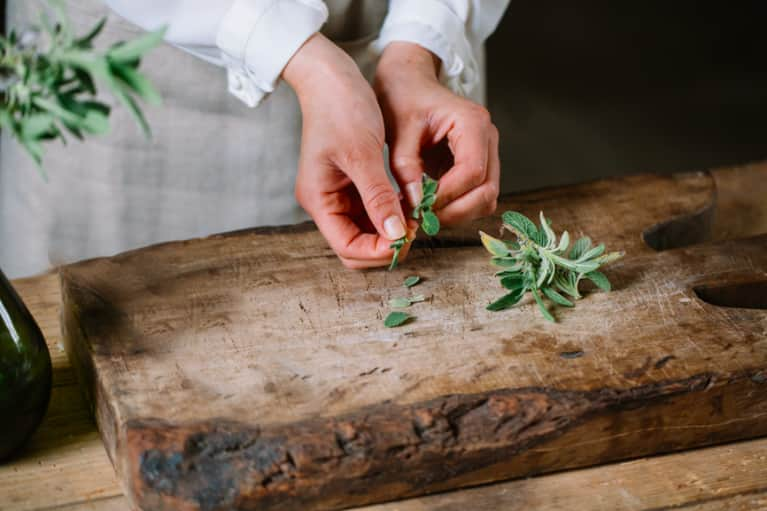 I'm sorry to say that a lot of the time, organic doesn't mean what you think it does. Products that carry the USDA certified organic label actually need to contain only 95 percent organic materials. Five percent is a lot of wiggle room, especially when it comes to our food. As an herbalist who uses biodynamic growing practices, I've spent a good portion of my life studying the harvesting of our plant friends. Along the way, I've come across some unsavory truths about the herbal industry. Here's what you need to know the next time you're in the market for a tea, tonic, or herbal powder.
The truth behind some organic herbs.
1. Pesticides are allowed in organic production.
This may come as shock to people who buy organic foods specifically to avoid harmful chemicals, but organic growers technically still use certain pesticides. In fact, one USDA study found that 20 percent of organic lettuce tested contained pesticides. While each one of the 40-plus pesticides on the "approved" list for organics are individually reviewed and approved for use, they're still commercially manufactured pesticides.
2. Some "natural" chemicals used in organic farming are carcinogenic.
Not much research has been done on natural, organic pesticides, probably in part because they are assumed to pose little risk. However, one study found that about half of natural pesticides surveyed were carcinogenic. More testing still needs to be done on these, but it's worrying that we don't know more.
3. Nonorganic ingredients can go into organic foods.
Over 45 traditionally produced (not organic) ingredients are allowed to be listed on "organic" foods when the ingredient is not commercially available in organic form. One example I've seen of this is ethylene—a difficult-to-extract plant hormone that exists in nature to trigger fruit to ripen. These days, certain organic growers will pick plants early so they can be shipped to faraway places before they go bad. Upon arrival, manufacturers will apply a synthetic version of ethylene (the National Organic Standards Board allows its use) on their product so that it looks fresh on supermarket shelves. Feels like cheating, huh?
I'm not trying to say that you should never buy organic food again. Trust me—organic is by far better than nonorganic. Yet it isn't a perfect system, so you shouldn't blindly trust your source. In the herb world in particular, I've found that the best thing you can do is to stay informed about the origin of your product, not just the information it presents on the label. Here's how to get started:
1. Look for unsustainable markups in specialty products.
I'm honestly disappointed when I see herbal products marked up an insane amount. Once you know the price point of high-quality herbs and compare it to what is being sold wholesale, you notice that certain items have been marked up 1,000-5,000 times. This is what corporations do, and I get it. We are living in an entrepreneurial era, and we're all trying to make money with our products. But there are definitely companies out there that are overpricing supposedly sustainable products and then spending that money in an inherently unsustainable way.
When you're roaming the aisles, choose a product based on the information presented on the packaging, the packaging itself (is it recyclable?), the ingredients (are they 100 percent USDA certified organic or wildcrafted?), and whether it is locally made. Then, make sure you're getting what you pay for by demanding transparency from your maker and educating yourself on the story behind the brand with the following questions.
2. Ask your maker the right questions.
Where do you source from?
We're living in a world where we can contact our makers and ask them about ingredients and sourcing. And that's awesome! Don't be afraid to go straight to the source and ask about the farmers who are making your products. Listen to their story, their intentions, and their practices. It is part of our ancestral upbringing to be connected to the source of our food and medicine. Truly get to know where your nourishment comes from. It doesn't have to take long, either. Reserve 10 minutes to hop on the phone or send, an email and you'll be good to go.
Is your product wildcrafted?
Herbs that are wildcrafted are often your best bet. This designation means that your herb was grown in the wild without human intervention. Ask your source if they actually know where their products are wildcrafted from, as this is key to the quality of your purchase. And if they don't know, it's a red flag.