Meet The Woman Who Is Turning Kombucha Into Runway Gowns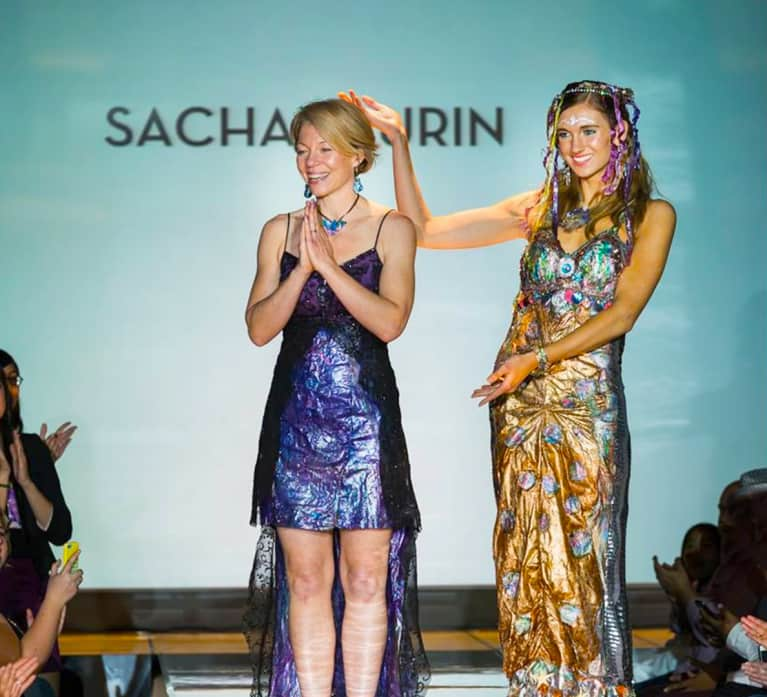 If you're a kombucha drinker, chances are you've noticed a thick blob floating in your tea at one point or another. Maybe you gasped, maybe you even attempted to maneuver it out of the bottle, or maybe you drank easily knowing that it was just a little harmless scoby. Scoby—an acronym for "symbiotic culture of bacteria and yeast"—is just that: the bacteria and yeast that kick off the fermentation process in kombucha, the wellness world's probiotic-packed soda replacement.
It's easy to disregard the mucus-like growth as a necessary evil standing between you and the bubbly, tart beverage. Take one look at Sacha Laurin's scoby-fueled fashions, though, and you'll probably change your tune.
Cracking the bottle open.
A self-proclaimed "cheese nerd" and wine and cheesemaker by trade, Laurin has always been fascinated by fermentation. And after learning of the fermented tea craze taking over our health-food aisles a few years back, she knew she had to brew a few batches of her own. She started regularly making small kombucha batches using a standard recipe of water, sugar, and tea bags, throwing all the leftover scoby into her garden (yes, it's biodegradable). Then, a spark of sunshine gave her a whole new outlook on the beverage.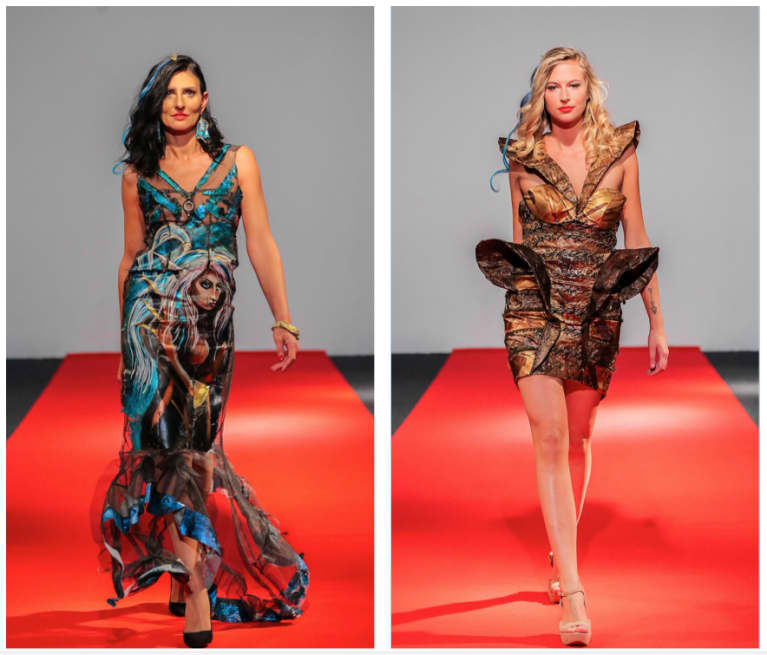 "I looked out at the tree where I'd been dumping my scoby one day at sunset and it almost looked like stained glass, like a lit-up Christmas tree. I thought, 'My goodness, my tree is growing earrings!'" Laurin recollects with a giggle. "Then I got a closer look and realized it was all the dried scoby I'd thrown away over the years. It was so beautiful, and I immediately knew I needed to turn it into jewelry."
Laurin then used her knowledge of the fermentation process and passable skills with a sewing machine to dry and cure the scoby (usually, with the oils she puts on her own skin), shape it into earrings, and add some food dye for coloring. Soon, boutiques around her Sacramento home started selling her creations to a captive audience. Customers started buzzing about the vibrant, textured earrings and the story behind them, begging Laurin to go even bigger. Never one to turn down a challenge, she set her eyes on full-fledged kombucha apparel. It wasn't long before she won a local design contest with a mermaid-inspired number and claimed a featured designer spot in Sacramento Fashion Week in February 2014.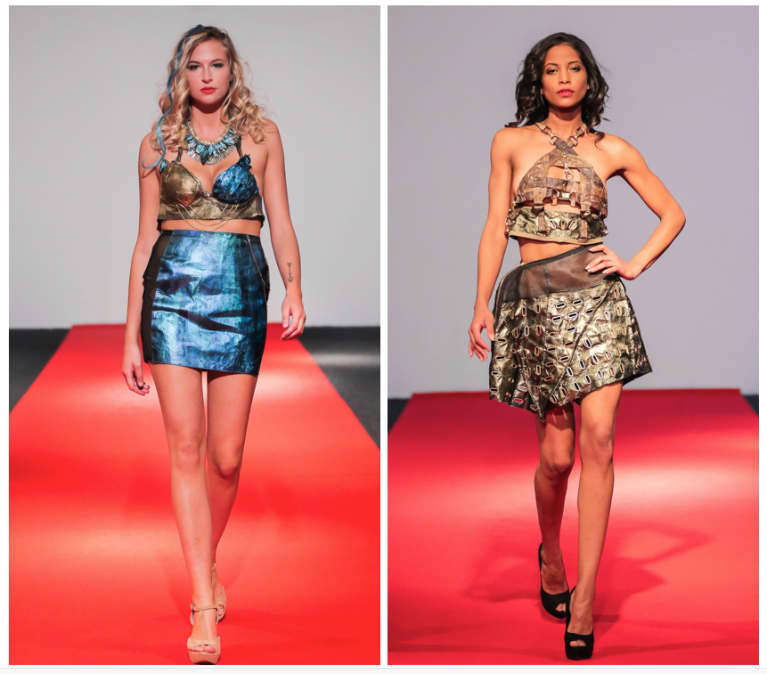 "All of the sudden people were interviewing me asking how it felt to be a featured designer. I just thought, 'How is this possible? I don't even really know how to sew!'" says Laurin, noting she has always felt more at home among fellow cheesemakers than high-fashion designers. "But I'm not a panicker, and I'm so in love with kombucha and think the growing of it is such a miracle. In that sense, I feel like I'm a vehicle to bring this to the world. I'm just a messenger for an incredible fabric that has so much to offer."
These days, Laurin is dreaming up new looks that fit her colorful, mystical aesthetic and calling on industry up-and-comers for help bringing them to life. Alongside a team of fashion students at U.C.-Davis, she's tackling the big questions surrounding scoby fabric. Namely: How can it become a scalable option on the mass market?
Laurin hopes that by finding a way to navigate scoby's inherent downfalls (it has an unsavory smell and retains water, for starters), it can become a living, breathing antidote to the resource-intensive fashion industry of today. Her voice comes alive as she describes the potential to bring the flexible, durable, and extremely cheap clothing alternative into developing countries. She's equally excited by the prospect of using the fabric to make healing garments that treat from the outside in. Her team is currently conducting research to see if probiotic-rich scoby clothing can improve the skin biome. What's perhaps most promising, though, is the idea that her clothes can be a model in sustainable design. After all, it doesn't take much land or water to produce scoby, and Laurin's fabrics are free of the toxic chemicals inherent to most fashion manufacturing.
"My work is still underground in a way. I'm just figuring out the R&D of it," she says. "I'm not pushing it as a commercial venture because that's not what I feel it needs right now." Until all the kinks are worked out, you can find Laurin quietly tending to the kombucha pails in her kitchen and backyard, turning it into so much more than something we drink to beat the afternoon slump.
Curious what other materials could compose your 10-years-from-now wardrobe? Check out the sustainable fabrics we're expecting to see make it big.