You're Probably Not Shampooing Your Hair Gently Enough — Here's How To Fix it

mbg Beauty & Wellness Editor
By Jamie Schneider
mbg Beauty & Wellness Editor
Jamie Schneider is the Beauty & Wellness Editor at mindbodygreen, covering beauty and wellness. She has a B.A. in Organizational Studies and English from the University of Michigan, and her work has appeared in Coveteur, The Chill Times, and Wyld Skincare.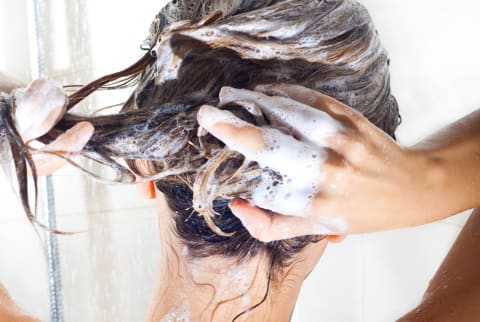 November 30, 2021
When it comes to shampoo etiquette, we often discuss the when (depends on hair type, activity level, and a host of other factors), and the what (also depends on hair type, although we generally advise going sulfate-free), but rarely do we touch on the how. It seems self-explanatory, no? Just toss some product on your scalp and scrub.
Well, according to NYC-based hairstylist Matt Newman on TikTok, there is one cringeworthy mistake people make when shampooing their hair. In fact, it can even cause issues (think tangles and shedding) over time.
Advertisement
This ad is displayed using third party content and we do not control its accessibility features.
A big mistake people make when shampooing their hair.
"Don't scrub back and forth," Newman says. Sounds simple, but you'd be surprised to know how many rake their nails across their scalp—it may feel nice to scratch your skin, but aggressively tugging at your strands can lead to tangles and shedding.
Rather, "Using circular motions, lift your fingers off the scalp and place them back down," Newman suggests. Use your fingertips—not your nails!—to massage the shampoo into your scalp, region by region, until you cover all the surface area. Each time you move along to a new area, don't drag your fingers; as Newman notes, take a beat to lift them off your head and place them down gently before continuing to massage.
You can also use a scalp massager to help deposit the shampoo, working the flexible bristles in circular motions all around your scalp (for some reason, I find I'm way gentler with the tool than I am with my own fingers, which is why I always keep a scalp brush in the shower). Still, remember to actually pick up the massager each time you move to a new area; dragging the tool across your scalp can create knots.
Finally, don't be alarmed if the shampoo doesn't foam while you work in the product—many sulfate-free shampoos won't actually lather (sulfates are what give traditional shampoos their sudsy feel), but that doesn't mean they aren't doing their job. The right cleanser can lift oil, gunk, and buildup without any foam, so don't scrub aggressively at your scalp until you work up some kind of lather—this will only harm your poor strands.
Advertisement
This ad is displayed using third party content and we do not control its accessibility features.
The takeaway. 
Everyone's shampooing techniques are different, but Newman's tip transcends all hair types: Be gentle with your strands and scalp. Aggressively tousling the strands (with your fingertips, a towel, or with a brush) isn't good for your hair—we could all use the friendly reminder.