The Best Types Of Exercise For Anxiety, Ranked
mbg Contributor
By Leigh Weingus
mbg Contributor
Leigh Weingus is a New York City based freelance journalist writing about health, wellness, feminism, entertainment, personal finance, and more. She received her bachelor's in English and Communication from the University of California, Davis.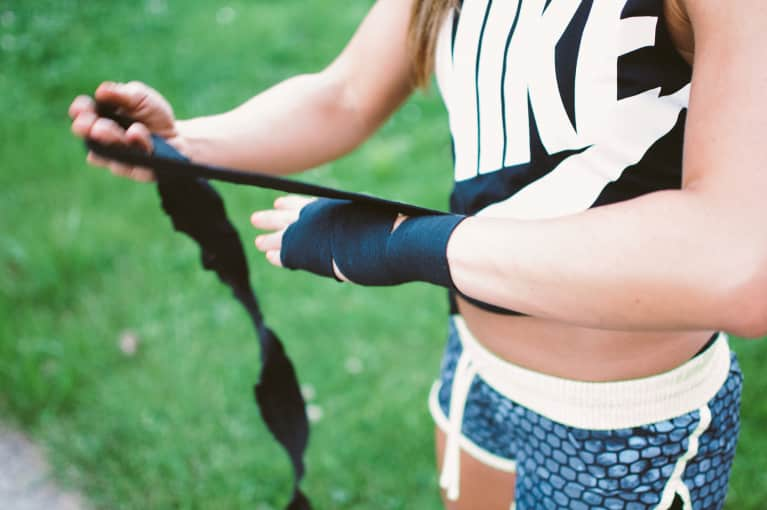 In addition to preventing disease, increasing longevity, and improving memory, exercise has proved an incredibly effective method for maintaining and improving mental health. In fact, research has shown that exercise is just as effective in the treatment of depression as SSRIs, and a 2013 study out of Princeton University found that exercise can create new brain cells and shut them down when they shouldn't be in action, thus stopping anxiety and depression in its tracks.
"When anxiety tries to seep into my life, exercise is my go-to strategy to control it," says Elizabeth Lombardo, Ph.D. and author of Better Than Perfect: 7 Strategies to Crush Your Inner Critic and Create a Life You Love
We know exercise is great for our brains, but are all forms of movement created equal? Here, three mental health experts weigh in on the best workouts for anxiety, so you can plan your exercise schedule accordingly:
One of the gentlest movement practices, tai chi may not be the most helpful exercise in a moment of panic, but neurologist Ilene Ruhoy suggests it as a regular practicing for improving the mind-body connection. "It's so helpful for anxiety," she says.
This one may not come as the biggest surprise, but a regular yoga practice is an excellent way to keep your anxiety in check. The combination of breath, movement, and meditation is a recipe for calm. "Yoga is an obvious one," says Ellen Vora, a board-certified psychiatrist and mbg class instructor. While Lombardo enjoys yoga as a regular practice, she doesn't think it's the best in-the-moment anxiety buster. "If my mind is too anxious, it's just tough to focus on the poses," she explains.
Here's an unlikely one: According to Vora, belly dancing is an amazing way to eliminate anxiety. "It taps into the divine feminine intuition," she explains. Additionally, belly dancing stimulates the vagus nerve, and studies show that vagus nerve stimulation helps with anxiety and depression.
Love taking out your stressful day on a punching bag? Good, because it's amazing for your anxiety levels. "Personally, I like high-energy cardio workouts, like kickboxing," says Lombardo. Indeed, boxing professionals believe that one of the main reasons people keep coming back is for the mental benefits. "While boxing tones the body from head to toe, what keeps people coming back week after week to boxing sessions is not just the physical changes but also the mental benefits clients are reaping from it," explains Shadowbox instructor Jaws Nelson.
If you're looking to feel less anxious on a regular basis, consider giving Pilates a try—its core-strengthening benefits can do wonders for self-esteem. "The fact that it strengthens the core and improves posture helps us navigate from a place of ease and confidence," explains Vora.
There's a reason everyone who takes Zumba looks like they're having a blast: They probably are. And the combination of upbeat music, a strong community feeling, and aerobic exercise is an amazing way to shake off even the most anxiety-ridden day. "The music, the moves, the community—the combination is really unparalleled," says Ruhoy. "It makes the body and mind feel good and contributes to a sense of belonging to a larger group of people with similar interests."
Want to learn more about eliminating anxiety? Here, real people explain exactly how they get rid of their anxiety.