People Who Travel For A Living Share Their No. 1 Airport Hack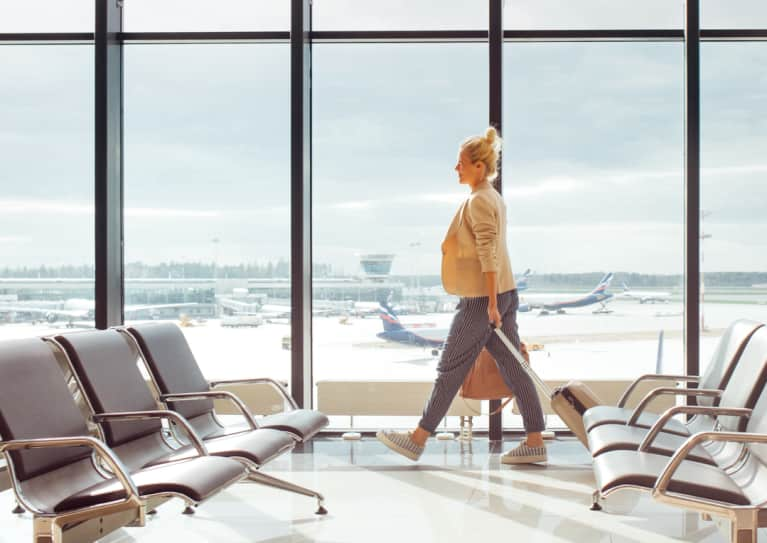 Our editors have independently chosen the products listed on this page. If you purchase something mentioned in this article, we may
earn a small commission
.
Nothing can ruin pre-trip anticipation and giddiness like a bad airport experience. After all, long lines, impatient travelers, and delayed flights can send anyone into a tailspin. Fear not—it is possible to get to your destination without having a nervous breakdown en route.
To ring in the unofficial start of travel season, we're rounding up the best airport pointers from the wellness insiders who are constantly on the move. Cheers to a summer of healthy, happy travel.
1. Keep a bag of travel essentials on hand.
I always have a little bag of travel pick-me-ups: rosewater spray, face moisturizer, dental floss, facial wipes, EO hand sanitizer, probiotics, Manuka cough drops, lavender oil, a beanie that covers my eyes for sleeping, and cozy socks. I recently got into this apple cider vinegar elderberry astragalus mix that comes in a small bottle too. I just take a shot of it to build the immune system and support lung health. It helped a lot when I was in Cuba, where the air is pretty polluted from the old cars running on diesel.
—Heather Lilleston, co-founder of Yoga for Bad People
I love to smile and thank everyone who helps me and checks me in. A genuine show of appreciation relieves the heaviness of airport stress.
—Tara Stiles, founder of Strala Yoga
3. Pack light and get pre-check.
With my pre-check, I can usually get from the Miami airport's front door to my gate in under 30 minutes when I don't check a bag. And TSA lets me fly through security without having to take out all of my electronics, which make up most of my carry-on bag for blogging, production, and filming!
—Sara Quiriconi, jet-setting yogi behind Live Free Warrior
4. Know the security rules.
I recently realized I don't need to fish all of my gemstones out of bra before going through the security scanners. (Yes, you read that right.) I tested it on an international flight into the United States and didn't set off any sirens.
—Emma Mildon, spiritual guru and author of The Soul Searcher's Handbook
5. Pack the eco essentials.
I bring an empty water bottle with me and fill up at the water fountains. Saves on a bottle; and saves you at least $3 because water is insanely expensive at the airport!
—Summer Rayne Oakes, environmental activist behind Homestead Brooklyn
6. Dress the part and stay moving.
I always wear comfortable clothes (aka leggings and sneakers) that can stretch and move. If you wear comfy clothes, you'll be more likely to move before and during the flight and feel less bloated after! My two biggest pet peeves are being dehydrated and tight or anxious at the airport. I also stretch at the gate and fill up my bottle a couple times before I get on the plane and again when I get off.
—Rebecca Kennedy, Nike Master Trainer
Ready to start planning your next big trip? Check out our travel diaries series for all the wanderlust you could ever ask for.