The Supplements I'm Stocking Up On For 2019
mbg Health Contributor
By Gretchen Lidicker, M.S.
mbg Health Contributor
Gretchen Lidicker earned her master's degree in physiology with a focus on alternative medicine from Georgetown University. She is the author of "CBD Oil Everyday Secrets" and "Magnesium Everyday Secrets."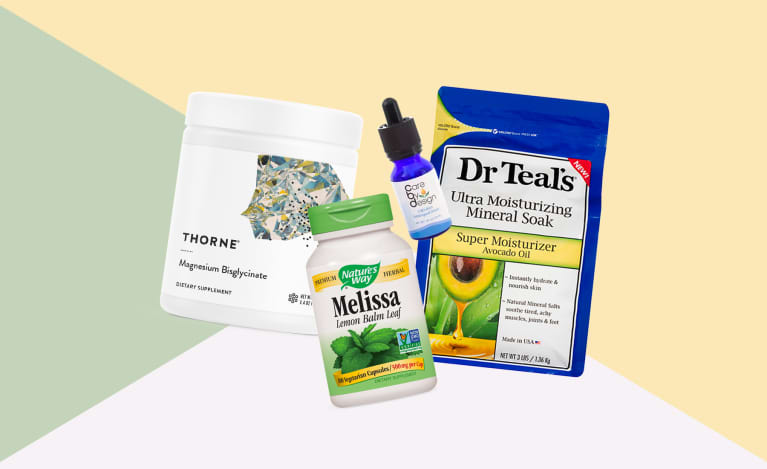 As the health editor at mbg, I'm reading, writing, and learning about supplements all the time. I'm also constantly changing up my supplement routine and trying out new herbs, minerals, adaptogens, and vitamins. While supplements can never replace a healthy diet full of whole foods, regular exercise, and high-quality zzz's, they have been a critical part of my health journey.
This year I'll be focusing on a few important ingredients that will help me calm stress and anxiety, promote healthy skin, and recover from the holidays as quickly as possible. These are the supplements I'll be stocking up on for 2019—and why they might be helpful for you, too:
Lemon balm is one of my all-time favorite herbs. I've been lucky enough to see this herb growing in the wild and experience the fresh lemony smell in person. I fell in love immediately. Lemon balm, also known as Melissa officinalis, is a perennial herb and a member of the mint family. Its list of benefits is long and includes helping anxiety and stress; boosting cognitive function; supporting sleep; and treating painful periods, cold sores, and headaches.
You can get lemon balm in a tincture or capsule and even as a tea. Try this certified organic Lemon Balm Herb tincture, Gaia Herbs, $13.99 or these capsules from Melissa-Lemon Balm Leaf, Nature's Way, $6.80
I'm an Epsom salt bath fanatic and magnesium is one of my favorite supplements for combating sore muscles, anxiety, insomnia, and so much more. Magnesium is so versatile and an amazing tool for recovering from everyday stressors that have your mind racing in the evenings when you're supposed to be winding down to get to sleep. One of my favorite ways to take magnesium is as a before-bed drink, like this Magnesium Glycinate powder, Thorne, $38. I always reach for magnesium glycinate because it's less likely to cause digestive upset than other forms of magnesium, like magnesium oxide. In the winter, I also love taking Epsom salt baths to get my daily dose of magnesium. This Moisture Therapy Mineral Soak, Dr. Teals, $4.97, contains avocado oil to leave the skin moisturized and soothed after your bath. It's the perfect remedy for cold-weather aches, pains, and dry, itchy skin.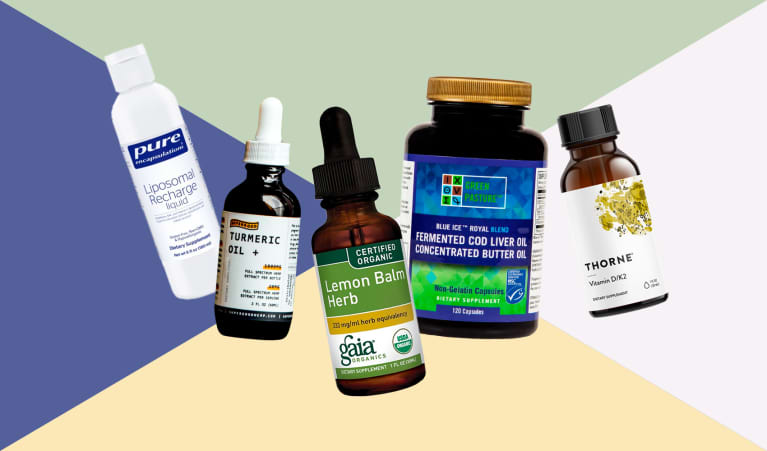 3. Fermented Cod Liver Oil
This Fermented Cod Liver Oil, Green Pasture, $47, is one of my favorite discoveries of the year. It was recommended to me by integrative dermatologist and one of mbg's go-to skin health experts, Cybele Fishman, M.D., for occasional hormonal breakouts and overall skin health. According to Dr. Fishman, her patients have had incredible success with this nutrient for acne and other common skin health woes. It's full of healthy fats like omega-3s and also contains "high-vitamin"-concentrated butter oil, which is thought to provide fat-soluble "activators" that improve mineral absorption. It also contains vitamin A, which is also often used for skin health and acne. I'll definitely be going through a few bottles in 2019.
Hemp oil is all the rage in wellness; and now that it's legal to grow in U.S., we're going to be seeing a lot more hemp-based products out there. Hemp oil and CBD, which is the main cannabinoid present in hemp, have shown promise for helping with conditions ranging from anxiety, pain, and chronic inflammation to autoimmune disease, headaches, gastrointestinal disorders, and more. The list goes on and on!
We're also learning more and more about the endocannabinoid system, which is the larger system in the body that cannabis-based therapies—which include therapies made from both marijuana and hemp— influence and interact with. There's still a lot more to learn about how the ECS works and how cannabinoids can influence them, but in the meantime, try these CBD-Rich Sublingual Drops, CareByDesign (only available in California) and this CBD-Rich Turmeric Oil, Supergood Hemp, $35.
Vitamin D is a winter must-have. So many of us are at risk for vitamin D deficiency thanks to our diets and lack of sun exposure. And that's bad news, because vitamin D is important for quite a few very important biological functions. In fact, according to Alejandra Carrasco, M.D., "While all nutrients play a crucial, symbiotic role in maintaining health, vitamin D is especially important as it is essential for nearly every single bodily system and function including the musculoskeletal, gastrointestinal, renal, endocrine, and cardiovascular systems." The good news is that supplementing with vitamin D is as easy as dropping a few drops of tasteless oil in your morning coffee. Try this Vitamin D/K2 Liquid, Thorne, $24. The even better news is that vitamin D liquid droppers like this are relatively inexpensive and will last you a long time (there are 600 servings in this one tiny bottle).
Glutathione is known as the "master antioxidant," and it's also a crucial ingredient in phase 2 liver detoxification, which helps you eliminate toxins from your body. This means it's the perfect supplement to help you readjust to your normal routine after the holidays and get you back on track. I started taking glutathione a few years ago, and it's one of the few supplements I've taken that make a really noticeable difference in how I feel that day. It's normally pretty pricey and is available in capsules or a bottle with other antioxidants, like this Liposomal Recharge Liquid, Pure Encapsulation, $60.
Remember, supplements aren't the only key to health, but they can be an incredibly useful tool to bring you from 80 percent to 100 percent, allow you to avoid taking over-the-counter medications, and help you manage chronic conditions naturally.