The Exact Supplement Routine That Kept Me Healthy ALL Winter Long
mbg Health Contributor
By Gretchen Lidicker, M.S.
mbg Health Contributor
Gretchen Lidicker earned her master's degree in physiology with a focus on alternative medicine from Georgetown University. She is the author of "CBD Oil Everyday Secrets" and "Magnesium Everyday Secrets."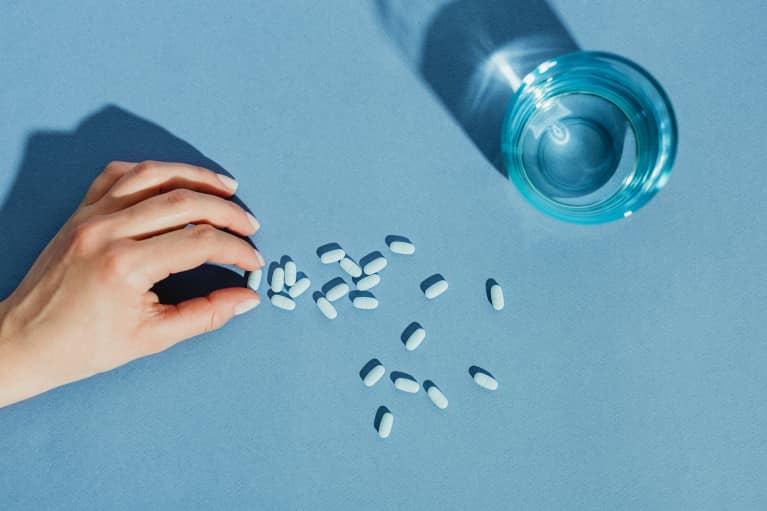 We've almost made it! Spring is right around the corner, and that means warmer weather, more time outside, and fewer seasonal coughs and colds. Looking back, the truth is that staying healthy through the winter is hard; many of us exercise a little less, stress a little more, and although soups and stews can provide us with lots of colorful veggies, they just aren't as easy to keep up with as heaping summer salads and green smoothies.
This fact is just one of many reasons why I step up my supplement game in the fall, the second I feel a chill in the air. This year, these supplements—combined with eight hours of sleep a night, moving my body regularly, and as many fruits and veggies and bone broths as I could muster—helped me stay healthy all winter long. Here's what they are and why I decided to make them part of my winter wellness routine:
This one might not apply to the lucky few who live in Southern California or Miami, but for most of us, the winter is long, dreary, and dark. Vitamin D is commonly known as the "sunshine hormone" because we actually absorb it from the sun's rays through our skin. Researchers estimate that as many as many as 50 percent of us are deficient in this important vitamin, which plays an important role in our immune system and mood.
2. A daily immune support
If you're someone who seems to catch every cold that goes around, it's not a bad idea to invest in an immune-boosting supplement, particularly during the winter. Look for one that features mushrooms, zinc, vitamin C, and plenty of adaptogens. I take two capsules of this Pure Encapsulations Daily Immune formula ($47.30) all winter long; it contains all these ingredients—and then some!
During the winter, it's especially important to get an extra dose of important vitamins and minerals. Ironically, it's also the time of year when it's most burdensome to fill your plate with fruits and veggies, and it can also be hard to remember to take a multivitamin. Luckily, these Garden of Life mykind Organics Women's Multi Gummies ($27.99) are so delicious I've been eating them as dessert for the past few months. In other words, I've had NO problem remembering to take them. They're made with real, organic fruits and veggies, no animal gelatin or cornstarch, and are not coated in sugar like so many other gummy vitamins.
Discovering methylated B vitamins was a game-changer for my health. I used to suffer from chronic mouth ulcers on the inside of my cheeks (they hurt, a lot!), but after I started taking this supplement—per the instructions of a naturopathic doctor who tested me for the MTHFR gene mutation—I no longer get them. I also notice a big difference in my energy levels and mental clarity when I started taking B vitamins. They can be pricey, but I wouldn't go through the winter without a couple of bottles of Thorne Methyl-Guard Plus ($47.45) by my side.
Admittedly, a few times this winter I experienced the telltale signs—like a scratchy throat or slightly swollen glands—that I was about to get sick. When this happened, I headed straight for oregano oil. Research has shown that it exhibits strong antibacterial properties and may even help reduce the threat of antibiotic-resistant infections. In fact, two studies in particular have shown that carvacrol (one of the major compounds in oregano) might fight infections as effectively as traditional antibiotics. Some of our favorite mbg health experts also suggest using oregano oil for acne, at the first sign of a urinary tract infection, and even to fight candida in the gut.
6. Echinacea and elderberry
Along with oregano oil, I always keep elderberry and echinacea in my medicine cabinet. These herbs are famous for their immune-supporting qualities, and some studies have shown that taking echinacea can significantly decrease your risk of developing a cold. Elderberry has been used for centuries in alternative medicine as an antiviral and to treat the flu, colds, and sinusitis. I always reach for Gaia Herbs Quick Defense ($24.99), because their herbs are sustainably grown and rigorously tested for quality and potency. You can take two capsules up to five times daily for a couple of days until you're feeling as good as new.
Wondering why we chose the products we did? Here's your guide to choosing a supplement.