My Go-To Smoothie For Bad Skin Days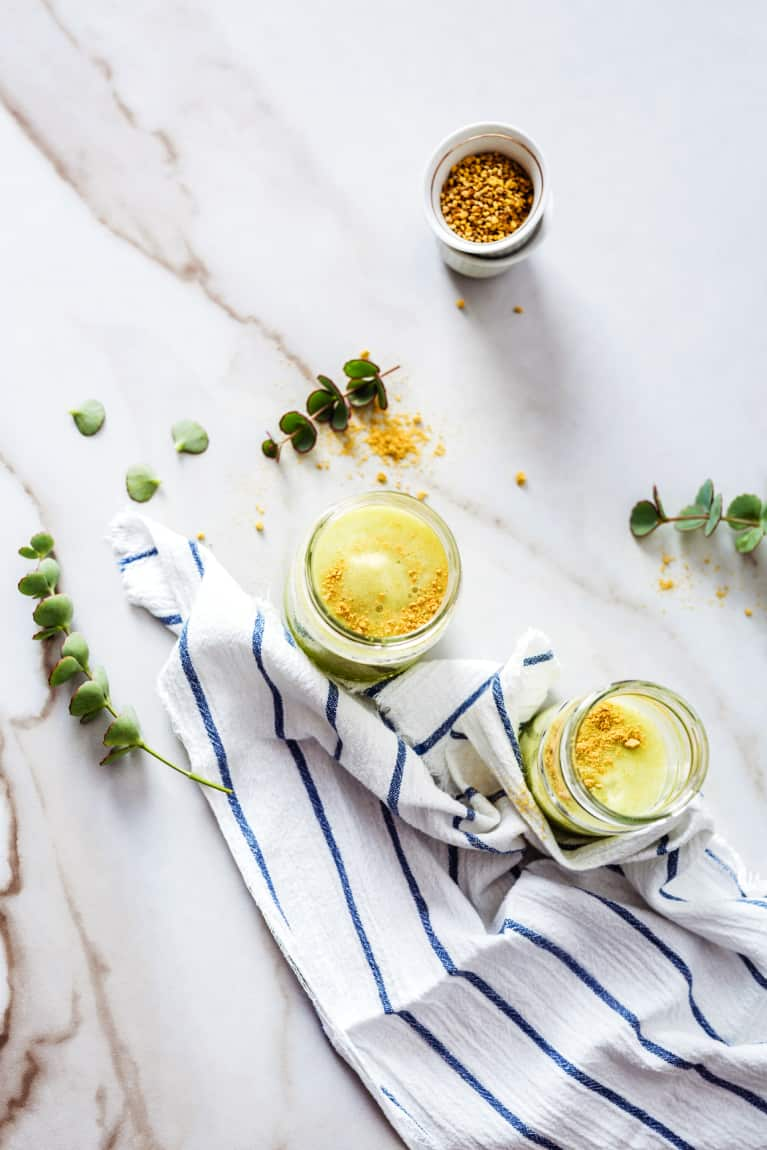 Our editors have independently chosen the products listed on this page. If you purchase something mentioned in this article, we may
earn a small commission
.
Despite an arsenal of therapeutic oils and nontoxic cleansers, sometimes bad skin days just creep up, whether it's due to a few late nights sleeping with makeup on, hormones, or, in my case, a croissant- and baguette-filled two-week trip that left my soul overflowing—and my skin ruddy, congested, and speckled with painful blemishes. On my first day back, I immediately headed over to my trusty blender and made a skin-clearing version of my signature green smoothie. It's packed to the brim with ingredients that will make your skin clear, and keep it that way.
You can use any greens you'd like because they all have the two properties we're after—phytonutrients and fiber (and lots of it). That fiber will sweep through your digestive system, clearing out anything lingering and causing inflammation and congestion.
Cilantro is a potent chelator, meaning that it rids the body of heavy metals like lead and mercury that accumulate via drinking water, fruits and vegetables, and more. It also decreases inflammation in the body, which is the root of many skin problems.
This is in there in large part to provide delicious flavor, but it also contains a hefty dose of vitamins A and C, both of which help stimulate the skin to produce collagen, which makes it appear supple, smooth, and clear.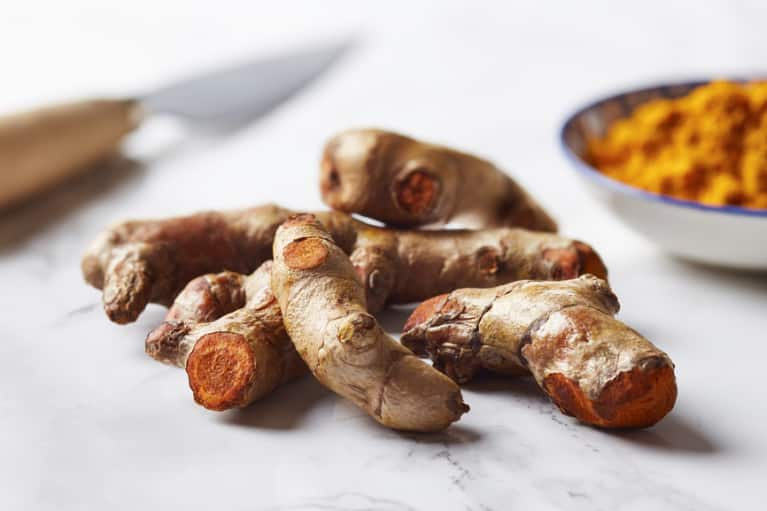 Ah, the anti-inflammatory powerhouse—you can't really have a skin-clearing smoothie without it. Turmeric has been shown to be one of the most powerful anti-inflammatory foods on the planet, and calming your inflammation in your whole body is vital for clearing up your skin.
The state of your gut massively affects the state of your skin, which is one of the reasons it's so easy for pimples to pop up after a week or two of bad eating or even a time of particular stress (which wreaks havoc on your gut). Ginger is a gut-soothing spice that's been used to calm the stomach and, in turn, the rest of the body, for thousands of years. Like turmeric, it also has anti-inflammatory properties.
Coconut butter adds to the fun, tropical flavor and provides a hefty dose of lauric acid, a component only found elsewhere in breast milk, that is antibacterial, antiviral, and antifungal. Since acne is a bacterial imbalance (again, in the gut and correspondingly on the skin), the coconut butter helps to gently correct the situation, bringing your system back into harmony. You can also use coconut oil or MCT oil, but the butter is whole coconut flesh, blended, and is thus a more "whole food" option.
You can skip this if you want to keep it vegan, but the uber-trendy collagen actually has powerful effects, helping stimulate your body to create more collagen, which plumps and clears skin. It also helps line and soothe the gut, integral to helping with acne due to (again) that gut-skin connection.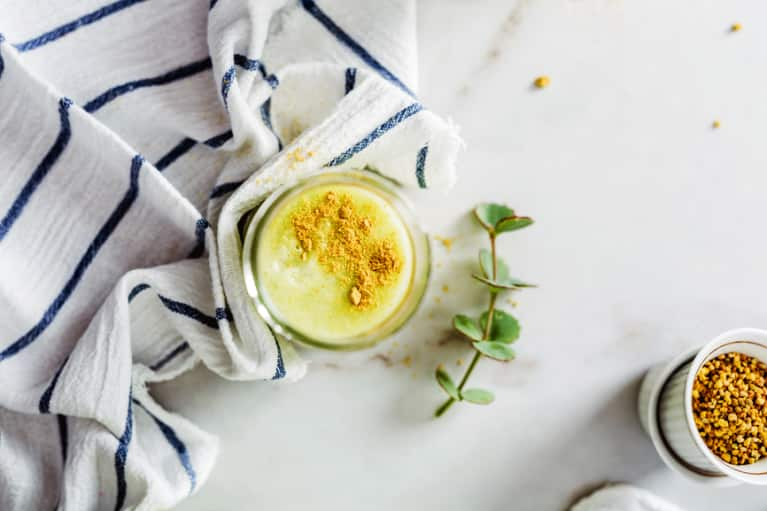 1 packed cup greens of choice
½ cup packed cilantro, washed with woody stems removed (leave the rest of the stems, as they add flavor and nutrients)
½ banana
½ cup frozen mango
2 tablespoons coconut butter
1 scoop collagen powder of choice (I like Vital Proteins, but any grass-fed, pastured version works great)
1 teaspoon powdered ginger
1 teaspoon powdered turmeric
Filtered water
Method
Place all ingredients in a blender; add a cup or so of water, then blend. Add more water to reach desired texture. Share with a friend or save in a tightly sealed Mason jar to drink tomorrow!
P.S. These two random ingredients cleared up one writer's skin (when nothing else worked).