This Was The Best Relationship Advice We Heard In 2017
mbg Contributor
By Leigh Weingus
mbg Contributor
Leigh Weingus is a New York City based freelance journalist writing about health, wellness, feminism, entertainment, personal finance, and more. She received her bachelor's in English and Communication from the University of California, Davis.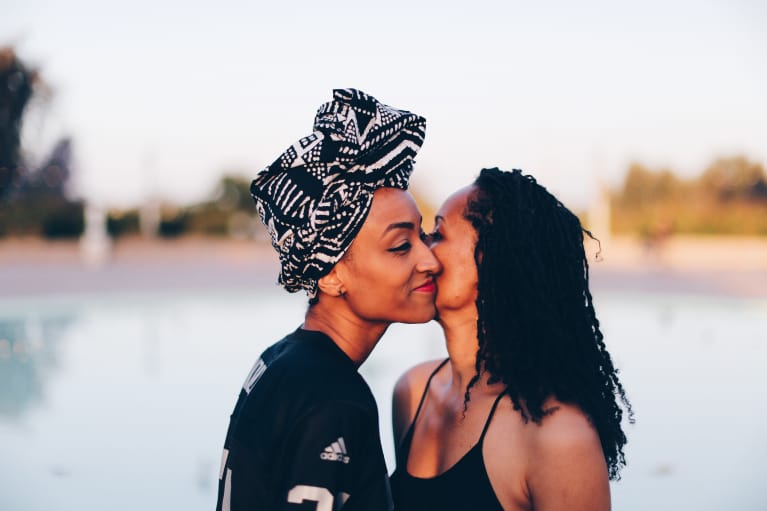 Our editors have independently chosen the products listed on this page. If you purchase something mentioned in this article, we may
earn a small commission
.
When looking back on the biggest relationship trends of 2017, one phrase comes to mind: Anything goes. This year was marked by more openness than ever (who needs labels?), and monogamy took a back seat to make room for open relationships. Esther Perel's best-selling book The State of Affairs served as an important reminder that cheating doesn't have to be a deal-breaker, and more and more people decided to embrace couples therapy as a solution to issues in their partnership.
We published hundreds of articles this year that were full of invaluable advice and creative ideas for improving your relationship. Here are the four best pieces of relationship advice we heard in 2017.
If you must embrace one label, make it "pansexuality."
According to recent research, millennials are the most sexually fluid generation ever. As a result, many of them are rejecting labels altogether—but when they do attach a label to their sexual identity, they opt for pansexuality. Pansexuality broadens the spectrum to include attraction not only to males and females but transgender, androgynous, and gender-fluid people, making it the most inclusive label of them all. "I think people often struggle with their sexual identity when they don't fit neatly into a particular box," says psychotherapist Nathalie Theodore. "The idea of pansexuality can be quite liberating because it's less limiting than other labels, insofar as it accounts for the idea that people can be attracted to anyone, regardless of gender."
If you want a conscious relationship, practice self-acceptance.
You've probably heard that you can't truly build a health relationship until you love yourself, which is why metaphysician Laura Brown preaches radical self-acceptance. "When we love ourselves fully it means we accept ourselves," she writes. "We must acknowledge that our bodies, minds, and hearts have gotten us to where we are and should be loved and respected. When we do this, we will begin to make choices that reflect this love. Instead of choosing just any old date just so we can be out on a Saturday night, we hold out for someone who is worth all that we have to offer. To receive healthy, true, and lasting love we must first show it to ourselves."
Infidelity doesn't have to be a deal-breaker.
Perel's well-researched book sheds light on the idea that couples not only have the ability to move past an infidelity, but they can come out stronger—and we talked to a number of women who were able to back that concept up. "I slept with a friend of a friend one night and told [my husband] a few days later," said one woman. "After threatening to leave, he decided walking away wouldn't be that easy. Things hadn't always been perfect, but we'd built a mostly happy life together and had three amazing kids to show for it. We started going to couples counseling, and three years later I think we're both happy we were able to patch things up."
Open relationships can be wonderful, but make sure you're paying attention to your partner's feelings.
Open relationships don't work for everyone, but if monogamy isn't for you, go ahead and embrace the open relationship—just make sure to pay close attention to any feelings of jealousy that your partner might be experiencing. "As humans, we want to feel like we're No. 1 in our relationships. And at the end of the day, the best you can do is respect those feelings," explains New York-based fitness instructor Bethany C. Meyers, who has been in an open relationship for 11 years. "So if my partner says 'I feel jealous,' I make sure to allow them to feel that way and move through it."
Learning how to "fight right" is one of the best things you can do for your relationship.
A fight you significant other is a healthy, cathartic part of any relationship—and learning how to do it in a way that doesn't harm your relationship is crucial. One huge habit relationship expert Linda Carroll, M.S., recommends implementing is sticking to one topic. "Because it may be tempting to think the point of an argument is to win, you bring in all the necessary evidence to make your case. It makes sense," she writes. "However, you are not in a courtroom. The more evidence you produce that your partner is unreasonable, unreliable, and a jerk, the more he or she will respond negatively, as anyone does when "under threat." Stay on topic rather than making it personal or attacking your partner's character!"
Think of couples therapy as similar to physical therapy.
Should you apply the same type of self-care to your relationship as you do to yourself in the form of couples therapy? While couples therapy certainly had a moment in 2017, experts think you should think of couples therapy as less of a regular item to check off your wellness to-do list and more like physical therapy. "Instead of thinking of couples therapy as regular exercise, like jogging or spin class, think of it as physical therapy, or something finite you take on to correct a specific injury," explains Michael I. Bennet, M.D., relationship expert and author of F*ck Love.
Want more love advice? Read up on the best mindful dating apps.