The *Exact* Order To Apply Lip Products for Lasting Hydration & Color

mbg Beauty & Wellness Editor
By Jamie Schneider
mbg Beauty & Wellness Editor
Jamie Schneider is the Beauty & Wellness Editor at mindbodygreen, covering beauty and wellness. She has a B.A. in Organizational Studies and English from the University of Michigan, and her work has appeared in Coveteur, The Chill Times, and Wyld Skincare.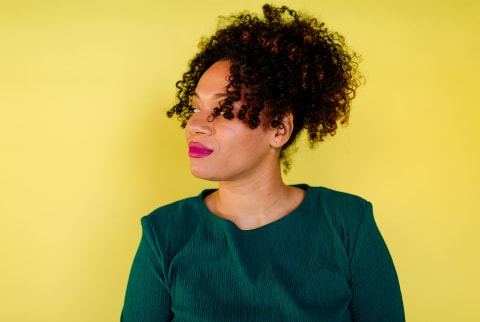 Image by Erin Brant / Stocksy
February 3, 2022
Our editors have independently chosen the products listed on this page. If you purchase something mentioned in this article, we may
earn a small commission
.
Of all makeup woes, nothing is more frustrating than lipstick creases. I say this as someone whose winged liner somehow always turns out looking like an EKG reading: Liner (especially of the liquid variety) is notoriously tricky to master, but lipstick carries this air of effortlessness—which makes cakey, creasy applications all the more aggravating.
Make no mistake: Achieving long-lasting lip color is not a swipe-and-go endeavor. It requires thoughtful application of multiple products. Yes, multiple—allow me to introduce you to the art of layering your lippies.
Advertisement
This ad is displayed using third party content and we do not control its accessibility features.
The best order to apply your lip products.
In general, the order goes: scrub, balm, liner, color, gloss. But let's take a deeper dive:
Not only does exfoliation help buff away dry flakes (which can leave an uneven surface for lip color), but it also helps smooth out creases. "Exfoliating your lips can be helpful if you're starting to see some lip lines," board-certified dermatologist Loretta Ciraldo, M.D., FAAD, says about exfoliating the area. A bit of scrubbing will help your subsequent products glide on with ease. Not to mention, exfoliating your pout also stimulates circulation and blood flow, which spurs the production of collagen and keeps them looking full.
Check out our favorite lip scrubs here, or feel free to use a damp reusable cotton round for the job. "They're very soft but give a nice little scrub that helps keep my lips very soft and smooth without the grittiness of exfoliating products," says makeup artist Jenny Patinkin.
Advertisement
This ad is displayed using third party content and we do not control its accessibility features.
To prep your lips for color, a quality lip balm is practically nonnegotiable. "Using a balm covers and fills in any little gaps in your lips so that color doesn't sink in, and it keeps color from attaching to dry patches that can flake off," notes Patinkin. Hopefully, you've scrubbed most of them off, but a quality balm can soften any lingering bits you might have missed. "A tinted balm can help enhance a lipstick color, but a clear balm will give a truer read," she adds. Look for emollients that build up the skin barrier and soften out microcracks—for example, mindbodygreen's lip balm contains shea butter, coconut butter, and vitamin E, as well as moringa seed oil for a heap of fatty acids and antioxidants.
However, timing does matter: Apply your lipstick right after swiping on a balm, and the color will likely slide right off. Patinkin recommends applying your balm 15 minutes or so before your makeup routine—like when you get out of the shower or start doing your hair, for instance. That way, the formula has enough time to sink into the skin and soften your pout. If your lips still feel slippery when you're ready to apply lip color, feel free to use a tissue to blot away any extra product.
Advertisement
This ad is displayed using third party content and we do not control its accessibility features.
Next, find a lip liner that's the same shade (or the closest you can find) as your lipstick, trace the lips to secure a helpful border, then fill in the entire surface area with the liner. "This creates a base color so that when any lipstick or gloss applied on top of it wears away, you still have a nice color and shape left," says Patinkin.
Finally, it's time for color! To keep your lippie in place, Nechelle Turner, global makeup artist for Jane Iredale—The Skincare Makeup, recommends applying multiple layers of color. "Apply lipstick, blot with a tissue, and reapply lipstick," she once told mbg. By blotting that first layer, you're really pressing the formula into the waxy liner base so it stays put. Then your last layer is for the lush finish.
Advertisement
This ad is displayed using third party content and we do not control its accessibility features.
Follow up with a gloss, if you so choose. A touch of shimmer on the center of your lip can really accentuate plushness, as it highlights the area. As celebrity makeup artist A.J. Crimson tells mbg about accentuating your lip shape: "Anytime you add something reflective to the lip, it's going to add more of that pop and poutiness."
The takeaway. 
Are there days when I swipe on a tinted lip balm and call it a day? Of course. But if you're craving a bold, fierce lip, make sure you know your layering order; it can truly make or break the wearability and color payoff.