The Best New Year's Resolutions, According To Your Zodiac Sign
mbg Contributors
By The AstroTwins
mbg Contributors
Ophira and Tali Edut, known as the AstroTwins, are professional astrologers based out of New York and Seattle. Their work has been featured in The New York Times, Elle Magazine, Vogue and Good Morning America and they are the authors AstroStyle, Love Zodiac, Shoestrology, and Momstrology.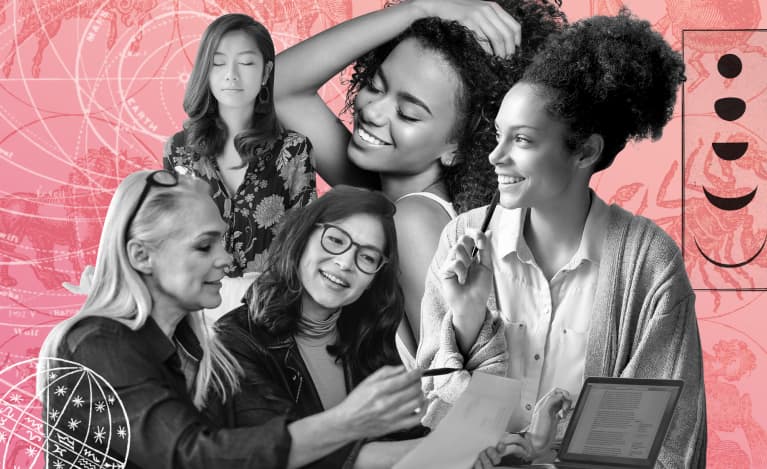 Don't get us wrong. We totally support you eating clean, being more socially aware, and calling your mom once a week (at least). But your 2020 horoscope also has hints for how to set intentions that are aligned with the stars.
In 2020, all the signs will have to be a bit "out of character." While your nature may be to go one way, the stars are guiding you in what might feel like a counterintuitive direction. Some years are like that! The opportunity here is to discover a new part of yourself or to build a muscle in an area where you might not be naturally strong.
Fire signs (Aries, Leo, Sagittarius)
The fire signs will have a year where less is more. Focus and prioritize for the win!
This can be a huge career year for you, Aries, if you can keep your legendary impatience In check. Instead of trying to "boil the ocean," focus that competitive drive on one or two lofty goals. Resolve to focus on your biggest goals and keep distractions at bay.
Focus on streamlining, especially when it comes to your health and fitness. Trade some of the glitz and glamour (temporarily) for a sense of refreshing calm. Not sure what you want to be when you grow up? You may take an in-between "bridge job" while you build up skills or work on a passion project to unveil later in the year. Make your 2020 resolution to have your healthiest year yet!
Money is in the stars for you, but you'll have to become a creature of habit—not always easy for a sign with a million irons in the fire. Focus on building one or two key projects and making them profitable. Make your 2020 resolution to prioritize the things that bring you value. Quality over quantity!
Earth Signs (Taurus, Virgo, Capricorn)
The earth signs are called to be more adventurous in 2020. Your practical nature gets a shakeup as the stars invite you to carpe some diem!
Set aside your desire for guarantees, because 2020 is time to take a risk! Nothing ventured, nothing gained. Embrace spontaneity over security and you could have a wildly exciting year. How about a 2020 resolution that involves bucket list travel or taking a chance on one of your dreams, Taurus?
Romance, passion, and the spotlight are calling. Set aside that Virgoan modesty and let people see how talented you are. Your sign has many consummate performers in its ranks (Beyoncé, for one!), and it's time to share your creativity with your fan base. Dress rehearsal's over, Virgo—it's showtime! Set a 2020 resolution to make JOY your No. 1 priority...and to live in the moment instead of letting perfectionism slow you down.
It's YOUR year! With Jupiter, Saturn, AND Pluto all holding summit in your sign, fresh starts abound. Your 2020 resolution is to stop putting other people's demands or your hefty load of responsibilities ahead of your own dreams.
Air Signs (Gemini, Libra, Aquarius)
Air tends to diffuse in many directions, but in 2020, you'll win by going deep instead of scattering your energy and evaporating into the ether. Open up to more emotional depth!
Geminis love variety, but in 2020, you're being called to concentrate deeply on one or two important topics (and people). This is a year for investing, which means you can't just pull your gaze away the minute a shiny new object appears. Your 2020 resolution is to ignore the hocus-pocus...and focus!
After a social 2019 that had you here, there, and everywhere, 2020's stars are calling Libra home. Embrace this domestic cycle and set 2020 resolutions around planting deeper roots, bolstering your bonds, and strengthening family ties. Thinking of a move or renovation? Explore new habitats!
For Water Bearers, 2020 is a time to learn how to receive. This, of course, means letting yourself be vulnerable. Instead of stuffing down your feelings or repressing them ("I'm OK!" or "Nothing's wrong—why?"), make a 2020 resolution to allow yourself to be nurtured and supported. Prioritize self-care and take it easy. By the end of 2020, you'll be starting a new 12-year life chapter, so rest and rejuvenate.
Water Signs (Cancer, Scorpio, Pisces)
Emotional water signs are being called to detach from your feelings and get out into the wider world. Mingle and make new friends in 2020!
Open up to partnership, Crab—the kind that's an equal give-and-take. If you're overly dependent on people, resolve to become more autonomous in 2020. Your relationships will thrive when you feel "whole" inside. If you're always the caretaker, practice holding back a bit and letting others pull their weight.
Scorpios have a rep as mysterious—and while you might not be the shy or quiet type, you're certainly aware of just how much information you allow to get out. With the planets piled into your third house of communication, set a resolution to be more open. Share your message with the world, play with words, allow yourself to be visible on social media and in the community. Kindred spirits await!
Does Mayor Pisces have a ring to it? In 2020, it just might! As the stars light up your futuristic 11th house of groups and social action, you could become the unlikely leader of a movement, perhaps even running for office. Or you might simply get more authentic in your social circles, earning the respect of your peers. Make a resolution to start a revolution—by being yourself wherever you go.