What To Eat To Instantly Reset Your Gut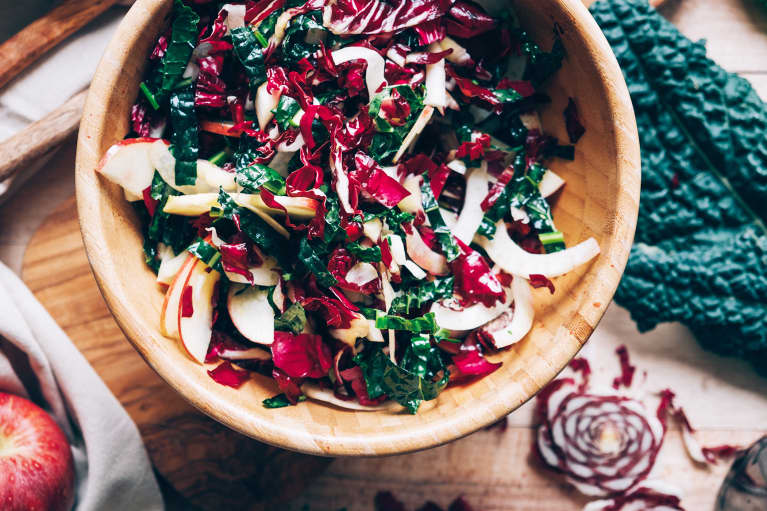 Our editors have independently chosen the products listed on this page. If you purchase something mentioned in this article, we may
earn a small commission
.
Whether you've had too many holiday cookies or you're just looking to maintain your gut health throughout the season, it's nice to have a few easy remedies to reach for to reset your gut health and digestive system. We asked some of the countries top R.D.s for their favorite gut-reseting foods. Here's what they said.
1. Blueberries, jicama, and radishes.
Low-sugar fruits and veg as a source of carbohydrates are essential. some of my favorites are blueberries, jicama, and radishes. They also serve as prebiotics (the food) to feed the probiotics (good bacteria).
—Lisa Hayim, R.D., founder of The Well Necessities
If I feel like my gut needs a reboot, I reach for my favorite fermented/cultured products: kombucha and yogurt! For yogurt, I'll either have plain Greek or Icelandic yogurt, such as Fage or Siggi's. For kombucha, I'll often get GT's Trilogy or Gingerade or Health Ade's Pink Apple. The trick to maintaining a healthy gut is staying consistent, so I generally try to have at least one probiotic-rich food or beverage every day.
—Allison Aaron, R.D., founder of Nutrition Curator
I love fermented vegetables like sauerkraut and kimchi! I love fermented foods but specifically love fermented vegetables because they don't require sugar for growth like kombucha. They deliver fiber and bioavailable vitamins and minerals along with your daily dose of probiotics!
—Kelly LeVeque, CHN, best-selling author and mbg class instructor
After a night of overeating, it's common to feel hungrier the next morning because our stomachs are stretched—they can hold up to one liter of food! In this case, having nothing but green juice and salad all day can be tempting but won't be filling. Whole grains are bland enough to settle the gut and also have fiber to make them satiating. For added protein and healthy fats, try a slice of bread with almond butter as part of breakfast.
—Sammi Haber, R.D., founder of Nutrition Works NY and Next Great Nutritionist winner
One hundred percent my favorite gut reset product is the digestive bitters from Urban Moonshine. The bitter anchor of dandelion root is complemented by gentler aromatics such as angelica. Digestive bitters can be used for daily support or for more acute GI distress.
—Kimberly Evans, R.D., founder of Whole Health Nutrition
I like adding collagen powder to my beverages. Our digestive tract is made largely of collagen, and although you can get some from broth, you can increase your dose by adding a spoonful of this tasteless powder to your tea or coffee to boost your intake.
—Diana Rodgers, R.D., founder of Sustainable Dish
Kefir is a fermented milk drink that contains live probiotic cultures. I typically make smoothies at least four times per week, so it's easy for me to add to my smoothies for a probiotic boost. Kefir has a naturally tart taste, so it's best to combine with a sweet fruit like mangoes or berries. Try my recipe for a mango-kefir lassi here!
—Leah Silberman, R.D., founder of Tovita Nutrition
The primary type of fiber apples contain, called pectin, acts as a prebiotic in our gut. What this does is it increases an important short-chain fatty acid that feeds on the beneficial bacteria while decreasing the number of harmful bacteria in the gut. I highly recommend apples because they are easily accessible for everyone and have powerful effects on our gut health when consumed regularly.
—Kim Suddeath, R.D., founder of Unrefined RD
Hot water with lemon (ginger optional). So often we overthink what our bodies need, but I prefer to keep it simple during this holiday season and stay hydrated. It's hard as it gets colder, but your body will thank you.
—Carolyn Brown, R.D., founder of FoodTrainers