You Can Make Each Of These Plant-Based Dinners For Less Than $1 Per Serving
Contributing Food Editor
By Liz Moody
Contributing Food Editor
Liz Moody is a food editor, recipe developer and green smoothie enthusiast. She received her creative writing and psychology degree from The University of California, Berkeley. Moody is the author of two cookbooks: Healthier Together and Glow Pops and the host of the Healthier Together podcast.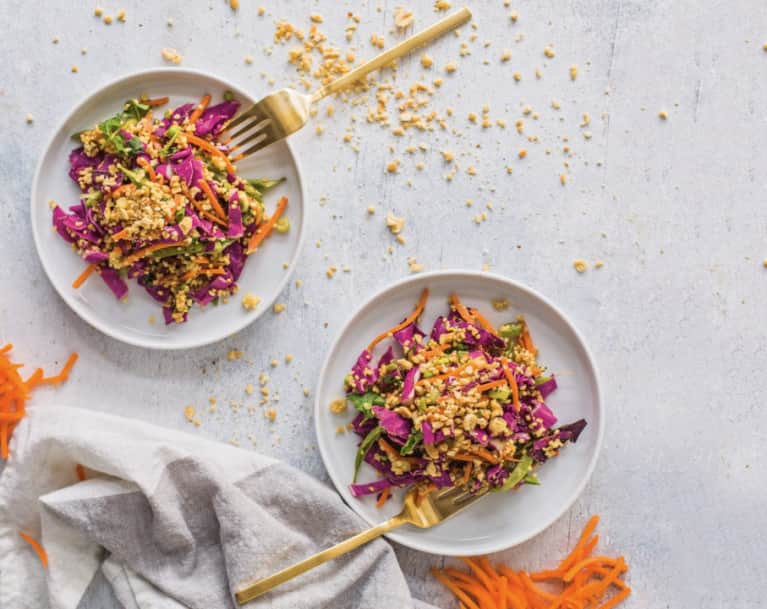 Our editors have independently chosen the products listed on this page. If you purchase something mentioned in this article, we may
earn a small commission
.
One of the chief complaints many people have when trying to eat healthier is the perceived expense of it all—all of the crazy powders and potions and the eye-popping receipt totals at natural grocery markets can make people give up on eating well before they even have the chance to feel its effects. Here's the secret: It can be crazy cheap. Less than $1 per serving, even. Here, Katie Koteen and Kate Kasbee, authors of Frugal Vegan, share three meals that'll cost you less than a Lincoln for a family of four.
Spicy Broccoli and White Bean Pasta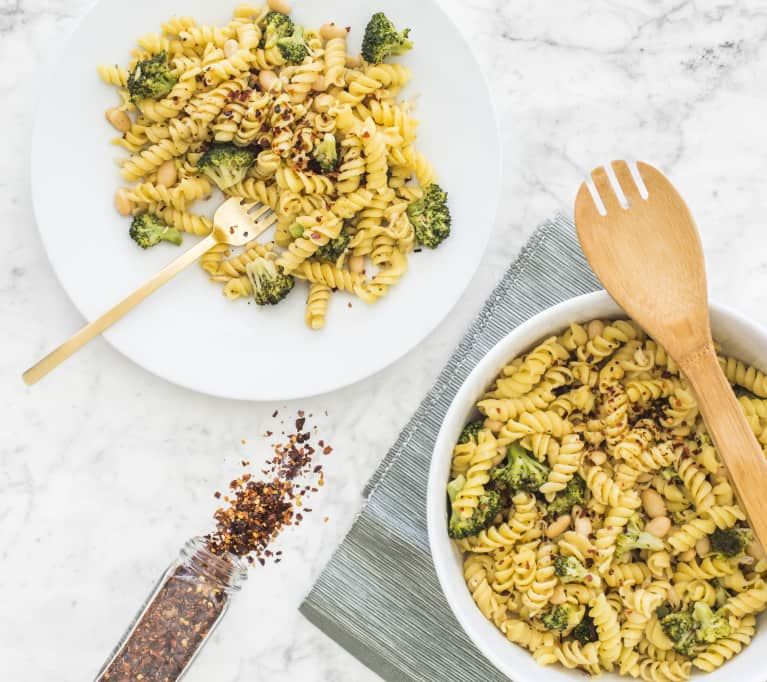 Serves 4
Weeknights, this pasta crushes it—a little spicy, a little creamy, and so easy to bring together, wineglass in hand. Almost all of the ingredients are pantry staples, so all you have to think about ahead of time is broccoli (or broccolini if you want to make it fancy).
Ingredients
12 ounces (340 g) pasta
2 cups (182 g) broccoli, cut into small florets
¼ cup (60 mL) olive oil
4 cloves garlic, minced
½ teaspoon red-pepper flakes, plus more to taste
1 can white beans, rinsed and drained
Salt and pepper
Bring 2 quarts (1.9 L) of heavily salted water to a boil. Cook the pasta according to package directions. Add the broccoli to the boiling pasta water and cook for about a minute. Fish out the broccoli with a slotted spoon and set aside. Set aside 1 cup (240 mL) of pasta water before draining.
Heat the olive oil, garlic, and red-pepper flakes in a large saucepan over medium heat for about a minute. Add the lightly cooked broccoli and white beans. Cook for another 3 to 4 minutes.
Drain the pasta and add ½ cup (120 mL) of the reserved cooking water to the beans and broccoli, mashing some of the beans with a wooden spoon to make a creamier sauce. Continue to add the rest of the cooking water until the desired consistency is reached.
Add the pasta to the pan, stir to combine, and let it cook a few more minutes, adding more cooking water if needed. Add salt and pepper to taste.
Seared Polenta with Cherry Tomatoes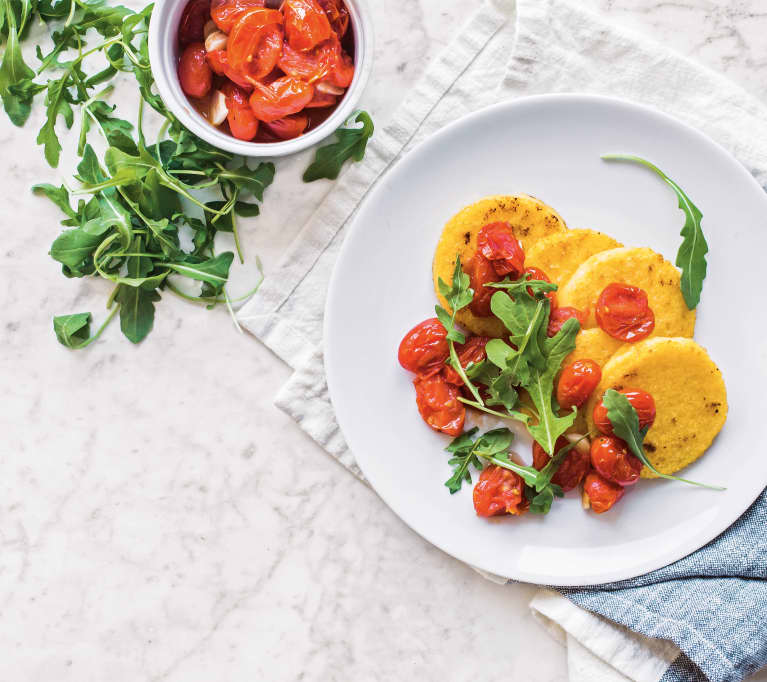 Serves 4
If you've never tried polenta, this recipe is a terrific introduction. Polenta is basically mushy cornmeal that was historically served as peasant food in North America and Europe. Today, polenta is a staple of Northern Italian cuisine, and it happens to be super affordable. You'll find it packaged in a tube, probably in the pasta aisle at your grocery store. This recipe will certainly test your patience, as it's important not to move the polenta around as it cooks. Doing so will cause it to stick to the pan, and no one wants that.
Ingredients
2 tablespoons (30 mL) canola oil, divided
1 pound (454 g) polenta, sliced into ½-inch (13-mm) rounds
1 pint (298 g) cherry or grape tomatoes
4 garlic cloves, thinly sliced
2 cups (80 g) fresh arugula or spinach
Preheat the oven to 175°F (80°C). Heat 1 tablespoon (15 mL) of canola oil in a nonstick pan over medium heat. Once the oil is shimmering and glides easily across the pan, carefully add the polenta slices. Cook the polenta until crispy and golden on each side, about 8 minutes per side. Resist the temptation to move the polenta around as it cooks! You may have to work in batches depending on the size of your pan.
When done cooking, transfer the polenta slices to a paper towel to drain excess oil. Then place the polenta slices on a baking sheet and put them in the oven to stay warm while you prepare the tomatoes.
Carefully wipe the pan clean and add another tablespoon (15 mL) of canola oil. Heat the pan over medium-high heat, and once hot, add the cherry tomatoes. The tomatoes will pop and sputter as they cook in the oil. This is what you want! Cook until the tomatoes blister and their skins are lightly charred, about 3 to 4 minutes. Gently press on the tomatoes with the back of a spatula to release their juices. Reduce the heat to medium-low and add the garlic. Cook for a minute or so, until the garlic is fragrant. Remove from heat and transfer the garlic and tomatoes to a bowl.
To assemble, divide the polenta between four plates and top with a scoop of cherry tomatoes and their juices, followed by a small handful of fresh arugula. Serve immediately.
Roasted Potato and Zucchini Pizza
Serves 4 to 6
If you like to make your own pizza dough, have at it. I have a great little pizza place in my neighborhood that has the most amazing fresh dough for almost nothing. Most grocery stores also carry it for a few dollars or less. The prep for the recipe is minimal—the zucchini and potato rounds scream mandoline, but a knife works just as well for this savory delight of a pizza. Guaranteed you won't miss the cheese.
Ingredients
3 to 4 medium red potatoes, sliced into thin rounds
2½ tablespoons (37 mL) olive oil, divided
Salt and pepper
1 medium zucchini, sliced into thin rounds
Pizza dough
1 cup (40 g) arugula
1 medium tomato, diced
Fresh basil, optional
1 teaspoon balsamic vinegar
Preheat the oven to 425°F (218°C). Line two baking sheets with parchment paper.
Toss the sliced potatoes in ½ tablespoon (7 mL) of olive oil and a little salt and pepper. Lay them out on a baking sheet. Repeat the process for the zucchini, and put them on the other baking sheet so you can give the potatoes a little extra time in the oven. You'll want to roast the potatoes about 15 minutes and the zucchini just barely 10 minutes.
Set the roasted vegetables aside to cool.
Preheat the oven to the highest heat.
Prepare the dough, rolling it out into your pizza shape. Drizzle with 1 tablespoon (15 mL) of olive oil and sprinkle with a little salt and pepper. Top with the roasted vegetables. I like to do an alternating potato-zucchini overlapping pattern starting at the outer edge of the dish and working concentrically toward the center.
Bake for about 8 to 10 minutes or until the crust is golden brown.
In a medium bowl, toss the arugula and tomato with the balsamic vinegar, adding ½ tablespoon (7 mL) olive oil with a little salt and pepper. Top the cooked pizza with the arugula salad and serve immediately.
Tip: This pizza is perfection cooked on an outdoor grill. If you haven't cooked pizza on a grill before, be sure to do a little research. There's definitely a technique.