The 3 Best Cast-Iron Pans To Make Your Food Way Healthier
Contributing Food Editor
By Liz Moody
Contributing Food Editor
Liz Moody is a food editor, recipe developer and green smoothie enthusiast. She received her creative writing and psychology degree from The University of California, Berkeley. Moody is the author of two cookbooks: Healthier Together and Glow Pops and the host of the Healthier Together podcast.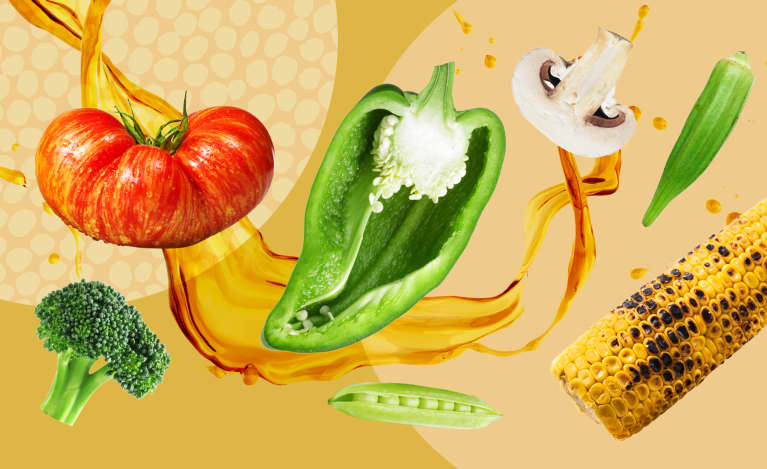 Our editors have independently chosen the products listed on this page. If you purchase something mentioned in this article, we may
earn a small commission
.
Cast-iron pans might be one of the top kitchen tools that chefs and health professionals agree upon. The heavy weight allows for durable, even cooking (many lighter pans have "hot spots" that can lead to burning) and because the entire pan is heatproof, it can go from stove to oven with ease, a nice benefit when searing then roasting veg or a chicken. Cast-iron pans tick the boxes of the wellness world, though, for two reasons: what they bring in and what they leave out.
"Cooking with cast iron also can be helpful for those looking to boost their iron intake," explains Carlene Thomas, R.D., and founder of Oh Carlene. She notes that it's a safe and effective way to boost iron intake without going overboard: "You may need to consume more iron if you feel easily fatigued, have pale skin, or bruise easily," she says, "but iron overload is unlikely with simply cooking on a cast-iron skillet alone. Most people would need to be overdoing it on supplements—there are less than 200,000 cases of iron overload in the U.S. per year."
Also notable is what cast-iron pans don't include—namely questionable chemicals used to make a surface "nonstick." Cast irons derive their nonstick from a process called "seasoning," which results in fat sticking to the pan's surface (this is why you don't scrub a cast iron with soap, although gently washing with a lightly soapy sponge is, contrary to popular belief, completely fine). "With all of the questions surrounding nonstick pans and the new ceramic pans with nanoparticles, you can't go wrong with classic cast iron. It's incredibly durable and is made with trustworthy materials used for generations," says Thomas.
There are a ton of cast-iron pans on the market, and they all differ in size, shape, nonstick surface, and weight. Of the many that exist in stores today, there are a few that stand out from the crowd: if you're looking to add a cast iron to your kitchen, we highly recommend one of these three:
The Field Company No. 8
This gorgeous cast-iron skillet claims to be as close to vintage as you can find on the market today, and this difference is mostly evidenced in the smoothness of the bottom of the pan. A lot of cast irons you buy will have a lightly pebbled bottom that can make food stick more, even when the skillet is well seasoned. This pan's bottom is hyper-polished, resulting in a far more nonstick surface. It's also incredibly lightweight for a cast-iron pan. We love the No. 8, which has an 8¾-inch cooking surface and would work perfectly for most weeknight meals. No. 8 Cast Iron Skillet, The Field Company ($125)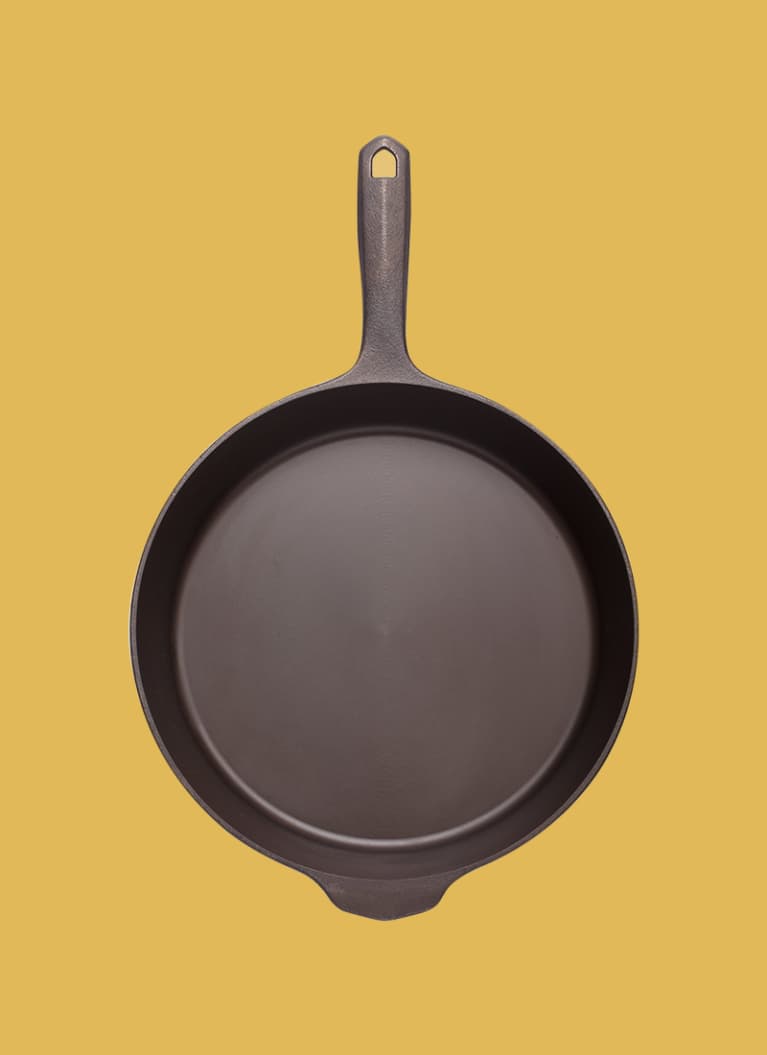 mbg creative + custom
Finex 10" Skillet with Lid
Finex brings a number of innovations to the cast-iron table. There's a hyper-polished bottom reminiscent of vintage pans and a coiled handle that stays cool as you cook (which, if you've ever forgotten a potholder and reached for a pan, you and your poor palm will appreciate). The shape, instead of round, has eight corners that serve as pour spots, and you can purchase it with a lid, making it possible to steam food in addition to searing and braising. This is a workhorse nonstick pan that's worth the splurge. 10" Skillet with Lid, Finex ($225)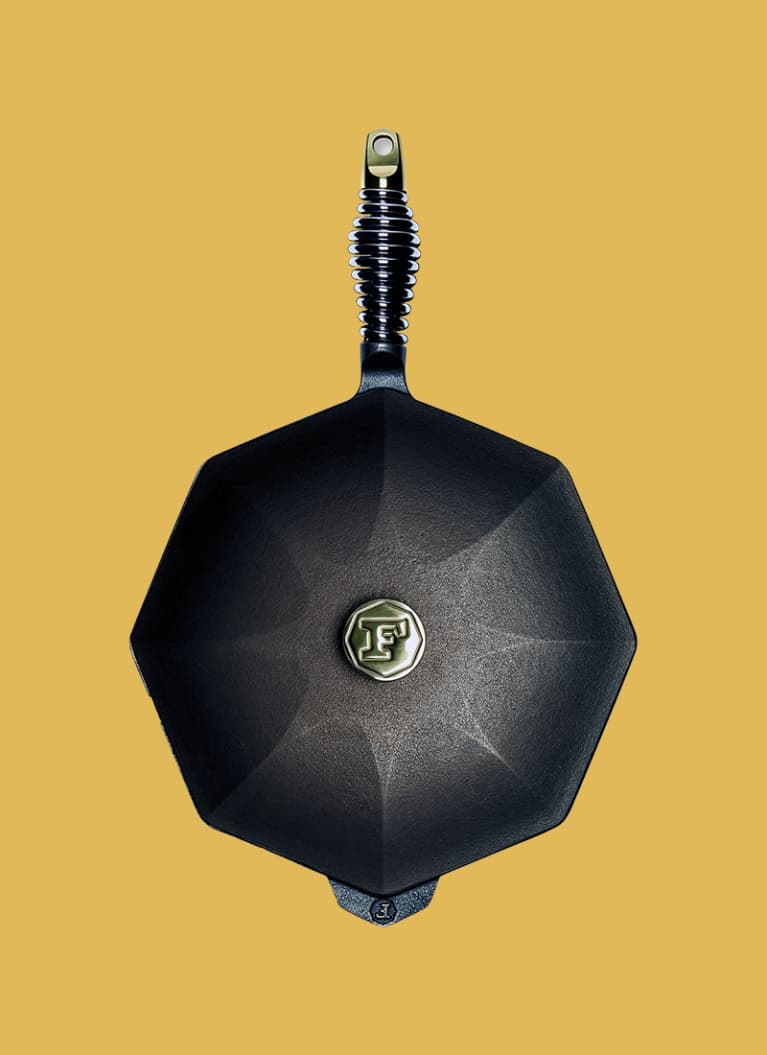 mbg creative + custom
Victoria 10" Cast-Iron Skillet
This model, which is seasoned with non-GMO flaxseed oil, is far and away the most affordable of the bunch. While, yes, it's slightly more pebbled than $100-plus versions and needs a bit more tender care and regular upkeep to stay nonstick, and yes, it's a bit heavier, it's also an amazing cast iron for under $20. Food cooks evenly and releases cleanly from the surface, and the cast iron itself is durable—with proper care, it should last at least five to 10 years. Perfect for anyone looking to explore cooking with a cast-iron pan without too much investment. 10" Cast Iron Skillet, Victoria ($19.99)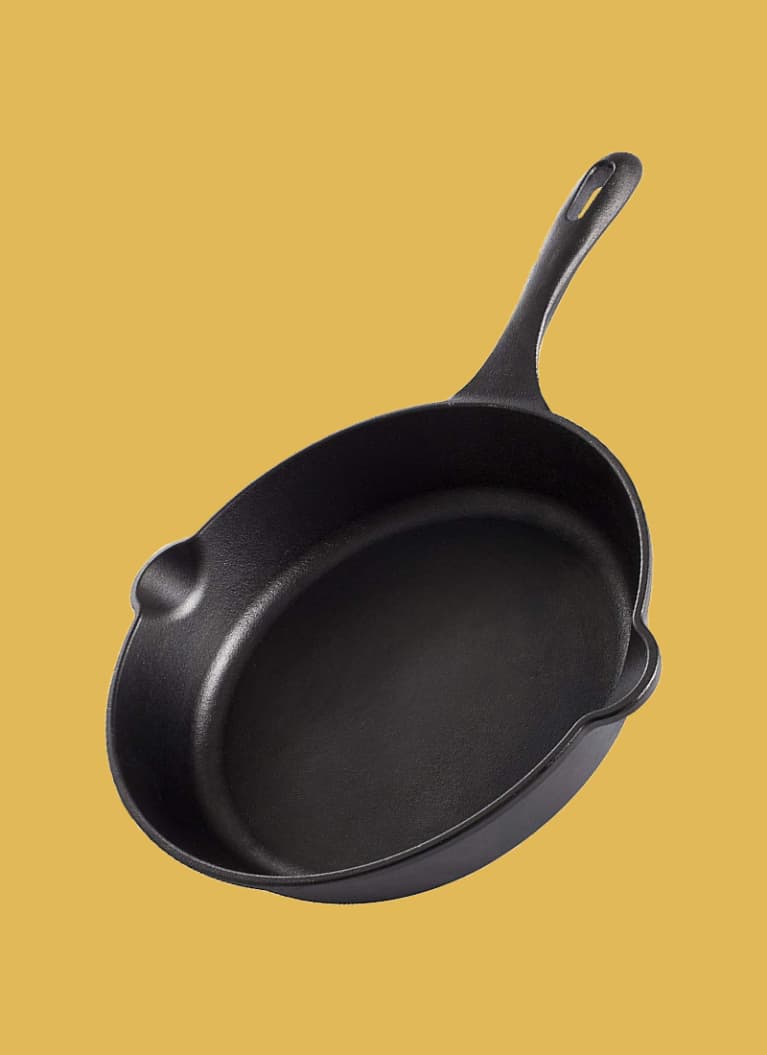 mbg creative + custom