The Perfect Adaptogen To Take All Spring
Functional Medicine Practitioner
By William Cole, D.C., IFMCP
Functional Medicine Practitioner
Dr. Will Cole, D.C., IFMCP, is a leading functional medicine expert who specializes in clinically investigating underlying factors of chronic disease and customizing a functional medicine approach for thyroid issues, autoimmune conditions, hormonal imbalances, digestive disorders, and brain problems. Cole is also the bestselling author of Ketotarian and The Inflammation Spectrum.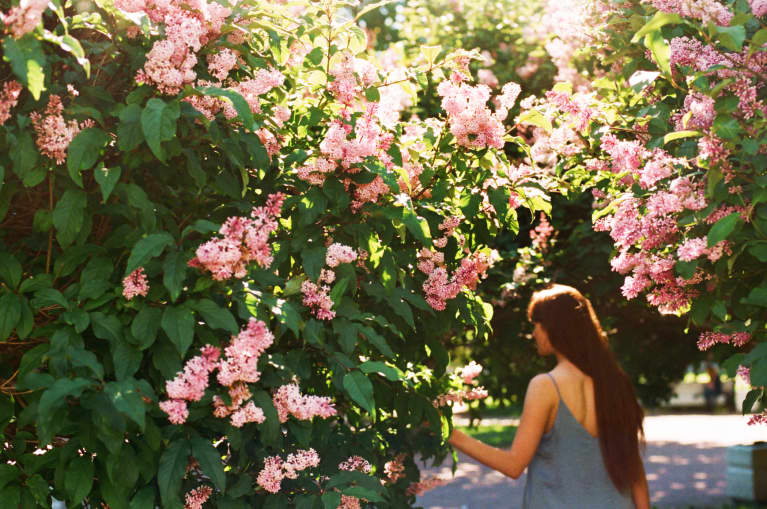 The mbg Collective is a curated group of our most trusted wellness advisers. Since 2009, we've had the brightest, most passionate, and mission-driven leaders in wellness share their intimate stories and world-class advice. Now, we're giving you unparalleled access to the people who, alongside mbg, are putting the "WE" back in wellness. Consider them your personal guides, there to support you and sustain you on your journey.
If you know me at all, you know that I am obsessed with adaptogens. And I am not the only one! Adaptogens have infiltrated every health-centric restaurant and coffee shop. Look up any health-related hashtag, and you'll be sure to find picture upon colorful picture of adaptogen-fueled elixirs.
So what's the big deal? Adaptogens encompass a variety of plant and herbal medicines that are generally safe for everyone and work to target the areas in your body and health that need a boost or to be rebalanced. As a functional medicine practitioner, adaptogens are one of my favorite tools for my patients' health as well as my own. But just like with supplements, no one needs to be taking every adaptogen under the sun. Since different adaptogens work better at enhancing certain parts of your health than others, it's important to choose wisely and play up the strengths of each one. The great thing is that these are usually available in powdered form and can be added to smoothies, teas, elixirs, or even food.
Your health requires different things each season to support the sometimes dramatic weather and temperature change your body has to cope with in order to really thrive. As with any supplement, work with your doctor to make sure this will be best for your individual health case and listen to how your body responds to anything new.
The weather hasn't quite gotten the memo, but we're currently on our way to warmer temperatures. Spring is the time when the earth comes back to life; everything becomes green again and hundreds of beautiful, vibrant plants begin to bloom. It is also the time when seasonal allergy sufferers have to stock up on their go-to allergy remedies.
Thankfully, natural remedies can help prevent those last-minute runs to the pharmacy. In many research studies, red ginseng has been shown to have intensive anti-allergic properties. One study looked at red ginseng's ability to reduce allergy-induced nasal inflammation along with subsequent symptoms such as sneezing, runny nose, itching, and even more severe conditions like asthma.
Warm weather and longer days just beg us to spend as much time outside as possible. All this extra sun exposure can be great for upping our vitamin D level, which is essential for our body to function optimally. However, it can do a number on our skin by increasing free radical damage, leading to wrinkles and other visual effects of aging.
In order to keep your skin youthful, take a look under the sea and discover my favorite oceanic adaptogen: pearl. Yes, the same pearls that make up your jewelry can be crushed up to form a powder extremely high in anti-aging nutrients. Not only is it abundant in amino acids, but it also works to repair damaged cells and reverse free radical damage due to its high antioxidant content.
As the temperatures begin to drop, cold and flu season starts its vicious attack. You'll want to make sure to bring in extra support for your immune system during this time. The root adaptogen astragalus has been shown to boost immune-regulating T-cells and is also a powerful antiviral and antibacterial. Keep this with you at all times for a quick boost whenever you feel the sniffles starting to creep up.
The start of winter can be a welcome time of relaxation and coziness. But months cooped up inside can start to wear on a person. In fact, mild to severe forms of seasonal affective disorder (SAD) affects between 20 and 35 percent of people.
So unless you are lucky enough to live in a year-round sunny climate, the winter blues is something that most people experience at some point. Mucuna pruriens is a legume adaptogen found in Africa and Asia that is next-level at boosting mood due to its high levels of L-DOPA, the precursor to dopamine. Include this in your morning beverage to elevate your mood from "blah" all the way to "yay."
Want more tips for combating SAD? Here are 8 ways to beat it naturally.