The 3 Principles This Family Uses To Run Their Natural Food Business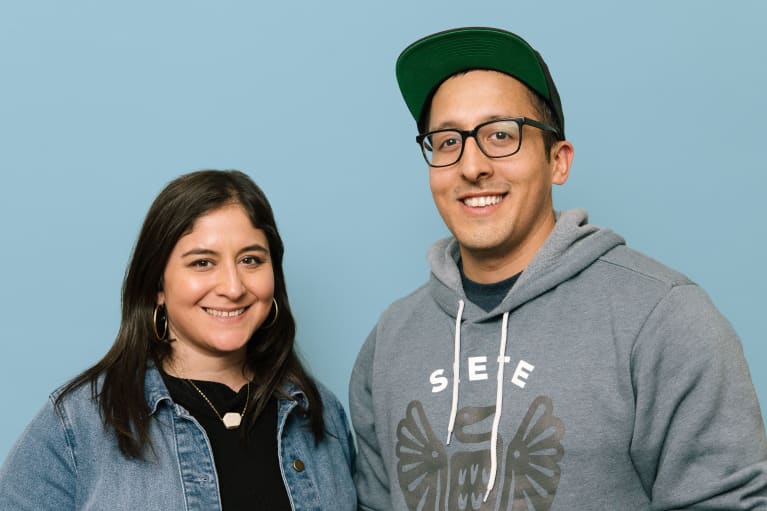 Love this? Want more? Stay up to date with the podcast by signing up for
our newsletter
. —The Editors
Consumers are demanding more from brands—authenticity, transparency, and functionality are just a few traits that people are looking for. It often comes down to the values on which the brand is built, and Veronica and Miguel Garza, co-founders of Siete Family Foods, are an example of a brand created on a strong foundation. The brother and sister team joined me on the mbg podcast to talk about how they started a "better-for-you Mexican-American food brand" and why remaining true to their core values is critical as they grow.
After Veronica was diagnosed with her first autoimmune condition at the age of 17, which then developed into lupus and Hashimoto's years later, her brother suggested she try the paleo diet. Eating a healthier diet was just one component of her health puzzle that helped improve her symptoms, but she missed eating the foods she had grown up eating like tortillas and chips. This led to her experimenting with different grain-free flours. During her childhood, she had learned how to make tortillas from her grandmother and decided to give it a try, this time with almond flour.
She started sharing these delicious tortillas with her family and found more and more people around her were interested in grain-free tortillas. "We saw how much it could help people and realized that the best way to provide this product to people, make it more convenient for them, and have it change their lives the way it changed ours, was to put it out on shelves."
While building this brand, the seven siblings, who all work at Siete, have centered their growth around a list of core values that influence every product they launch and represent their roots as a Mexican-American family from South Texas. These are three that Miguel and Veronica spoke about as integral in creating an iconic brand:
"Family is so much a part of our identity," said Miguel and explained that from a young age, the Garza parents instilled in their children the idea that they should choose love and connectedness. While they all work together, they're a family first and there to support each other and make one another better. As new members have joined Siete, they've also become part of the family, and Miguel and Veronica noted how much they value the Siete family. This explains why their first core value is "Family first, family second, business third."
Siete Family Foods started because Veronica was looking for a way to solve a problem in her life. She quickly saw that these grain-free tortilla options were also improving the lives of others, and that made the decision that every innovative product they launch should be solving someone's problem. This commitment makes it so their products have an authentic story behind them and feel relatable and comfortable to their consumers. After developing the almond flour tortilla, Veronica found people reaching out to her expressing that they wanted to try the almond flour tortilla since it was gluten-free and grain-free but couldn't because they were allergic to almonds. That's when Veronica started innovating with the whole root vegetable cassava and developed a cassava tortilla.
A big focus at Siete is continuing to acknowledge that wellness is defined differently by everyone. For some, a grain-free option is incredibly important and satisfying while for others it may not fill them up in the way they need. Recognizing this, the Siete brand steers away from pushing a specific type of eating on people and instead works to empower the consumer with education so they can make decisions that work for their health needs. "We encourage people to have a pursuit of wellness—trying to better your health is what we try and encourage as a brand," said Miguel. It's about making better options more accessible and putting resources into providing the consumer with information so that they can make better choices, explained Miguel.