New Study Finds That Teens Who Live Near Nature Are Less Depressed
mbg Sustainability Editor
By Emma Loewe
mbg Sustainability Editor
Emma Loewe is the Sustainability Editor at mindbodygreen and the author of "The Spirit Almanac: A Modern Guide To Ancient Self Care."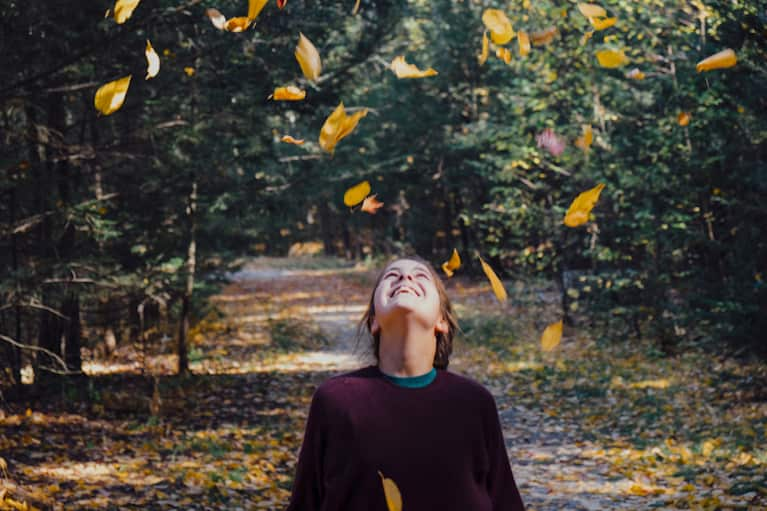 January 23, 2018 — 15:22 PM
Science has long supported the idea that nature has a therapeutic effect on adults, and new research finds that it's incredibly soothing for adolescents as well.
According to a report in the Journal of Adolescent Health, access to greenery makes teens, especially middle schoolers, less likely to feel depressed. Researchers studied more than 9,000 12-to-18-year olds over the course of years, monitoring their depressive symptoms and access to green space. They found that those who lived in areas with a lot of vegetation were 11 percent less likely to suffer from severe depression than peers who weren't exposed to greenery. Interestingly enough, access to bodies of water did not appear to factors into participants' mental health.
The researchers have a few theories at to why lush trees are medicinal for young people. One is the restoration theory—the idea that nature helps restore some mental clarity after long, arduous tasks like, say, studying for standardized tests. Another explanation is the biophilia hypothesis, which says that humans of all ages are hardwired to seek connection with the outdoors.
This study comes on the heels of another that found that teens who spend a lot of time on their phones are significantly less happy than those who pursue hobbies offscreen. While not a new idea, it's yet another reminder of the importance of mindful technology use and abundant time outdoors—or at the very least, next to a houseplant.
"Interestingly, research has shown that even photographs of nature can have positive benefits," Kirsten Beyer, a health geographer at the Medical College of Wisconsin in Milwaukee told Reuters in response to the greenery study. "Greening indoor environments should not be discounted as a way to protect mental health. Even in the most urban environments, vacant lots, yards, and street trees offer opportunities for adding greenspace to the landscape."
Curious about how time outside reshapes your brain? Check out one expert's explanation.