Teaching Kids Yoga To Help Them Overcome Trauma: Welcome To Project Peaceful Warriors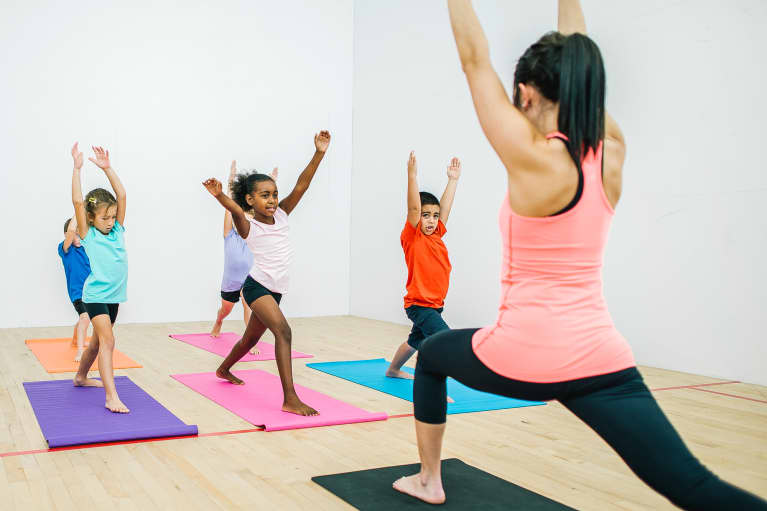 It's often said that you can't know a person's story just by looking at them, and Chelsea Hylton is no exception. With blonde shoulder-length hair and a smile that could put anyone at ease, Chelsea comes off as hardworking, compassionate, and dedicated. You would have no idea what she has been through and what she has seen—unless, of course, you ask her.
Chelsea grew up in the Washington, D.C., area, where both of her parents struggled with addiction. Her father was in and out of incarceration for most of her childhood. She didn't know it at the time, but her traumatic experiences and desire to work in education would eventually become the driving force behind her New Orleans–based nonprofit, Project Peaceful Warriors.
Chelsea first tried yoga in middle school, and it soon became a way for her to cope with the difficult emotions she was experiencing. Her father continued to battle addiction throughout her high school years, and on the night of her graduation, Chelsea lost two of her closest friends in a car accident.
"When I first started yoga, it was a great way for me to tune out of my life," she says. "But gradually it became more of this process where I had the opportunity to check in with my emotions and honor and acknowledge how I was feeling. It helped me feel OK again."
After graduating, she moved to South Carolina to attend the College of Charleston, where she planned to major in communications. That plan changed when a friend studying education told her about a school that had recently started a yoga program. Chelsea started volunteering and teaching yoga classes at the school and eventually transferred to Charleston's School of Education. The experience, she says, was life-changing.
"I found this way to connect with kids outside of the traditional classroom setting—a way to connect with them on a more emotional level. That, to me, was really powerful."
After graduating and teaching for a year, Chelsea moved to New Orleans to teach full time. She quickly realized that New Orleans is, as she puts it, a unique place. "There's a very different culture here—my students were experiencing so much more than the average child. We have one in five children screen positive for lifetime PTSD, and students experience trauma at four times the national average."
A lot of this, she explains, comes from violence in the community and violence at home. "It creates such a drastic impact on the developing brains and bodies of children," she says. "Trauma is the second most powerful predictor of academic failure behind special education. All of these factors come into play, and I see it in my students—that they're really struggling and not getting the support that they need to be successful."
Chelsea saw the impact that yoga and mindfulness could have on the lives of her students, and in 2016, she left her teaching job to start Project Peaceful Warriors.
What is Project Peaceful Warriors?
Project Peaceful Warriors is a nonprofit organization that provides "trauma-informed yoga and mindfulness programming to schools." Armed with a staff of six teachers and an advisory board full of seasoned professionals (including psychologists, professors, and longtime residents of New Orleans), Chelsea and her team teach classes to over 500 students a week at 10 different charter schools in New Orleans.
Beyond working with students, Project Peaceful Warriors works with teachers, showing them how to integrate breathing and mindfulness activities into the classroom to keep students calm and focused. "We give students and teachers the tools they need to reduce stress, anxiety, and lead happier lives." They also offer yoga for teachers on staff at the schools they work with. "Teaching is exhausting," Chelsea notes. "Teachers need some time and space for themselves, too."
The mission of Project Peaceful Warriors is honorable in itself, but the results they've been able to produce are astounding. The nonprofit partnered with researchers at Tulane University to measure the impact of yoga on the stress and anxiety levels of third graders. After just eight sessions of yoga, students reported decreased feelings of stress and anxiety, and they maintained higher scores in school as compared to their peers, even after their semester of yoga was over. Also, according to data that Chelsea and her team have collected, 92% of Project Peaceful Warriors' students have reported using yoga outside of yoga class at least once a week.
The future of Project Peaceful Warriors.
It's clear that Project Peaceful Warriors has had, and will continue to have, a profound and lasting impact on the students it reaches. While they're currently at 10 schools, they hope to expand to several more next year, keeping in mind their intention to "mindfully grow."
"We want to make sure that we're growing in an intentional way," Chelsea says. "We don't want to be in and out in a year—we want to cultivate deeper relationships where we are, and then do the same thing at the next school while still supporting the school that we're in."
In an ideal world, Project Peaceful Warriors would spend two to five years introducing and integrating their program into the school and then eventually have the school take it over. "Once the school takes the program into their own hands, we can be in a position to take on new partners."
And maybe in time, they'll expand to another city, but for now, Chelsea is focused on New Orleans. "We know that this is not just something we need here—yes, New Orleans has a high level of need, but this is something that can be expanded. This can benefit anyone, anywhere."