A Guide To Skin Care Rituals By Psyche, According To A Japanese Beauty Expert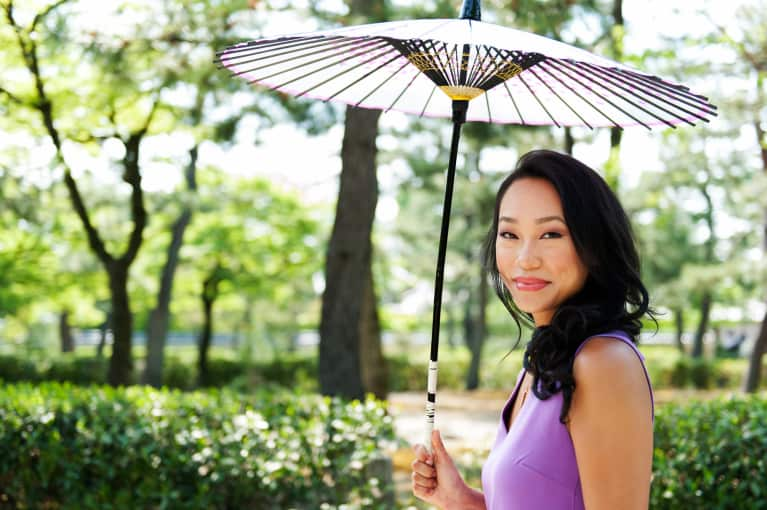 Our editors have independently chosen the products listed on this page. If you purchase something mentioned in this article, we may
earn a small commission
.
When it comes to skin care, it's easy to feel overwhelmed with information and product. Victoria Tsai, CEO and founder of Tatcha and author of the new book Pure Skin: Discover the Japanese Ritual of Glowing, has figured out several ways to adjust your skin care ritual based on your "skin care psyche" rather than reducing your product and ritual choices to the issues your skin presents. Below is an excerpt from the book that explains all five skin psyches and details Japanese-inspired rituals for each.
One of the first things I realized during my travels was that geisha and other Japanese women all have the remarkable, glowing skin we in the Western world associate with youth. Before I embraced an Eastern-based beauty ritual, my relationship with my skin was often adversarial. I worked against it by using aggressive products that promised overnight transformation.
When I talk to women with acne or eczema, they often tell me that they feel as if their skin has betrayed them. I understand that because I thought my skin was out of control, too. But perhaps the most valuable lesson the Japanese approach to beauty has taught me is that skin care is about caring. Your skin works hard for you. If you show it attention and love from the inside out, it will glow with a healthy radiance.
Growing up in the United States, I most often saw solution-oriented skin care—which has the unfortunate effect of reducing the client to a set of problems versus looking at the holistic person.
In Japan, caring for your skin is like any other aspect of caring for your health. Just like following a clean diet or a daily exercise routine, a Japanese skin care ritual is endlessly customizable to your skin's needs and your approach to skin care. A minimalist, for example, will find an efficacious regimen with only three to four steps, while an experimenter delights in a never-ending assortment of tailored treatments to play with outside of her core ritual. Identifying your psyche and current skin care habits will help find the best way to care for your skin going forward.
Beauty routines are personal and, in my opinion, an extension of your psyche—whether you're obsessed with the latest products or just thankful that face wipes exist. Below, you can discover what your skin care type is, or your "skin care psyche," and understand how a new ritual might benefit you.
The skin enthusiast: You love to try the newest products and change up your beauty regimen frequently.
Designing your ritual: Although a life-changing formula may be just around the corner, it's important to remember that your skin actually needs time to acclimate to new products. For example, it takes about two weeks to see the full results of a new moisturizer. The classical Japanese beauty ritual can be as simple or as intricate as you'd like while allowing your skin to improve on a realistic timeline. Give it time to take effect before moving on to new products.
Those who love to experiment with formulas and textures will certainly find much to try in a Japanese skin care ritual. Having said that, it would help them to have a set daily ritual—purify skin with a cleansing oil, polish like a jewel with a daily non-abrasive exfoliator, plump with an essence, and nourish with a moisturizer. This routine will help skin absorb the full benefits of the ritual, while the skin enthusiast can experiment at length with serums, masks, and other supplemental formulas.
The loyalist: You have a tried-and-true regimen that has not changed for years.
Designing your ritual: It's wonderful that you have found products that work for you—no doubt the result of diligent searching. Do keep in mind that your skin naturally changes as you move through life, so your ritual may need to be updated to add hydration or offer more sun protection. A change of seasons or move to a new climate may call for a reevaluation as well. Because the four-step ritual can easily be enhanced with serums and sheet masks that work in tandem, you can always recalibrate or enhance your usual routine—and see better results.
Once you have found a tried-and-true skin care regimen, it can be tempting to stick to it for the rest of your days. However, it's important to remember that the needs of your skin change frequently, whether with the seasons, or a move to a new place, or just through time. Even for someone with a daily routine, it helps to keep on-hand a slightly lighter or heavier moisturizer for the seasons, an ultra-hydrating sheet mask, or a noncomedogenic daily sunscreen.
The DIY dermatologist: You address skin issues swiftly and assertively. You may have over-exfoliated or overindulged with peels or other treatments in the past.
Designing your ritual: It can be satisfying to focus on one skin issue until it's gone, but it would save you lots of effort to focus on prevention. By nourishing your skin each and every day, you will help minimize those issues that drive you crazy, whether it's a breakout, dry texture, sun spots, or something else. A classical Japanese ritual will help you prevent the issues and keep your glow going rather than address them after the fact.
Some people like to laser-focus on a specific skin issue (sometimes literally) until it's gone, but the Japanese approach is all about prevention. Using self-touch techniques like massage, jade rolling, and gua sha, or simply spending a little extra time with your skin helps to keep it looking healthy and glowing, working with the skin rather than against it. Those who love to target one issue may want to also try a hydrating serum, a rinse-off mask, or a nourishing but not-too-heavy moisturizer.
The minimalist: You don't adhere to any particular beauty regimen, and you may not even wash your face every night.
Designing your ritual: There is nothing wrong with wanting to keep your routine streamlined and simple, but don't let the word "ritual" intimidate you. The truth is that a ritual can be completed in just a few steps and in about a minute. All you need to do is cleanse, polish, hydrate, and nourish for your happiest, healthiest skin.
With an 8-year-old daughter and a company, I am a firm believer in a minimalist skin care routine. Part of what I love is that the classical Japanese skin care ritual can be simplified to three or four steps. But I also love that there are new formulas to try and experiment with. In addition to the core steps of purifying, polishing, plumping, and nourishing the skin, a minimalist may want to try incorporating something like an eye cream (the skin around the eyes is more delicate than the rest of the face), a mask (which can be chosen to boost hydration or gently resurface the skin), or a hydrating spray, depending on the needs of the skin.
Based on an excerpt from Pure Skin: Discover the Japanese Ritual of Glowing Skin. Copyright © 2018 by Victoria Wei-Chi Tsai. Illustrations by Samantha Hahn. Published by Clarkson Potter, an imprint of Penguin Random House, LLC.