This Genius New App Is Basically Google Maps For Drinking Water
mbg Sustainability Editor
By Emma Loewe
mbg Sustainability Editor
Emma is the Sustainability Editor at mindbodygreen and the author of "The Spirit Almanac: A Modern Guide To Ancient Self Care."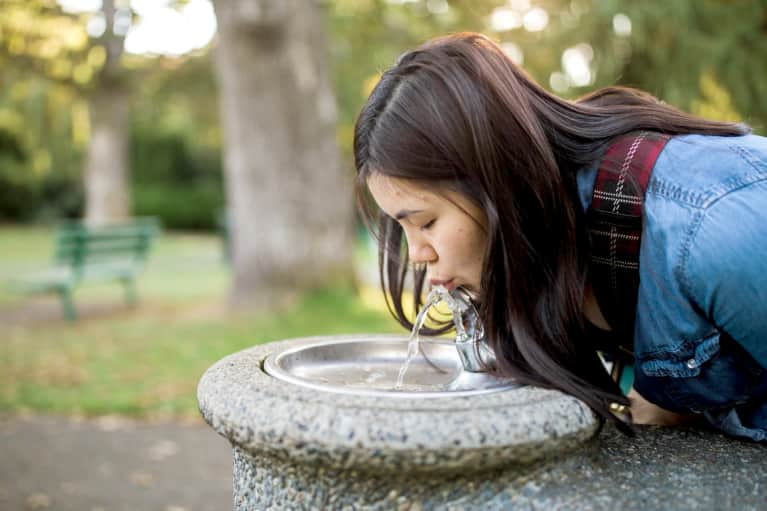 Samuel Ian Rosen wants to put water on the map. His new app, Tap, places sources of fresh, free drinking water on a Google Maps–like interface so users never have to seek out plastic water bottles again.
"Being thirsty is inconvenient," Rosen tells mindbodygreen. His "a-ha" moment happened when he encountered a broken drinking water filter at the airport. "I thought it was ridiculous that in 2018 I'm buying a plastic water bottle that's going to last 450 years on earth because I couldn't trust the drinking water at the fountain."
Tap will show people, in real time, the status of drinking water around them so they can make more informed choices. Once a fountain is broken or starts to taste funny, users or fountain operators can report it on the app.
To create the preliminary map, which will continue to expand, the Tap team mapped out 35,000 drinking water locations across 30 countries. To achieve this high number, they partnered with bars, restaurants, and coffee shops that were willing to offer people water for free in exchange for placement on the map, which lists standard fountains, as well as filtered, flavored, and sparkling options for more particular drinkers. Over 1,000 outposts in New York alone (think: Sweetgreen, La Colombe, and Juice Press) have signed on to become app partners.
"Instead of building water fountains, why not use our existing businesses? It's great for them—they get more people who are eco-conscious coming into their store. And even if these people don't buy anything, it's great brand equity."
When I tested out the app on my phone, I was met with a flood of nearby refill stations within walking distance, and I could see how far away they were and how long they would be open for, too.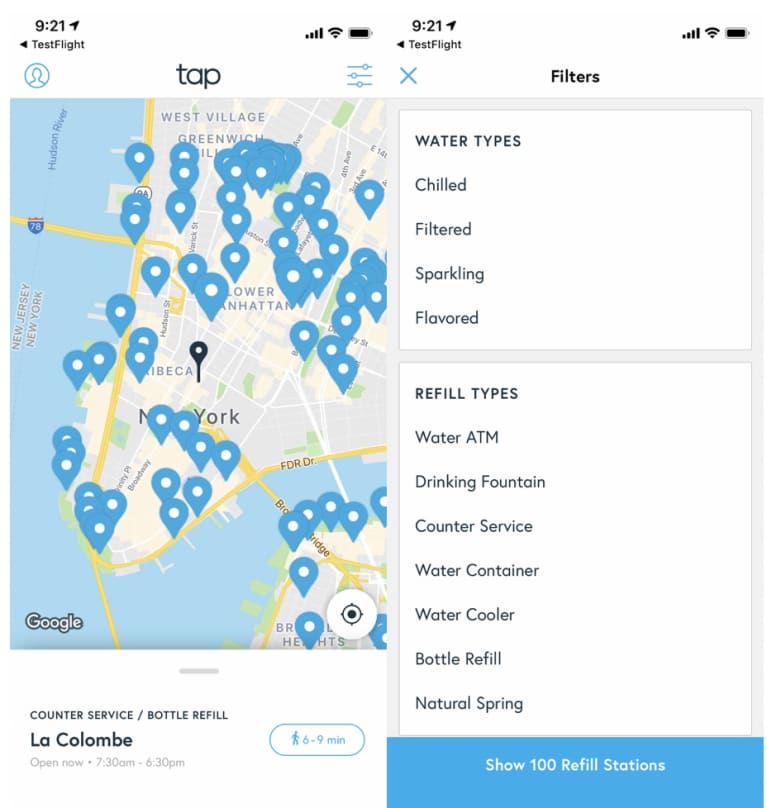 .
Beyond helping America's plastic problem (according to the Tap website, we've gone through more than 40 billion single-use water bottles in this country so far this year) and appealing to Hydroflask-clad city dwellers, Rosen hopes that a version of the technology will one day help with sanitation issues in the developing world.
"As the planet becomes more polluted, the price of clean water is going to go up," he says. "I want to help people find the cleanest water wherever they are and completely decouple that from buying a plastic bottle," It's worth noting that Rosen is a serial entrepreneur who previously founded MakeSpace, a storage company that he turned into a $20 million/year business. He's hoping to use his business savvy to grow this new venture into a more authoritative source on water safety and testing.
But for now, it's all about plastic. To ring in the launch of the app, Tap is inviting people to join the #DrinkDifferent campaign and pledge to give up single-use bottles for 30 days. Who's in?