How To Talk To Your Family (Even The Deniers) About Climate Change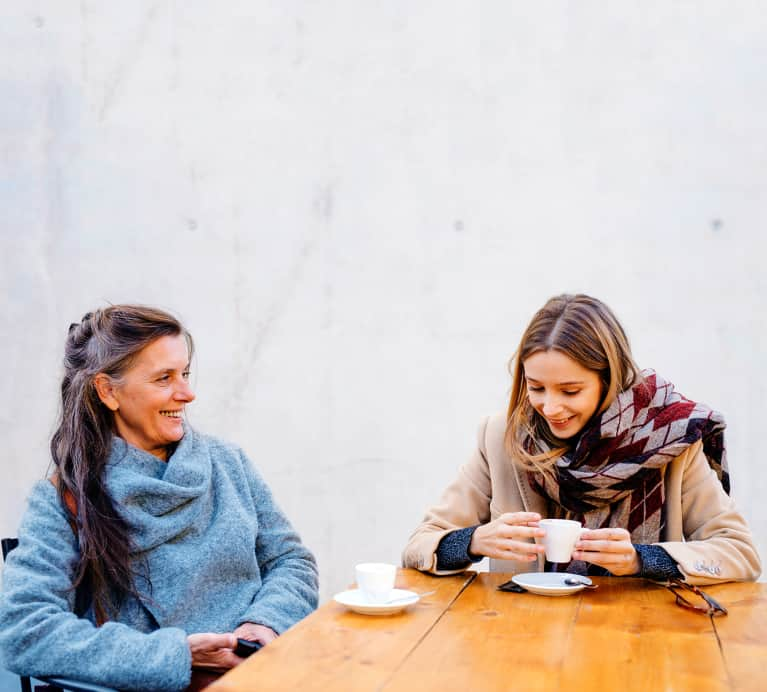 I find myself stuffing my mouth full of mashed potatoes every Thanksgiving to keep my sarcastic retorts at bay as everyone nimbly navigates "polite" conversation topics—at least until the pie is cut and I can find a corner where I can stuff my face in peace.
In today's world, even the weather can be an unsafe topic, especially when it reveals your family's token climate change denier. (Don't worry—we all have one.) While we may all know a climate change skeptic, more Americans believe climate change is real and caused by human activity. Despite awkward holiday arguments and political actions that seem to show otherwise, we are making progress. People are having productive conversations about climate change that are influencing the way others think.
So how are they doing it?
California lawyer and author Doug Noll, J.D., M.A., says that the first step to opening up a tricky conversation is to make the environment a safe space and find some common ground. If you're not sure where to start, try one of these approaches:
As we gear up for Thanksgiving and holiday dinner season, consider talking about how climate change could affect these very traditions. For example, wildfires and droughts mean less food and water. You can also talk about coffee, chocolate, and other threatened foods to pique interest and make the conversation relevant to your family members.
Figure out a way to connect the topic of climate change to your family's life. For example, the nation just experienced a series of major natural disasters, and even states that escaped brutal storms and fires had problems with record-breaking heat and pollution. Has your family been affected by any of these natural disasters? Do they know someone who was affected by these events? These are big questions that make a lot of people think about how climate change can affect them personally.
As you make the conversation about climate change personal, you might even share scientific reports, such as some recent NASA data showing rising temperatures, higher sea levels, and increased carbon dioxide levels.
3. Focus on the big picture.
Climate change is about more than just you. People all over the world are dealing with serious repercussions from it right now. Appeal to your family members' humanity by talking about how others are being affected. Consider trying some of the following talking points:
Indigenous peoples of Canada's Northwest Territories are struggling to continue their way of life because the ice caps are melting. They are even enhancing their own language so they can talk about what's happening.
The people of an island nation are "the world's first climate refugees," evacuating their homes due to rising sea levels.
Iconic species, including puffins, wolverines, and reindeer are all threatened by global warming. After all, who doesn't love Rudolph?
No matter what your family members may think of climate change, our economy is changing because of it. Money is being invested in renewable energy and sustainable resources now more than ever. Businesses are working to become greener. Consumers have more eco-conscious options to choose from than they did in years past. Employment in renewable energy alone is growing 17 times faster than the U.S. economy.
All of this innovation is an exciting response to climate science, and it's easier than ever to start making your own changes. Even if a person doesn't think climate change is real or caused by humans, nobody can ignore the way sustainable resources make life easier—and, in many cases, more affordable.
Lisa Fowler, a sustainability and lifestyle expert at Just Energy notes the best thing you can do when you have the opportunity to talk about climate change is to focus on action: What can we do about it? Asking this question is a great way to connect with your climate change skeptic. What are they already doing, perhaps unbeknownst to them, that is an act of sustainability?
For example, you could talk about reducing plastic consumption and waste by using canvas grocery bags, saving leftovers in glass containers, and repurposing containers and other everyday items. You could also discuss energy efficiency and how you can minimize your carbon footprint at home with efficient light bulbs or water-conserving appliances.
Hopefully talking to your family member will help you both understand each other a little better. Even if they don't change their mind right then, they'll respect you for being able to have a rational conversation about an important topic.
Who knows? You might even develop an eco-friendly hobby together instead of just bonding over pumpkin pie.