How This Glass House Helps People Overcome Stress & Anxiety
mbg Sustainability Editor
By Emma Loewe
mbg Sustainability Editor
Emma Loewe is the Sustainability Editor at mindbodygreen and the author of "The Spirit Almanac: A Modern Guide To Ancient Self Care."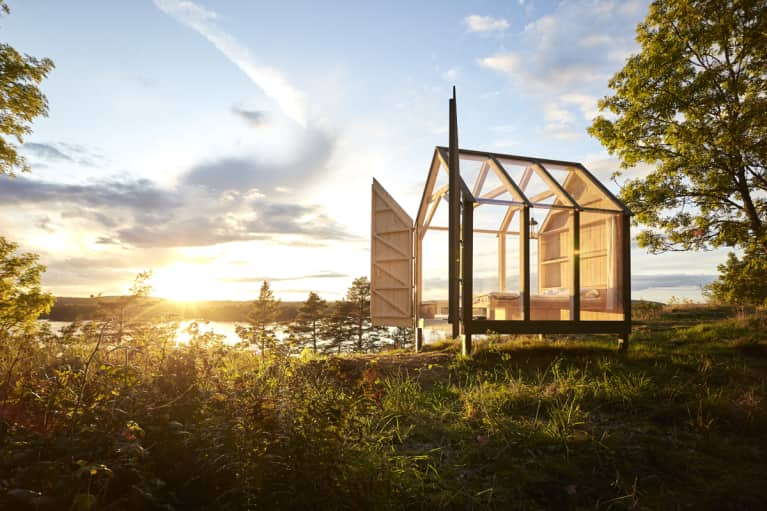 October 24, 2017 — 7:20 AM
In Sweden, a right to nature is in the constitution and Allemansrätten, or the freedom to roam, is granted to all citizens. Swedes don't need permission to wander private lands, as long as they don't disturb or destroy anything wild along the way. There's plenty of outdoor exploration to be done, as 97 percent of Sweden is uninhabited, filled with 29 national parks and more than 4,000 nature reserves. Time outside has been proven to boost mental and physical well-being, so it should come as no surprise that Swedes are some of the happiest people on Earth—and some of the most sustainable.
In order to call attention to the health benefits of this progressive national policy, the Swedish Tourism Board joined forces with a psychologist and neuroscientists from the Karolinska Institute in Stockholm to organize a pretty epic experiment.
The premise was simple: Five stressed-out foreigners were invited to spend 72 hours in a glass house nestled in the forest of Henriksholm Island in Western Sweden. Three days of slow, mindful living in communion with the Earth ensued.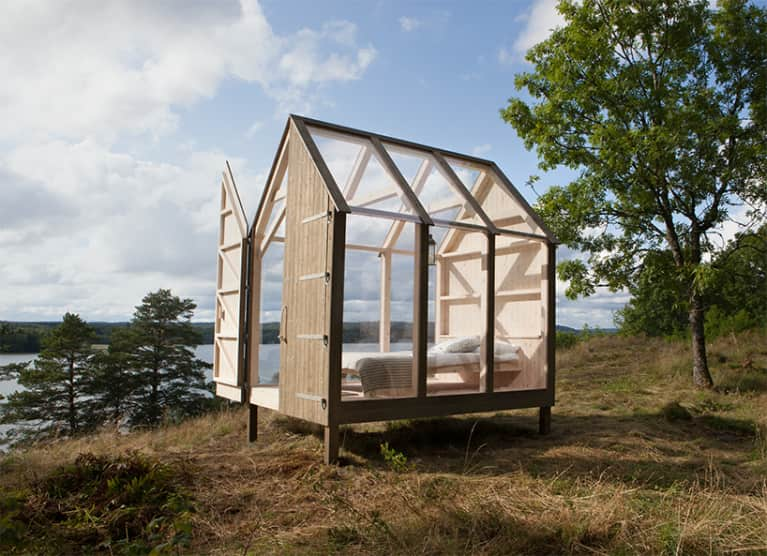 "During their stay, the participants took pleasure in common Swedish outdoor activities, such as swimming, fishing, and cooking off the grid," Jennie Skogsborn Missuna, chief experience officer at Visit Sweden, tells mbg. "They were free to use their cellphones in order to stay in contact with their loved ones, but other than that, they were all encouraged to not use any digital devices throughout the case study."
Each evening, they were instructed to write a diary entry describing their emotions, thoughts, and feelings about the surrounding nature. Once the study wrapped up, these entries, combined with readings of their blood pressure and heart rate, formed a picture of their health and happiness compared to baseline levels.
In the end, they all had a decrease in blood pressure, drop in heart rate, and increase in self-reporting well-being after just 72 hours in nature. According to Missuna, their stress levels dropped by 70 percent.
"Since arriving, I have this good, warm, and excited feeling. Just smiling and being glad to be here now, in this moment, I don't want to be somewhere else," Steffi Tauscher, a police officer from Munich, reported after participating in the experiment. Ben Fogle, an author and TV broadcaster from London echoed, "It feels like the world has slowed down."
While it's safe to say that most people would be happy to take a break from the pressures of the everyday to go hang out in a forest, now we can write it off as an investment in our health.
For more on how time outside can rewire our brains, check this out.