A Celeb Environmentalist On The Quickest Way To Make Schools Healthier
mbg Sustainability Editor
By Emma Loewe
mbg Sustainability Editor
Emma Loewe is the Sustainability Editor at mindbodygreen and the author of "The Spirit Almanac: A Modern Guide To Ancient Self Care."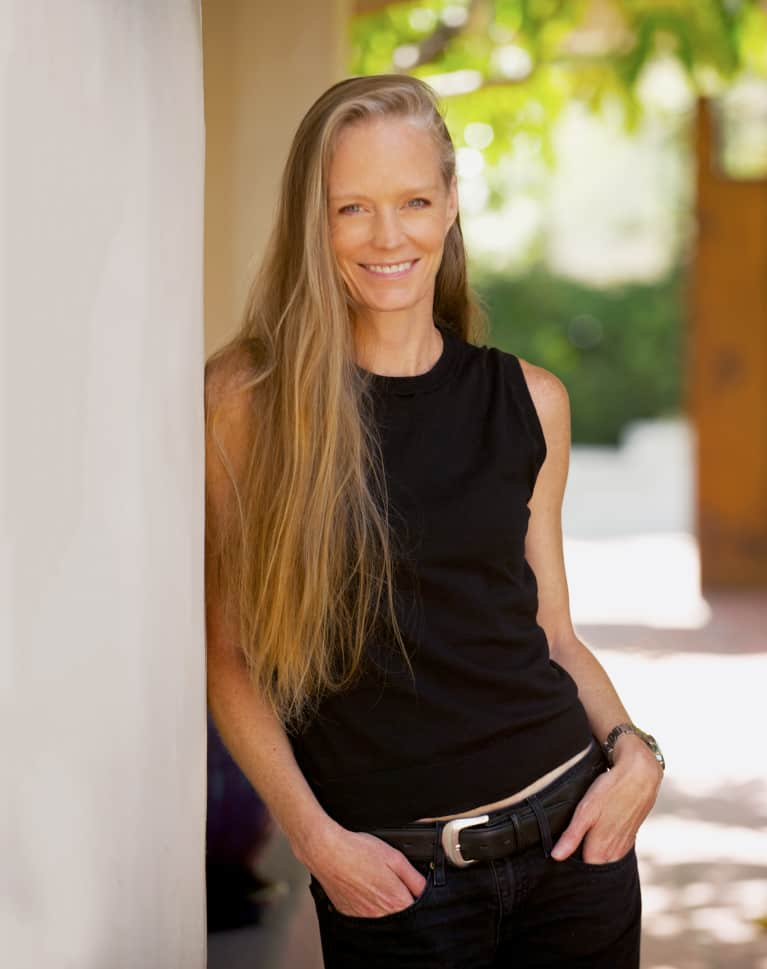 November 1, 2017 — 9:15 AM
A healthy diet is one high in plants and low in processed foods—that's one of the few uncontested facts of the wellness world. Over the past few years, we've all picked up some pretty ingenious ways to pack as many fruits and veggies into our mouths as possible. Now, we disguise zucchini as noodles, sneak broccoli into our morning drinks, and crush up cauliflower and call it rice. But as many restaurants, meal delivery services, and grocery stores are evolving to keep up with the times, there's one place that still feels stuck in the past: the school lunch line.
While legislation like the Healthy Hunger-Free Kids Act has certainly nudged schools toward healthier meals, school lunches still look a whole lot like they did 10 years ago—mac and cheese, pizza, bread, and a chocolate chip cookie for dessert. The average child in America still gets nearly half of their daily calories from added sugars and solid fats, and 93 percent of them don't eat their recommended daily vegetables.
We can't blame these stats on the schools themselves. Public school budgets for lunch are generally $1.25 to $3 per student a day, and each meal has to be mass produced in an outdated kitchen for quick consumption. So what can we do? According to Suzy Amis Cameron, an acclaimed environmentalist, actress, and mom of five, raising healthier kids means feeding them more sustainably.
The sustainable solution.
Twelve years ago, Amis Cameron and her sister Rebecca Amis founded a private school on the sustainable principles they held dear. The MUSE School, originally 11 kindergarten and first-grade students in a single room, has since taught thousands of students the value of community, conscious consumerism, and plant-based eating across two campuses in Malibu Canyon.
"Going plant-based felt essential to walking our talk. We wanted to do everything we could to lighten our footprint and teach kids about healthy and climate-friendly eating," Amis Cameron tells mindbodygreen.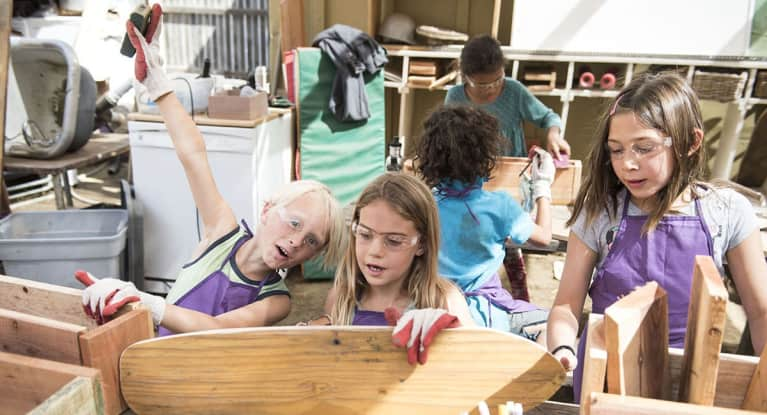 At MUSE, students learn how to grow their own food in garden beds made from reclaimed materials, and their crop is taken to a 100 percent plant-based (not to mention zero-waste, and nearly 100 percent solar-powered) kitchen. There, the bounty is whipped into childhood faves like breakfast burritos, soups, sloppy Joes, chilis, and pastas—all with a plant-based twist. Amis Cameron has seen a wildly positive response from students, making for some lonely compost bins.
While this may sound like an unrealistic model for other schools around the country—and it certainly costs a pretty penny to send your kids to such a utopia—Amis Cameron is on a mission to spread the MUSE method of sustainable, healthy eats elsewhere.
"We recognize that schools can't afford or don't have the freedom to do what MUSE does," she says. "Yet we hope that we can inspire and help through sharing our experience and what we've learned. One meal, one day a week, two days a week—it all makes a difference."
As proof of concept, she points to a recent study out of the Oakland School District. Through a partnership with environmental nonprofit Friends of the Earth, the district was able to significantly reduce its carbon and water footprints and increase the nutritional value of its meals by cutting back on its animal products by just 30 percent. (While they also tested reducing other food groups, the carbon footprint for animal products was found to be three times higher than all other categories combined.) In addition to saving 42 million gallons of water over the course of the year, the school had $42,000 more in its pocket by the end of the experiment—which it plans to spend on more locally grown fruits, vegetables, legumes, and organic pastured beef.
Word of the experiment has spread, and other districts are taking note. If you want to see your school do the same, Amis Cameron advises finding like-minded parents to help spread the message that environmentally friendly meals are beneficial for kids and the schools teaching them to be healthy, mindful citizens.
"Create groups, large groups of mothers, fathers, and children that go to the district over and over and over to ask for change. Eventually they will have to listen. The squeaky wheel gets the oil and in this instance gets the veggies!" she jokes. "Also, look to other schools and school districts who have done it or are considering it, such as Oakland, Los Angeles, Detroit, now Chicago, and the successes they've had saving money, improving health, and the sweeping environmental savings. This is seriously inspiring."
Psst...check out what French kids eat in a school day—and prepare to want to trade in your sad desk lunch.