Top Wellness Entrepreneurs On How They're Responding To The Environmental Crisis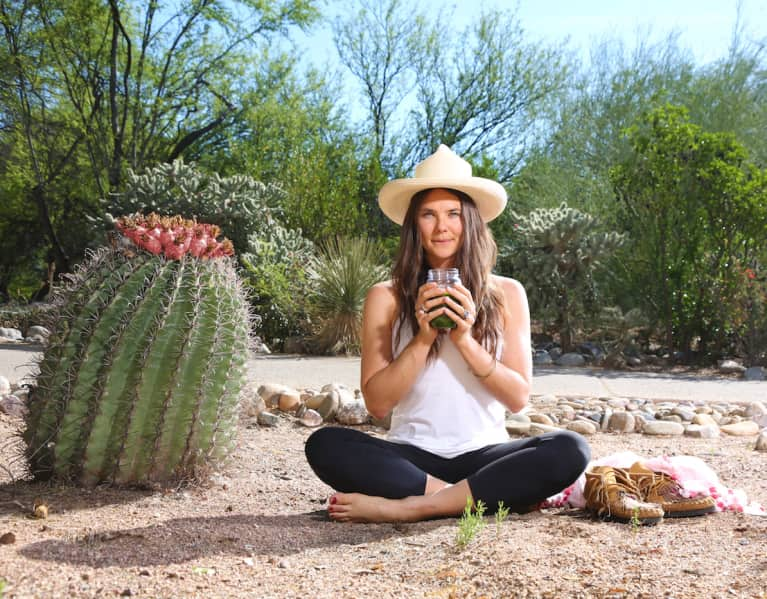 Human health is inextricably linked with environmental health. The world around us is a constant source of nourishment, support, and inspiration—and we've learned the hard way what happens when we neglect it. Be it a water crisis, an extreme weather event, or a forest fire, environmental disasters are harsh reminders that a sick planet leaves sick people in its wake.
It should come as no surprise, then, that some of the leading wellness empires of today are shifting gears to make their businesses more eco-friendly. Here, the minds behind companies that mbg has previously identified as industry trendsetters share how they are prioritizing sustainability. From a superfood brand crafting better-for-the-planet Keurig pods to a rooftop farm switching over to 100 percent renewable energy, they're all proving that going green makes business sense. Here's a peek into some of their best practices:
1. They make the most of their ingredients.
"Wherever we can, we try to use the entire fruit or vegetable. Our crisps, including the Green Fermented Seed, Cumin & Chard, and Rainbow Juice & Seed, Herb & Cheese, are all made from the nutrient-dense, probiotic, and high-fiber pulp left after our cold-pressed juicing process, which would typically be composted.
We do custom extractions for our whole herbs to produce the most potency. These are done at a no-waste wind-powered facility with natural spring water, and any plant material that's not used is delivered to local farmers for compost."
—Amanda Chantal Bacon, founder of plant alchemy company Moon Juice
2. They're implementing consumer preferences in a sustainable way.
"Sustainable harvesting of fungi and plants and use of better packaging options are always on our mind. We've recently launched a larger bulk size of our products in a tin-can format, and we're buying compostable Kraft bags for this purpose.
Over the years, we have been constantly asked to launch our own Keurig coffee pods. Over 20 billion Keurig pods are made every year, creating insane landfill that we didn't want to support. That's why we were reluctant to make such coffee pods until after over a year of research, we found amazing eco pods. Besides being fully recyclable, these pods need 30 percent less greenhouse gas emissions and 21 percent less water to produce. The inner part is even fully compostable!"
—Tero Isokauppila, president of mushroom superfood line Four Sigmatic
3. They're switching over to renewables.
"Our greenhouse facilities convert underutilized urban space into highly resource-efficient urban farms that grow fresh, nutritious produce all year round. They use a fraction of the amount of land and water compared to traditional agriculture and eliminate runoff, which is a leading cause of global water pollution. And by growing in hyper proximity to our customers, we dramatically reduce the supply chain, reducing food waste and shipping resources. Our first and second farms in Brooklyn, New York, incorporated on-site solar and wind power that contributed a small but meaningful part of our energy use; as we've scaled to triple our greenhouse square footage in NYC and Chicago over the past few years, we've increased our commitment to renewable energy by switching to 100 percent renewable electricity for all four of our facilities."
—Viraj Puri, co-founder and CEO of rooftop farming initiative Gotham Greens
4. They source locally and responsibly.
"We've always made an effort to source our ingredients locally whenever possible. Not only does doing so ensure our product is of the highest quality, but it also reduces our carbon footprint and gives back to our local farmers here in Southern California."
—Jeff Church, co-founder and CEO of cold-pressed juice brand Suja
5. They are mindful about energy use.
"Our saunas use minimal energy to operate, and it costs about 15 cents to run one sauna per hour. In our private showers, we avoid using personal sample sizes of shampoo, conditioner, lotion, and body wash, instead opting for refillable bottles for a more sustainable, earth-friendly experience. We keep our sauna locations dimly lit, which was originally done to curate a relaxing vibe, but it also helps us fight against global light pollution since our busiest hours are at night."
—Katie Kaps, co-founder of infrared sauna spa Higher Dose
6. They play around with lower-impact ingredients.
"Ripple is packaged in 100 percent post-consumer recycled plastic containers that have a carbon footprint that is 75 to 80 percent lower than standard milk cartons. On a protein equivalent basis, our milks use 80 percent less water during production than nut milks and one-third less water than dairy and have a carbon footprint that is one-eighth of nut milks and half of dairy. So from beginning to end, Ripple is dedicated to providing a healthier, eco-friendly, and dairy-free alternative."
—Neil Renninger, co-founder of dairy-free milk company Ripple
7. They build their products to last.
"From using mindful packaging options to eliminating harmful chemicals to designing lasting products that don't end up in landfills, every choice is thoughtfully made. We took that same approach when launching our apparel line by incorporating natural and recycled materials and avoiding shipping in harmful plastic bags whenever possible."
—Joanne Sessler, global vice president of marketing at yoga mat and athleisure brand Manduka
Next time you go shopping for wellness essentials, keep these brands in mind, and check out a few more sustainable entrepreneurs making waves in the industry.