Can Your Diet Actually Help Save the Planet?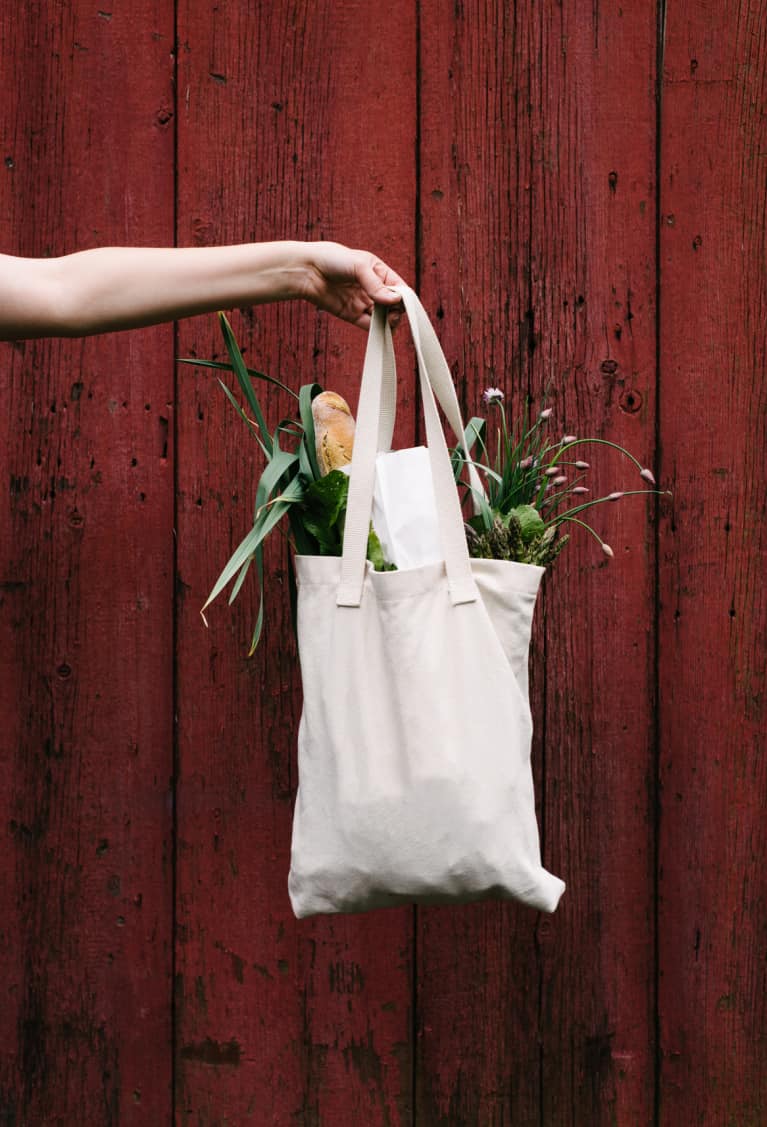 What you purchase at the grocery store has a significant impact on your life. The food you add to your cart determines the meals you'll prep for the week, the snacks you'll eat at work, and your overall health.
But have you thought about how your diet affects the future of the planet?
It might feel simple to fill up a bag with your local grocer's avocados, but your purchase can actually have a much larger impact than you realize. According to a recent study, eating a healthy diet could influence greenhouse gas emissions, water pollution, even land availability. If we combine this information with better knowledge of genetic modification in our crops, and the possibility of some robot bees, the planet might actually have a fighting chance.
Here are some tips on how to be more conscious of what you're putting on the table—and how its production might affect the planet.
1. Think about where your money is going.
We all know the basics: Buy organic when you can, avoid factory-farmed foods, and try to purchase locally grown fruits and veggies. But all of these things are easier said than done.
Knowing which companies and foods are ethical or unethical is pretty difficult, even when you have a good idea of what's good and bad. It's a lot easier to just get your shopping done so you can go home and get out of the Safeway crowd.
Try using an app or website to help guide your purchases. Apps like Good Guide provide a ranking of different brands and products based on whether they are safe, ethical, and healthy. You can use the app while you're shopping to scan the barcode of potential purchases and check their Good Guide rating. (There are a bunch of other similar apps, too, if you like that one.)
Keeping track of your purchases can also help you avoid giving money to factory farms that create poisonous runoff from manure and cause deforestation from overgrazing.
Also, if you choose to shop organically, you can feel better knowing that your purchase helps decrease the supply and demand for food grown with dangerous pesticides, which have been linked to issues such as colony collapse disorder in honeybees. Bees pollinate 30 percent of the world's food and 90 percent of wild flora, so organic food really can help the earth and all of its inhabitants.
2. Shop at stores that vet food for you.
Whole Foods, Trader Joe's, and other health food stores are more careful than others about vetting the products on their shelves, but if you shop in a more generic grocery store, try looking for brands such as Niman Ranch and Organic Valley, which are farm cooperatives that stock natural and organic food. And if you have the option, try searching for a farmers market or co-op near you. These outlets tend to be more willing to work with local farmers, and their staff is usually more knowledgeable about the food products that they sell.
Talk to the store managers, explore their websites, and verify their practices to determine if shopping there is best for you and the environment. Then, you can run in for groceries, check out, and know you're bringing home eco-friendly items.
If you have the space outdoors, growing your own food is the ultimate way to reduce your carbon footprint. If you go this route, be sure to compost your scraps to return nutrients to the earth, use subirrigation to save water, and plant food you can eat fresh and preserve. Even if you don't have the space to start a larger garden, you can still build a more sustainable relationship with food. Try growing your own herbs or joining a community gardening space so that you still get those fresh veggies.
Animal emissions account for up to 70 percent of emissions in high-income countries such as the United States. Not eating meat is possibly one of the best things you can do to be more environmentally conscious. If it seems unrealistic to cut meat out entirely, try to at least be more mindful of the kinds of protein you're eating.
The FDA recommends eating more seafood and leaner meats in order to get the most nutritional value, and, as a bonus, these foods often have a lesser impact than heavier meats like beef and pork.
In 2011, livestock was responsible for 39 percent of total agricultural-based greenhouse gas emissions, with beef cattle being responsible for 55 percent of that. Since cows release gas during digestion, they put out an enormous amount of methane gas into the air, which accelerates global warming.
These are just some basic guidelines as you become more conscious about your diet and where you're buying your groceries. Of course, climate change is more nuanced than simply what you put on the table, but by being more proactive in your conservation efforts, you can contribute to a movement that might just save the planet.
These 16 plant-based slow-cooker recipes are the perfect way to showcase your wintertime farmers market haul.