5 Holistic Ways To Support Your Gut After A Round Of Antibiotics
mbg Health Contributor
By Gretchen Lidicker, M.S.
mbg Health Contributor
Gretchen Lidicker earned her master's degree in physiology with a focus on alternative medicine from Georgetown University. She is the author of "CBD Oil Everyday Secrets" and "Magnesium Everyday Secrets."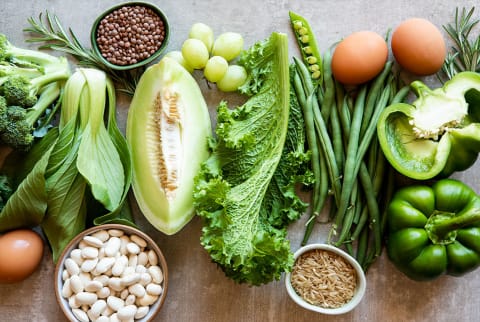 Image by Nadine Greeff / Stocksy
April 28, 2023
Our editors have independently chosen the products listed on this page. If you purchase something mentioned in this article, we may
earn a small commission
.
We hear all the time that antibiotics are overprescribed, leading many of us to avoid unnecessary prescription drugs in order to protect our gut health. But the reality is that whether it's a UTI, strep throat, or acne, sometimes antibiotics are exactly what the doctor ordered—literally. And if you have to take them, there's no reason to panic. There are plenty of effective ways to protect your gut while you finish your course of antibiotics.
Advertisement
This ad is displayed using third party content and we do not control its accessibility features.
First: Should you take antibiotics? 
According to a statement published by the CDC1, about one in three antibiotic prescriptions is unnecessary. Most of those are for respiratory conditions like the common cold, bronchitis, and sinus and ear infections. This leads to an estimated 47 million1 excess prescriptions a year.
As such Heather Moday, M.D., integrative immunologist and author of the Immunotype Breakthrough, says the first thing to think about with antibiotics is: Do you actually need them?
"First, you want to know if you truly have a bacterial infection, which is unlikely for a respiratory infection—including sinus infections, ear infections, and bronchitis, which are generally viral," she says.
According to Moday, common illnesses that do require antibiotics are strep throat (with a positive throat culture) and pneumonia (diagnosed with an X-ray) as well as skin infections and wounds.
A lot of factors go into deciding whether antibiotics are the right choice. "You want to consider your own immune health—are you immune-compromised, for example? In that case, you are more likely to be proactive and take antibiotics just in case," says Moday.
Antibiotics and your gut 
To understand how to heal and protect the gut after antibiotics, it's helpful to know what, exactly, these drugs do to your gut in the first place.
Antibiotics kill not just the bacteria causing your strep throat or skin infection or pneumonia but whatever bacteria crosses their path (even the beneficial stuff). As Moday explains it: "Because they often wipe out critical keystone species of bacteria, antibiotics narrow the diversity of bacteria [in the gut]."
These healthy bacteria play immune-supporting and anti-inflammatory roles in the body, and wiping them out with antibiotics can cause digestive pain and symptoms like diarrhea. "This can occur even in people with previously healthy gut flora," says Moday. There is also a risk of contracting Clostridium difficile 2colitis2 (C. diff) when taking antibiotics. "This is a serious and sometimes life-threatening overgrowth of gut bacteria that is caused by the overuse of broad-spectrum antibiotics," Moday continues.
Now, taking antibiotics once in a while isn't likely to destroy your microbiome health. But the more often you take them, the more likely they are to cause a problem.
"Frequent antibiotics can lead to immune issues such as food sensitivities3, autoimmunity, and increased allergies4," says Moday, adding that they can also disrupt the gut-brain connection. "Even mood issues [can occur] and brain function can suffer5 if antibiotics are used frequently."
Advertisement
This ad is displayed using third party content and we do not control its accessibility features.
How to support your gut after taking antibiotics 
It can all sound a little scary, but Moday reassures us that there's a lot you can do to mitigate damage to the gut, even if you've already taken your round of antibiotics. Here are some tips to work into your life during and after treatment:
Take probiotics: Probiotic supplements contain beneficial bacteria that can help reinoculate the gut after antibiotics have killed off some of the good bugs. "I recommend adding in probiotics while on antibiotics and afterward for two to three weeks," says Moday. Try one of these top probiotic supplements that are approved by a nutrition Ph.D. to get your gut health back on track.
Eat fiber: The best thing we can all do to create a healthy microbiome, to begin with, is eat enough fiber, says Moday. This means hitting your daily fiber goals of 25 grams a day for women and 38 for men. She recommends filling your plate with fruit, veggies, and whole grains, as well as added fibers like psyllium and oat bran if you're taking or have recently taken antibiotics.
Add fermented foods: When you go pick up your prescription, also stock up on fermented foods like pickles, sauerkraut, beet kvass, or kefir. "Add in a small serving of fermented food a day can help heal the gut," says Moday.
Eat the rainbow: Adding polyphenol-rich foods to your diet can feed certain bacteria and reduce gut inflammation, says Moday. "You can take these in supplement form, but eating from the rainbow is even better," she continues, adding that pomegranate, green tea, and turmeric are all sources of polyphenols.
Avoid additional irritants: Finally, during and after taking antibiotics, do your best to avoid common gut irritants like excess sugar, alcohol, and processed foods. "Irritants such as alcohol, which kills health bacteria and damages the mucosal lining, delay healing," says Moday.
The takeaway
Needing to take a course of antibiotics every once in a while isn't a reason to panic. Once you confirm you are, in fact, in need of a prescription, there are plenty of things you can do during and after treatment so you come out on the other side with your gut health intact.
Advertisement
This ad is displayed using third party content and we do not control its accessibility features.