How A Registered Dietitian Supports A Healthy Gut & Digestion, Long Term

Registered Dietitian and gut health expert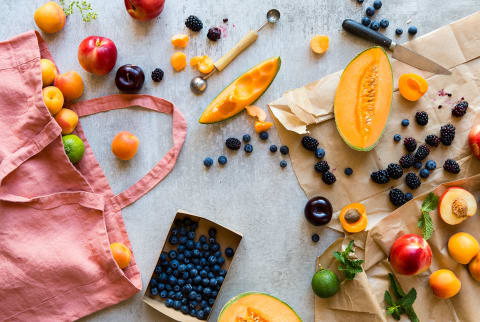 Image by Nadine Greeff / Stocksy
April 6, 2022
When experiencing bloating or gas, you may feel eager to find a way to ditch those feelings, stat. However, in my experience as a registered dietitian and gut health expert, I've found most of the "quick fix" solutions do not provide long-term support. If you don't address the root of the problem, the issues may continue to return, leaving you frustrated and confused.
In addition to working with a qualified provider to help you identify the root causes of your challenges, in order to sustainably nourish gut health, I advise prioritizing certain habits, mindset shifts, and dietary improvements.
Advertisement
This ad is displayed using third party content and we do not control its accessibility features.
Gut-supporting habits to adopt.
Most often, we think that our digestive woes are just related to what we eat, but the reality is that there is so much more to the digestive puzzle than just food. Our movement, sleep habits, routines, hydration, and even relationships all affect our gut.
In my experience, I've found some of the most powerful modifications you can make to sustainably improve your gut health include:
Getting seven to eight hours of sleep per night: Your body needs time to "rest and digest," and we do this while sleeping. Instead of skimping on sleep to get in an early workout—take the rest! Your gut will thank you!
Spending time with people you love: There are certain hormones that are produced when you are surrounded by people and experiences that make you happy. It's easy to want to limit experiences in your life when you feel bloated, but it's important to make sure that your digestive health journey includes fun, too.
Hydration: One of the most common reasons I see clients struggling is due to suboptimal hydration. Typically you will need at least half of your body weight in ounces of water, but maybe more, depending on your situation. Pro tip: Drink 16 ounces of water first thing in the morning before consuming your cup of joe.
Movement: Be sure to move your body regularly. If you're a fan of more intense workouts (like HIIT), be sure to balance them out with some gentle walking, Pilates, or yoga. The body needs time to recover, so switching up your exercise routine to include more gentle movement can allow your body to have resources for gut health support.
Get 10 minutes of sunshine: Vitamin D is so important for gut health. Try getting outside for 10 minutes first thing in the morning.
Advertisement
This ad is displayed using third party content and we do not control its accessibility features.
Mindset shifts.
Your gut and your brain are connected via the largest cranial nerve in the body (the vagus nerve). So what you think, and even how you respond to stress, affects your gut health. I recommend practicing some of these simple mindset shifts to help improve your gut-brain connection:
Try adding "yet" to the end of a statement. (Think I haven't found help for my bloat…yet.)
Focus on what you are doing to nourish yourself versus what you aren't. (Think today I drank 100 ounces of water versus I cannot believe I didn't exercise today.)
Implement a gratitude routine in the morning to help shift your mindset. The more specific the better. (Think I am grateful for the extra 10 minutes I had yesterday to spend with my friend.)
Advertisement
This ad is displayed using third party content and we do not control its accessibility features.
Dietary improvements.
Oftentimes, nutrition advice for gut health focuses on what you shouldn't eat instead of what you should. However, restrictive diets are not a sustainable solution for your digestive health and can have both physical and psychological side effects. What's more, it's really helpful to eat a wider variety of foods to help promote a more diverse gut microbiota.
I recommend these tips for long-term support:
Focus on cooking your vegetables really well if you tend to struggle with bloating.
Don't forget about how you are eating. Chew your food to applesauce consistency, sit at a table with no distractions, and take your time.
Aim to eat 30 different plants per week (from fruits, vegetables, nuts, seeds, legumes, and herbs)—or as many varieties as you possibly can.
Advertisement
This ad is displayed using third party content and we do not control its accessibility features.
Bottom line.
Rather than seeking a quick fix, I advise implementing these sustainable gut-supporting strategies every day. Soon, they'll be an integral part of your daily routine, helping you promote healthy digestion on a regular basis.
If you are pregnant, breastfeeding, or taking medications, consult with your doctor before starting a supplement routine. It is always optimal to consult with a health care provider when considering what supplements are right for you.

Heather Finley, D.C.N., M.S., R.D.
Registered Dietitian and gut health expert
Heather Finley, D.C.N., M.S., R.D. is a Registered Dietitian and gut health expert. After spending 2 decades of her life struggling with her own digestive issues she now uses her life's biggest struggle to empower others to find the same relief that she has found. Heather utilizes a functional and integrative approach to digestive health that focuses on helping clients to address the root causes of their symptoms and address them in a sustainable way without tons of long term restrictions. In addition to seeing clients in her gutTogether(™) program, she also mentors other RD's and health practitioners in her gutPractitioner program. In her spare time you can find her exploring the farmers market on a Saturday with her family, finding new places to hike, or cooking up something new and interesting in her kitchen! You can find more information about Dr. Heather at https://www.drheatherfinley.co/ or on Instagram.