A Supplement To Help Your Skin In The Transition To Chilly, Dry Fall Weather*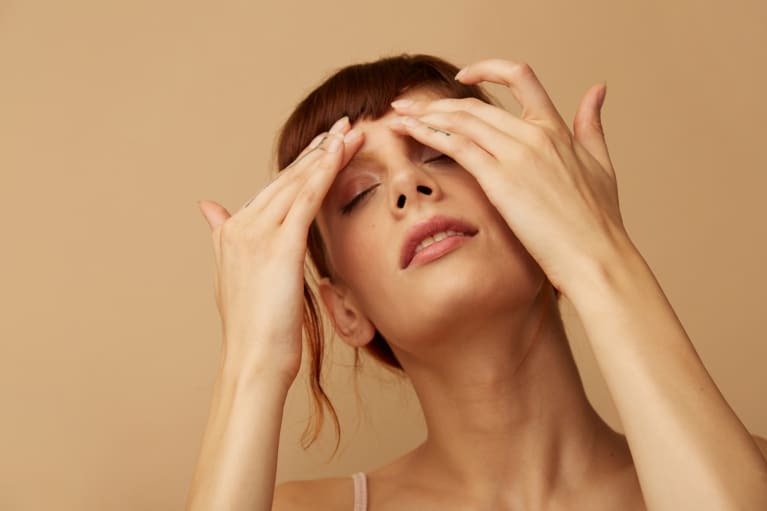 The "wear a sweater in the morning, regret it in the afternoon"-type of weather is officially upon us. You know, where the morning air feels crisp and chilly, but by noon you're sweating out of your cozy separates and wondering if summer ever truly left. Your skin, it turns out, also faces a similar dilemma: As the weather turns cool, the arid air effectively sucks moisture from your pores—and yet, slathering on a thick moisturizer still feels less than enjoyable, especially when the weather heats up by midafternoon.
A clever solution? Lean on supplements that hydrate your skin from the inside out.* That way, you'll keep your skin from feeling parched without slipping on a dense cream—well, until the weather makes its final commitment to fall.*
A supplement to help transition your skin to fall weather.
Your skin is more vulnerable to transepidermal water loss (or when water evaporates from your skin) when the air is dry, and especially when your skin barrier is compromised. That's why thicker moisturizers are key during the colder months, as they help keep all that precious water locked inside. However, another route is to support your skin barrier health so you strengthen the "bricks and mortar" and limit any cracks and openings—thus keeping your skin supple and hydrated.
So! Let's chat about some star ingredients to support barrier function, shall we? Research points to phytoceramides (a star player in mindbodygreen's cellular beauty+), which mimic the key lipids that are naturally present in our skin cells and help lock in moisture.* In one study, participants with clinically dry skin who took a phytoceramide-rich wheat extract oil for three months saw up to a 35% improvement in skin hydration.* In another study, participants saw improved skin hydration after just 15 days.*
Astaxanthin, a potent antioxidant that comes from microalgae, can also help keep your skin plump and moisturized: In one study, astaxanthin supplementation significantly improved skin elasticity, smoothness, and hydration in just 12 weeks.* Another recent double-blind clinical study found that it can even help skin's water-retention capacity and promote skin barrier health.* (Not to mention, it's clinically shown to improve skin texture and reduce wrinkles in as little as six weeks.*)
Finally, we have coenzyme Q10 (CoQ10): This lipid-soluble antioxidant helps preserve your skin's lipids by fighting against lipid peroxidation—a process that occurs when free radicals and oxidative stress unbalance cell membranes and lipids.* And because your skin barrier is made up of lipids to keep water housed inside, CoQ10 can help your skin stay hydrated, too.*
What do all of these skin-barrier-supporting ingredients have in common? They're all featured in mbg's cellular beauty+, a supplement that can help you glow from the inside out—and help your skin stay hydrated as we wade through this strange, transitional weather.*