It's Time To Clean Out Your Supplement Cabinet. Here's Why
mbg Health Contributor
By Gretchen Lidicker, M.S.
mbg Health Contributor
Gretchen Lidicker earned her master's degree in physiology with a focus on alternative medicine from Georgetown University. She is the author of "CBD Oil Everyday Secrets" and "Magnesium Everyday Secrets."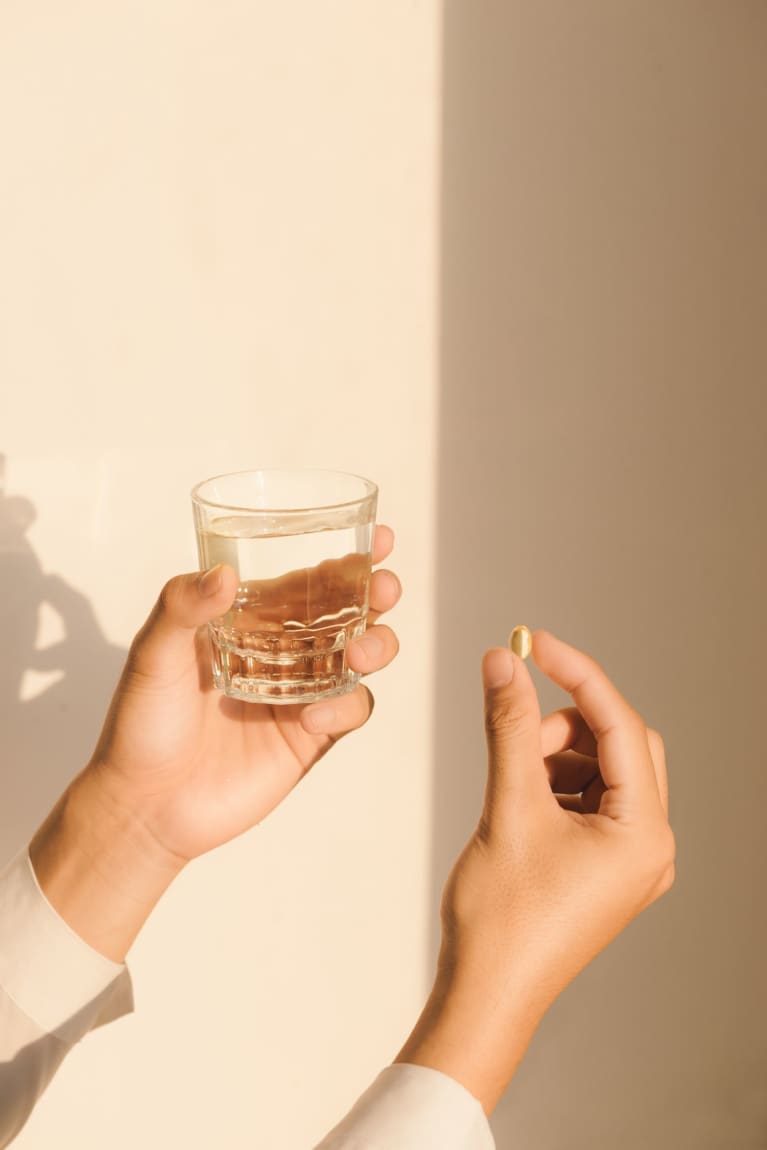 When it comes to finding the right supplement, there are a lot of factors to consider. Hopefully, you're working with an integrative or functional medicine practitioner who can assist you in pinpointing your specific supplement needs and help you find a brand that's going above and beyond in terms of quality.
That said, the reality is that many of us go it alone, forming a supplement routine based on recommendations from friends and an extensive Google search. This haphazard approach means we have to go through some trial and error and make a few mistakes along the way before we get it right. And one of the biggest factors tripping people up is supplement expiration dates. Here's why and what you need to know about them.
Why you can't find an expiration date on your supplement.
What many people first get wrong about supplement expiration dates is, ironically, buying a supplement without an expiration date. It might surprise you to learn that while there are some good manufacturing practices (GMPs) established for supplements in the U.S., requiring an expiration date isn't one of them. This is problematic for a few reasons but mainly because just like you don't want to be eating old cereal or expired granola bars, you don't want to be taking supplements that are past their prime. As Will Cole, D.C., IFMCP, explained, "Supplements are largely food- and plant-based. Because of this, they have a shelf life just like anything else. Over time, supplement ingredients can lose their potency and effectiveness."
As a consumer, learning this can be really annoying, but the silver lining is that looking for an expiration date can help you distinguish the good companies from the not-so-good companies. As Robert Graham, M.D., an integrative medicine doctor and founder of Fresh Med NYC, explained, "Most dietary supplements, including vitamins and herbs, are not required to carry expiration dates on their labels. If you see one, they can do so voluntarily." This means that the company is guaranteeing the potency found on the label through the expiration date.
Why supplement expiration dates matter.
If you're a health-conscious person, I'd put my money on the fact that somewhere in your house there's a cabinet or drawer filled with supplements that you're currently taking, take every once and a while, are planning on taking, or might never even bother with. If this is you, it's time to clean out your supplement cabinet and consider which ones are past their prime.
So what should you do if you have hundreds of dollars' worth of supplements sitting around? Check for expiration dates first and then evaluate them on a case-by-case basis. You might not actually have to throw them out. According to Graham, "Vitamins, especially B12 and C, decompose gradually over time. This doesn't mean they are unsafe, just less potent." In his functional medicine center, Cole uses a lab that tests bottles of supplements throughout their shelf life to determine their optimal expiration date. According to him, "This is especially important for supplement blends with many different ingredients, all with potentially different shelf lives by the time they are used in the supplement blend."
If the supplement doesn't have an expiration date, Graham suggests checking third-party sites, like consumerlabs.com, that actually test for disintegration. That can help you decide whether it's time to toss them out or you can keep them for a little while longer.
How to store your supplements the right way.
While you're cleaning out your supplement cabinet, it's a good time to learn a little more about how to store supplements to preserve their potency as much as possible. This means keeping them away from extreme temperatures, humidity, or direct sunlight. According to Graham, "Generally, 'good'-quality supplements—if stored away from heat, light, and humidity—can last about 18 months to two years. If you take any kind of liquid- or oil-based vitamin (like omega-3 fatty acids), he suggests refrigerating them to avoid rancidity.
Now that you know all about supplement expiration dates—and how to store them so that you're getting the most bang for your buck—it's time to take your spring cleaning to a whole new level this year and make sure you're supplement cabinet is up to date.