Supermodel & Dietitian Maye Musk On Why 71 Is Her Peak Age
Contributing writer
By Maye Musk
Contributing writer
Maye Musk is an international supermodel, registered dietitian-nutritionist, and worldwide speaker. She is frequently featured in major fashion magazines such as Vanity Fair, Vogue, Cosmopolitan, Marie Claire, and Allure and on the cover of New York Magazine among others.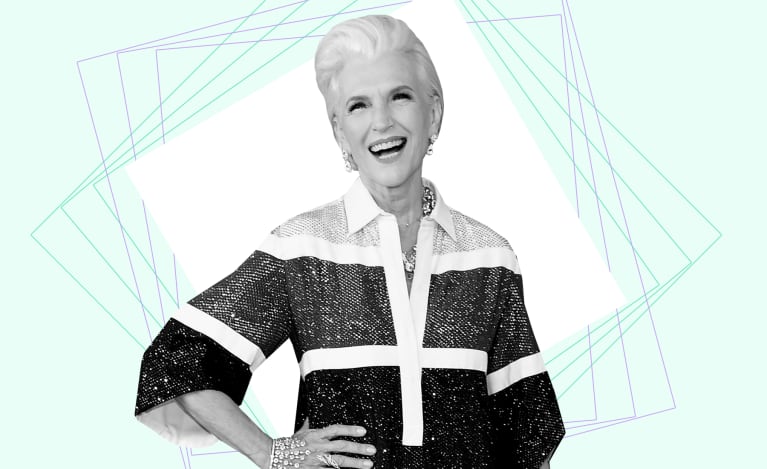 Our editors have independently chosen the products listed on this page. If you purchase something mentioned in this article, we may
earn a small commission
.
Some of my friends are my age. Many are younger than me. All of them are excited for life. My hashtag on social media is #ItsGreatToBe71 because I'm enjoying it so much. People seem to be scared of aging, based on the comments I read on social media. When they see my posts, it makes them feel better about their future and their wrinkles, which is why I decided to dedicate my whole book, A Woman Makes a Plan, to the concept of getting older. I also get many interviews about why I am enjoying my age and why older people should be revered, appreciated, relevant, and stylish.
To respond, here's why it's really great to be 71:
Why I'm not afraid of aging.
One reason I'm not afraid of aging is that every decade of my life has been better than the last. My 20s were terrible except for my three wonderful children; my 30s were pretty bad, too; my 40s were so busy just to survive; in my 50s I was new in New York and trying to get my business started and finding friends; and in my 60s, I was more settled with my kids and grandkids and work. Now, I'm busier than ever. I didn't expect that, but I'm loving it.
The other reason I am not afraid of aging is that my mother set quite an example. When my father passed away, my mother was 61. He was 73 and died in a plane accident, along with my twin sister's husband. It was utterly tragic—it seemed impossible. In our minds, he was Superman. They had been so happily married, we thought she would never recover. We didn't know what would happen to her; she had always been there with him, helping him, supporting him. We were so wrong. She blossomed.
In her mid-60s, she started taking art lessons. She took up wood carving, pottery, and painting. She traveled around the country, doing landscapes and houses, in oils and watercolors. She would exhibit her work regularly in Pretoria, South Africa. She was also a photographer and began exhibiting her photos and winning awards. In her 70s, she then took up etching, a difficult process by which you use a needle to etch a metal plate, then use various chemicals and machinery to eventually press it onto paper. She got all her own equipment and learned how to use it all. She was in South Africa's Who's Who Book of Artists.
At 94, she was shaking too much for fine art, but instead of slowing down, she took advantage of technology and learned how to make digital art. At 96, she was shaking too much for even that, so she retired and then read voraciously and followed all our travels on a map. She said in her 90s she was the happiest she had ever been.
My mother was incredible to be around. Her wits were about her until she was 98, when her body gave in and she died.
My twin sister, Kaye, was with her and said that she was laughing that morning. My mom never had a fear of aging. She never even spoke about it. She always looked fabulous—she wore bright-red lipstick everywhere and always liked to wear earrings when she went out. In her older years, she had beautiful, long white hair. She was always nicely put together (except for the paint on her clothes).
If you get to be alive long enough, problems repeat themselves.
When you hear about something terrible or somebody is horrible to you, you can just say, take a number. You've had that happen to you before, it upset you terribly, then the next time less terribly, and now you can brush it off. We have had deaths in our family because we have a huge family, and that will happen. The first time it happens, it is devastating. You don't think you can recover, but then you do. You can even talk about people who have died in your family and not fall apart. That's the good part about aging.
When I would visit my older sister, who had colon cancer, I would take my dog. Then my dog got old and became ill. I was very upset. She said, "You should live longer than your dog," so I should realize that. I think about this reality check, even now after my sister has passed away. She kept her sense of humor until the end. At some stage I took her to the supermarket. She had to hold on to the cart because she was so weak. We ran into somebody she knew, who told her she looked great, she had lost weight, and asked her what diet she was on. She said, "Cancer!" and then laughed.
If you learn anything from me, let it be this. 
Don't be afraid of aging, and mix with friends who are not afraid of aging. Have fun with your friends, of all ages, who like you because you are fascinating, interesting, intelligent, confident, and maybe stylish (in your mind). Listen to others, be good to others, no matter their ages. If someone tells you you're too old, especially if you are dating that person, say goodbye.
Aging is great. We are wiser as we get older. We are more confident—that was a nice surprise I have experienced. And we also know we have to get rid of jerks in our life quicker. I guess you could say I look forward to the future with enthusiasm. At this stage of my life, I'm having the best time ever.
I've just started in my 70s, and I can't wait for what's next.
Adapted from A Woman Makes a Plan by Maye Musk, published by Viking, an imprint of Penguin Publishing Group, a division of Penguin Random House LLC. Copyright © 2019 by Maye Musk Inc.