Why Tonight's Full Flower Moon Is So Bright & What It Means For You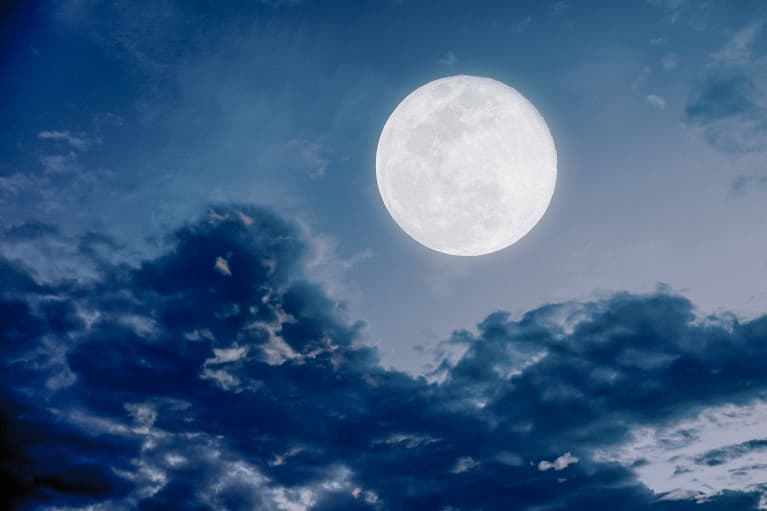 This month's full moon will be peaking in skies near you at approximately 6:45 a.m. (EDT) on May 7. While full moons are always a powerful time to check in with yourself and your goals, this one is extra special because it's also the third and final supermoon of the year. Here's what to know about May's super Flower Moon.
What exactly makes a moon "super" again?
Simply put, supermoons happen when a full moon occurs in closer proximity to Earth's orbit than usual, making it appear larger in the sky. According to The Farmer's Almanac, a full supermoon will appear approximately 15% brighter and 7% larger than your average full moon.
This month's full moon is the last of three consecutive full supermoons, with others happening in March and April respectively. You won't be able to see this particular supermoon at its peak because it will be below the horizon by then—but you can still get a good look on Wednesday and Thursday nights.
Why does it matter for me?
When the moon is closer to Earth, it has a stronger effect on the oceans' tides, and according to research, may even have a stronger effect on people, too. Crime, bad sleep, and strange behavior are not uncommon when a supermoon's frenzied energy fills the air. But there are lots of ways you can work with, not against, the energy of this special lunation.
You could consider using it as an opportunity to meditate on your goals or participate in a moon circle. mindbodygreen's resident astrologers, the AstroTwins, also recommend nurturing a hidden talent, getting your finances in order, and taking a walk on the mystical side over the next few days. (You can check out their entire astrological forecast for the May supermoon here.)
Why is it called the Flower Moon?
If you live somewhere that experiences all four seasons, you may have noticed an abundance of blooming within the past few weeks. Spring is here without a doubt, and as such, the full moon in May has long been known as the Flower Moon. May's full moon is also less commonly referred to as the Full Corn Planting Moon because this is about the time when farmers begin their annual planting.
Whatever you call it, there's no question this moon could look bigger and brighter than most. Let's all use it as an opportunity to look up, slow down—and, of course, charge our crystals.