"Sunburn Blush" Is The Newest Summer Makeup Trend You Need To Try

Beauty & Health Editor
By Jamie Schneider
Beauty & Health Editor
Jamie Schneider is the Beauty Editor at mindbodygreen. She has a B.A. in Organizational Studies and English from the University of Michigan, and her work has appeared in Coveteur, The Chill Times, and Wyld Skincare.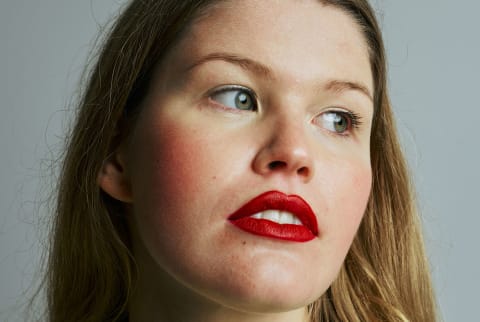 Image by ohlamour studio / Stocksy
May 9, 2022
We carefully vet all products and services featured on mindbodygreen using our
commerce guidelines.
Our selections are never influenced by the commissions earned from our links.
With the onset of summer comes an influx of beachy beauty looks. We're talking bronzed goddess beats, pops of bright color, and, of course, the faux-sun glow. While proper sun protection remains paramount, it's difficult to resist the allure of a breezy, summer flush. As such, sunburned chic becomes the aesthetic of the season—without the woes that come with sun exposure, of course.
In fact, "sunburn blush" has taken over TikTok as summer's newest viral hit. It's youthful and whimsical, reminiscent of a childhood summer spent frolicking on the beach and falling asleep in the sand, waking up to a fresh, rosy color. Ahead, find our tips to recreate the carefree look.
How to create sunburn blush. 
Essentially, it entails blending your blush all the way up to the under-eyes and across the bridge of the nose—you know, just where a sunburn would hit. Some people even use the app's sunburn filter as a stencil for where to stamp their color. Here, we tapped makeup artists for a full tutorial:
Start with a cream or liquid blush and place a dot underneath your under-eye area, directly beneath your pupils. "For the cream, I'd suggest to stipple in with a smaller brush, then blend out with a beauty blender," advises celebrity makeup artist Beck Wainner. If you'd like to achieve a lighter application with a bit of shine, celebrity makeup artist Lucy Halperin recommends mixing your blush of choice with a lightweight oil (like this Evercalm Barrier Support Elixir from REN Clean Skincare). "Mix the color with a drop or two of the oil, and dab on the areas where the sun hits," she says.
Blend well, making sure to focus the pigment in a straight line from the pupils outward. It's less about sculpting the face, here, and more about creating a flush on the apples of your cheeks. If you'd like, you can add a drop of creamy concealer to mute the hue and make it appear even more natural.
If you'd like to go "full burn," as Halperin calls it, sweep the same cream blush across the bridge of your nose and on your forehead into your hairline. "Always focus on where the sun would hit," notes Wainner.
If you'd like even more staying power, you can follow up with a powder blush in those exact same spots; the powder will further set the look.
And there you have it! A full face of sunburn blush, no UV rays required. Just one caveat: If you're looking for lift, this might not be the best blush placement for you. Blush is a hero makeup product that can actually contour your cheekbones, but applying blush directly under your eyes draws the attention toward the center of your face and actually rounds the cheeks. Blending outward in a straight line—versus in a "C" shape upward—also shortens the face, which offers more of a youthful glow. That's why sunburn blush appears a bit cutesy and playful rather than chiseled and toned.
If you are interested in adding some definition and shape to your features, you might want to opt for a sharper blush application instead; simply apply just above your cheekbones and blend upward toward your temples. (You can learn all the different ways to apply blush here, should you require a more in-depth tutorial.)
Finally, we can't help but emphasize proper sun protection here. Sunburn blush may be cute, but it doesn't give you permission to go bake under UV rays. That said, slather on a good SPF, practice smart sun habits, and (if you'd like to go the extra mile), invest in a beauty supplement that can enhance skin photoprotection from UV rays, from the inside out.* We're partial to formulas with whole fruit pomegranate extract, as clinical studies have shown that this targeted phytonutrient-rich botanical has the ability to enhance photoprotection1 in the skin—meaning, your skin cells are better equipped to deal with UV rays and their subsequent effects.* Another double-blind, placebo-controlled clinical trial even found that taking pomegranate extract orally could help with common sun-induced pigmentation.*
The takeaway. 
Allow us to introduce you to sunburn blush, the latest TikTok makeup trend to sweep your feed. Optimal sun protection is crucial, but that doesn't mean you can't play with makeup to fake a fresh, carefree glow.
If you are pregnant, breastfeeding, or taking medications, consult with your doctor before starting a supplement routine. It is always optimal to consult with a health care provider when considering what supplements are right for you.

Jamie Schneider
Beauty & Health Editor
Jamie Schneider is the Beauty Editor at mindbodygreen. She has a B.A. in Organizational Studies and English from the University of Michigan, and her work has appeared in Coveteur, The Chill Times, and more. In her role at mbg, she reports on everything from the top beauty industry trends, to the gut-skin connection and the microbiome, to the latest expert makeup hacks. She currently lives in Brooklyn, New York.