Why Summer Is The Best Time To Start Foam Rolling
You're running a few miles a day in your local park and spiking volleyballs on the beach. Maybe you're even dabbling in surfing for the first time or at least stand-up paddle boarding. Summer is in full swing, and you have every intention of being as active as possible.
The only problem? More time spent running, jumping, biking, and walking means tight muscles, and your fascia—the "scaffolding of the body," as mbg class instructor and Taller, Slimmer, Younger author Lo Roxburgh describes it—needs some love. So if you've been meaning to try foam rolling but have been putting it off, this is the season to get started. Here's why.
Counterbalancing summer activities with foam rolling.
While it's good a good idea to complement most activities with a few minutes on your foam roller every day, summer sports are particularly hard on areas of the body that foam rollers can help with. "Running, swimming, and other beach jumping sports such as volleyball and basketball actively use big movers in our hips and back," physical therapist Dara Richman explains. "Ideally those bigger muscle groups should be targeted, including (but not limited to) the lats, glutes, quads."
By now, you've heard about the benefits of active recovery, and your foam roller is a great way to get those benefits quickly and easily. "The foam roller works like the rolling pin, in that when you put weight on it, the pressure you feel as you move over the roller is healing your tissue, smoothing it out and wringing out toxins and scar tissue that build up in the fascia," explains Lo. "This oxygenates the blood, 'lubricates' the joints, and reduces inflammation in the body, all while increasing flexibility and range of motion."
Also, foam rolling helps hydrate connective tissue—and when the temperatures rise, our bodies need all the hydration they can get.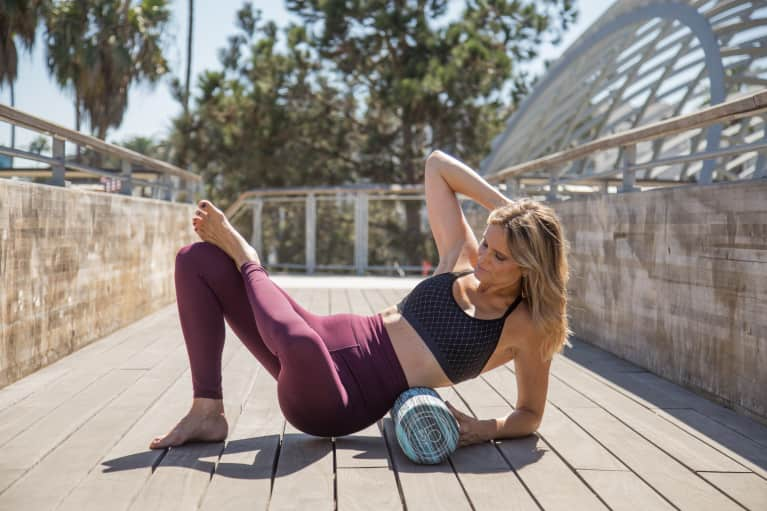 When should you foam roll, and for how long?
Here's the great thing about foam rolling: It doesn't take an hour, or even half an hour. Holly Rilinger, Nike coach and author of Lifted: 28 Days to Focus Your Mind, Strengthen Your Body, and Elevate Your Spirit, says that while foam rolling every day is essential, it's an easy active recovery method to fit in to your busy life. "Make a point of foam rolling for a few minutes each day, either in the morning or evening," she says.
Dara expands on this point, noting that when you choose to foam roll depends on what your goals are. "Before exercise can help to increase blood flow to the muscles and prep the body for mobility while post exercise helps relieve tension built up in the working muscles while helping to facilitate new blood flow and recovery to muscles and tissue. Both are a great way to not only prevent injury, but reduce soreness."
The hidden benefits of foam rolling.
While the obvious benefit of regular foam rolling is looser muscles, Lo makes it clear that the benefits go way beyond that. Rolling also flushes out toxins and emotional energy that can get stuck in the body. "I often say rolling out is like giving yourself an internal juice cleanse, wringing out your tissue, helping your lymphatic system, which is the body's garbage disposal responsible for filtering and flushing toxins from your entire system," she says. "Getting rid of these toxins is vital for that radiant glow and to help flush fat for that healthy summer body and spirit."
Want more active recovery ideas? Find out why the future of fitness is looking lazy, and why slow fitness was what finally worked for one workout fiend.