Children With Autism Can Benefit From Naturalistic Interventions
mbg Editorial Assistant
By Abby Moore
mbg Editorial Assistant
Abby Moore is an Editorial Assistant at mindbodygreen. She earned a B.A. in Journalism from The University of Texas at Austin and has previously written for Tribeza magazine.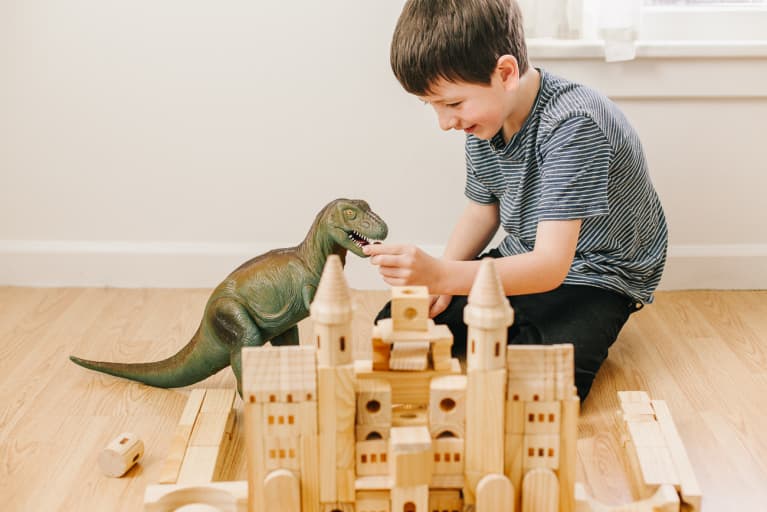 December 9, 2019 — 21:24 PM
The current estimated prevalence of children with autism is one in 59, according to Micheal Sandbank, Ph.D. With proper intervention, children with autism can achieve developmental milestones to help them navigate life as independently and successfully as any other child. Until now, there has not been conclusive research on which of those interventions is the most effective.
This meta-analysis, which was compiled by Sandbank and her team from 150 intervention studies, found naturalistic developmental behavioral interventions (NDBIs) yielded the most promising results on language, social communication, and play for children with autism.
One of the most common therapies for young children with autism, according to Sandbank, are behavioral interventions. These are typically led by an adult in a formal setting. The lessons are more structured and include asking children questions, teaching them proper responses, and providing rewards when progress is made.
On the other side of the scale, developmental interventions are a more play-based type of therapy in which professionals observe children during normal playtime and later join them in their actions. The objective is to teach the child what he or she is already developmentally prepared to learn.
NDBIs are a combination of behavioral and developmental interventions. "They are provided in natural contexts and interactions, like play routines, and incorporate behavioral strategies," Sandbank said. "They also provide natural rewards, like the continuation of play rather than edible treats."
What did the researchers find?
The team at the University of Texas at Austin searched through more than 12,000 citations, emailed more than 100 investigators requesting unpublished information, and analyzed every study comparing children's outcomes with and without certain interventions.
These outcomes included cognitive effects, daily living skills (like brushing teeth), language, social emotional functioning, motor skills, play, social communication (like eye contact), repetitive behavioral patterns, and sensory stimuli responses.
Different therapies include behavioral, developmental, NDBIs, as well as technology, sensory, and animal-assisted interventions.
The evidence base for the various interventions in young children with autism has rapidly transformed in recent years, according to Sandbank. "A decade ago, there were almost no large high-quality group studies of interventions," she says. "Now there are over 50, and growing."
What's next for the research?
Sandbank said their meta-analysis supporting NDBIs is the first of its kind to answer questions of effectiveness with such high-quality proof. Despite the progress, she said there is still a long way to go for the research.
One way clinicians and insurance companies can both embrace and support children with autism is by learning the NDBI and developmental approaches, which according to Sandbank are particularly easy to integrate into daily life and routines.
Continuing research to gain further understanding of proper interventions, at the very least, can help educate people about ASD and pave the way for a more compassionate view of the disorder.
"As we have become better at recognizing autism and understanding what it encompasses...we have learned to embrace and affirm autistic individuals as being whole members of society with valued differences," she says.