This Helps Combat The Negative Effects Of Childhood Trauma
mbg Health Contributor
By Gretchen Lidicker, M.S.
mbg Health Contributor
Gretchen Lidicker earned her master's degree in physiology with a focus on alternative medicine from Georgetown University. She is the author of "CBD Oil Everyday Secrets" and "Magnesium Everyday Secrets."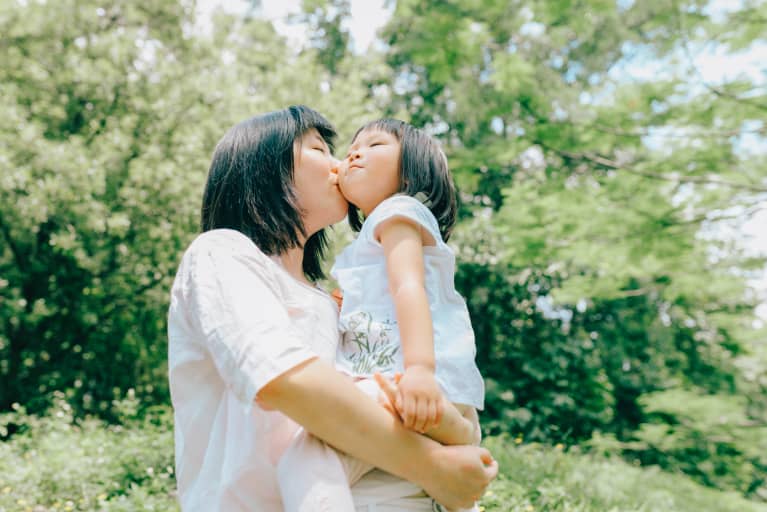 September 18, 2019 — 11:00 AM
In a perfect world, every child would grow up in a completely stress-free environment, securely tucked away from all the hardships of the real world. But the reality is that we can't protect children from everything. Sometimes shit just happens.
Unfortunately, previous studies have connected significant adversity as a child to worse health outcomes later in life. The good news is that a new study suggests that there's something we can do to combat this alarming trend.
Tallying up positive and negative childhood experiences.
To dive into the link between childhood trauma and health outcomes, scientists at Brigham Young University (BYU) asked a group of participants to report on the number of adverse childhood experiences (ACEs) they had as a child. ACEs include experiences like:
divorce
abandonment
having a family member in jail
mental illness
addiction
abuse
death
Then, the participants were also asked to report the number of counter-ACEs they experienced, which included factors like:
having good friends and neighbors
having beliefs that provide comfort
having a caregiver whom you feel safe with
feeling comfortable with yourself
having a predictable home routine like regular meals and bedtimes
liking school
having teachers who care
having opportunities to have fun
The researchers found that about 75% of participants had at least one ACE (the average was 2.67 per person) and that about 39% of the participants experienced all of the counter-ACEs listed above. Finally, the researchers also had participants report on their health status as an adult, including factors like vegetable consumption, exercise, sleep difficulties, perceived stress, depression, gratitude, forgiveness of self, and familial closeness.
Understanding the impact of ACEs and counter-ACEs.
Published in the journal Child Abuse & Neglect, the results of the study showed that when a person had four or more ACEs, having a high number of counter-ACES lessened the negative health effects they experienced as an adult. As Ali Crandall, professor of public health at BYU, explained, "If your child has experienced trauma and you're worried about the long-term impact it could have on them, these findings show that the positive experiences in childhood lead to better adult physical and mental health, no matter what they have faced."
Interestingly, the authors also found that not having enough counter-ACEs also led to poor health outcomes—regardless of the number of ACEs. In other words, "As bad as ACEs may be, the absence of these positive childhood experiences and relationships may actually be more detrimental to lifelong health, so we need more focus on increasing the positive," said Crandall.
This study's findings teach us some important lessons. For one, it's not just parental support that matters; teachers, neighbors, friends, and other caregivers can have a hugely positive impact on a kid's health. And second, positive childhood experiences seem to be even more impactful than negative ones. According to Crandall, focusing on increasing counter-ACEs is the best place to start as a parent.