Should A 'Sleep Class' Be Part Of Every High School Curriculum?
mbg Health Contributor
By Gretchen Lidicker, M.S.
mbg Health Contributor
Gretchen Lidicker earned her master's degree in physiology with a focus on alternative medicine from Georgetown University. She is the author of "CBD Oil Everyday Secrets" and "Magnesium Everyday Secrets."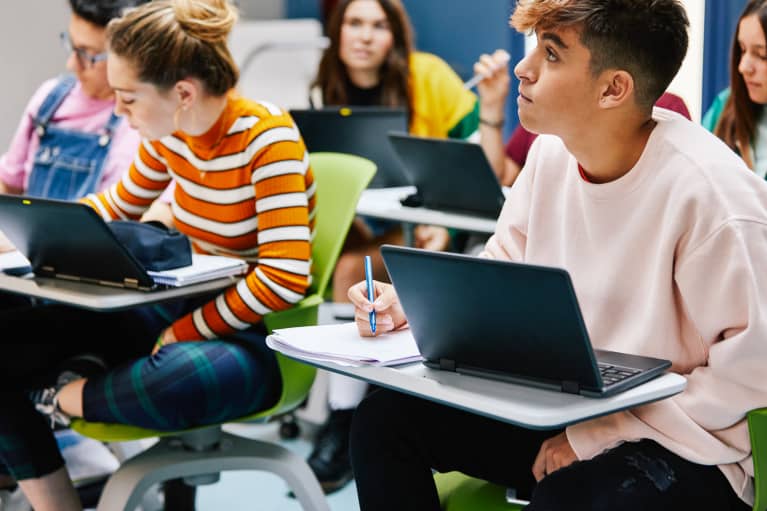 November 7, 2019 — 2:08 AM
Getting high-quality sleep is arguably the most important thing we can do to benefit our health. Proper sleep hygiene is associated with better mental health, a stronger immune system, and might even help us lose weight. The list of sleep's benefits can go on and on (and on!).
If you're a great sleeper, you probably don't think much about it. But if you struggle with insomnia or any other of the 80 different types of sleep disorders, sleep is probably a constant source of worry. Sometimes it feels like a percentage of us were born with an innate ability to maintain healthy sleep habits, and the rest of us just weren't.
But according to a new study, it might not have to be that way. A team of researchers from Örebro University in Sweden has shown that school-based sleep education programs for adolescents might have long-term benefits.
Should we be learning how to sleep in high school?
For the intervention, the researchers recruited 286 adolescents to complete hourlong sleep educations session once per week for six to seven weeks. The sessions were incorporated into the school's curriculum, and the participants were divided into three groups based on their average sleep duration at the start of the study.
The first group was labeled "inefficient" because they got less than seven hours of sleep, the second was "borderline" and got seven to eight hours of sleep, and the last group was labeled "adequate" because they got more than eight hours.
The findings, published in the Journal of Sleep Research, showed that one year later, participants in the intervention group were 200% less likely to report insufficient sleep when compared with the control group, which included 3,336 adolescents of similar age who did not complete the sleep education program. The results also showed that sleep knowledge improved in the intervention group but that there were no changes in factors that affect sleep hygiene such as perceived stress or bedtime worry.
How much does sleep education lead to improve sleep outcomes?
Surprisingly, factors like technology use and poor sleep hygiene behaviors in the intervention group actually worsened after one year, but the participants were still getting more sleep at the follow-up. Overall, the results point to the idea that these school-based interventions could be helpful. According to the lead author of the study, Serena V. Bauducco, Ph.D.: "These results are promising and mean that we might be able to prevent the development of sleep problems in youths."
Bauducco also pointed out that more work needs to be done to know how much these "sleep classes" affect sleep quality—and exactly what works and what doesn't. "We encourage future sleep intervention studies to investigate long-term outcomes—after one year or even longer—and to look for mechanisms of change," she continued.
For now, this study's success suggests that educating young people on the importance of sleep could make a difference, and it's a good reminder to us adults that giving a little extra thought to our sleep behaviors can make a difference.