There Are 3 Types Of Drinkers, According To This Study
mindbodygreen Editorial Assistant
By Sarah Regan
mindbodygreen Editorial Assistant
Sarah Regan is a writer, registered yoga instructor, and Editorial Assistant at mindbodygreen. She received her bachelor's in broadcasting and mass communication from SUNY Oswego, and lives in Brooklyn, New York.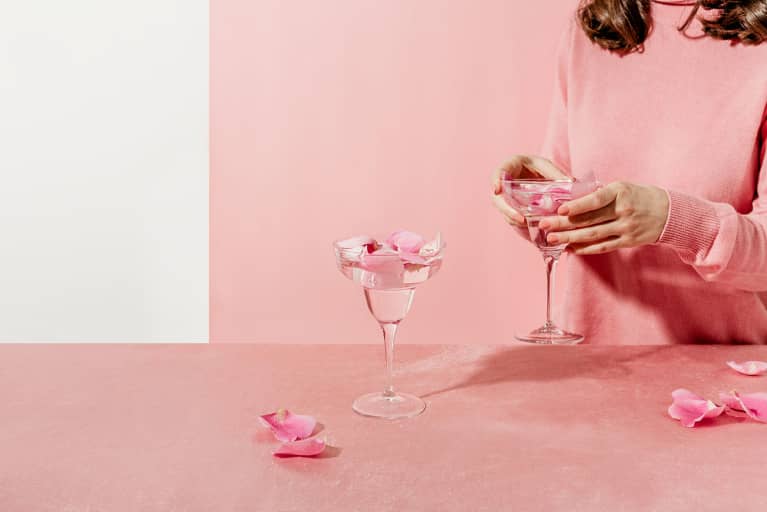 November 29, 2019 — 19:08 PM
Have you ever wondered why certain people are able to drink casually with no issues, while some can't seem to drink without some sort of consequence? What is it, exactly, that makes a binge drinker?
Scientists asked that same question, resulting in a new study on the neurological side of addiction.
By observing mice's brain activity when exposed to alcohol, they were able to predict which of the mice would drink compulsively, bringing us one step closer to understanding why it happens at all.
The study was conducted by neuroscientists at Vanderbilt University and The Salk Institute. They observed mice in their lab, and were able to identify three distinct types of drinkers: light, heavy, and compulsive bingers.
The study defines a binge drinker as one who continues to drink "despite it resulting in a negative outcome."
Even when the mice were given the same opportunity to drink, those three categories were displayed, suggesting there was something different going on with the compulsive mice.
This led to what assistant professor of pharmacology and author on the study, Cody Siciliano Ph.D., called "a surprising finding" based on the mice's brain activity.
"We were actually able to predict which subjects would become compulsive," Siciliano said, "based on neural activity during the very first time they drank."
What makes a binge drinker
The researchers initially looked at the mice's brain activity the first time they were exposed to alcohol.
They discovered a specific circuit in their brains that either simulated or diminished "punishment signals" while drinking.
And amazingly, the differences in brain activity presented themselves long before compulsive drinking ever did. The mice whose neural activity lit up the brain scans, simulating punishment, were less likely to develop compulsive drinking behaviors. Decreased neural activity, on the other hand, predisposed the mice to compulsive behavior.
As the researchers tracked the mice's brains during drinking, they were then able to accurately predict compulsive behavior depending on how their brains responded (or didn't respond) to alcohol from the very start.
What's next for these findings
According to this study, as much as 30% of adults drink compulsively when presented with alcohol—a pretty hefty percentage. But now, the discovery of this biomarker in the brain could change how we look at alcohol addiction.
And that goes for other substances, too.
"We developed this model to study the path to alcohol use disorder," Siciliano says, "but we plan to apply a similar framework to advance our understanding of compulsive use of other substances."
With researchers continuing to study this biomarker, we get closer to not just understanding, but curbing addiction, offering hopeful news to the 20 million Americans battling it.