This Is What Scary Movies Teach Us About Our Brains
mbg Editorial Assistant
By Christina Coughlin
mbg Editorial Assistant
Christina Coughlin is an editorial assistant at mindbodygreen. She graduated from Georgetown University in 2019 with a degree in psychology and music.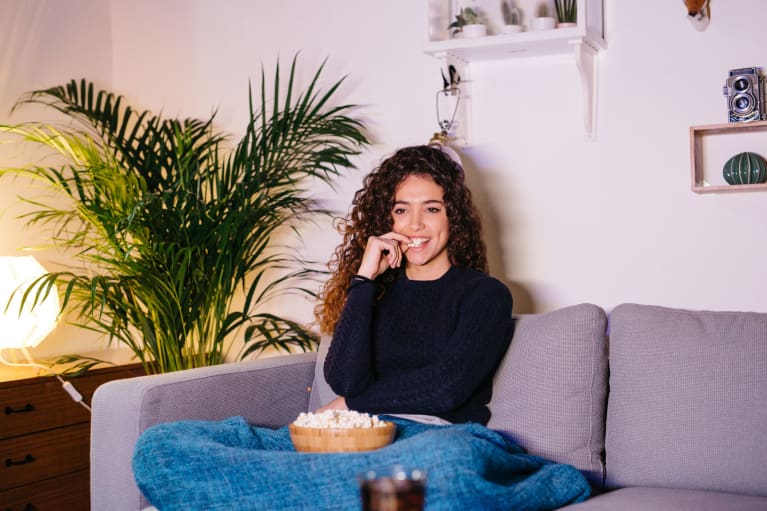 January 25, 2020 — 2:04 AM
A horror movie has the ability to inflict fear on its viewers, but how far does this fear really go—and how long can it last? Finnish researchers decided to test how the brain was affected by watching horror films and found that they have the ability to manipulate the brain.
Researchers began by identifying the top 100 "best and scariest" horror movies from the past 100 years. Fifty-one participants were selected to watch a variety of these movies and they were monitored by using brain imaging in addition to filling out a behavioral questionnaire based on how the movies made them feel.
The brain scans showed that the horror movies actually have the ability to manipulate a person's brain and mimic the reactions a person would feel if they were actually in a dangerous situation.
"Our brains are continuously anticipating and preparing us for action in response to threat, and horror movies exploit this expertly to enhance our excitement," says researcher Matthew Hudson.
The study also identified two different types of fear associated with horror films: a creeping dread, and an instinctive response. According to researcher Lauri Nummenmaa, the former appears when you feel uneasy inside and know something isn't right, while the latter is a direct response to an immediate threat, like a monster jumping up on the screen.
Fear of the unknown was heavily present in these results as well—researchers found that participants were much more afraid when a threat wasn't visible on the screen but was something that was implied, unknown, or lurking nearby.
Whether you've laughed, screamed, or cried, we've all felt the emotional effects of a film from watching it. According to this study, 72% of people report watching a horror movie at least once every six months.
With the peak of awards season approaching soon, it can be fun to understand what really drives us to this unique form of entertainment and how it actually shapes our minds.