Eating Home-Cooked Meals Can Reduce Chemicals In Your Body, Study Finds
mbg Editorial Assistant
By Jamie Schneider
mbg Editorial Assistant
Jamie Schneider is the Editorial Assistant at mindbodygreen with a B.A. in Organizational Studies and English from the University of Michigan. She's previously written for Coveteur, The Chill Times, and Wyld Skincare.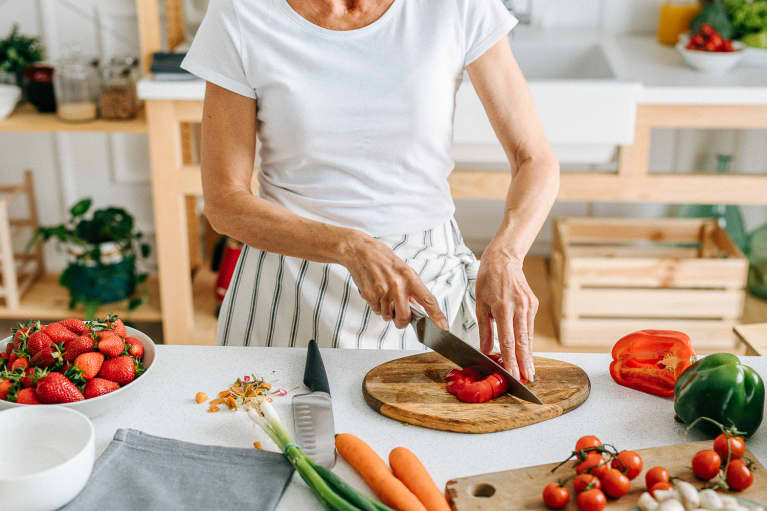 October 10, 2019 — 21:35 PM
While ordering takeout or going out to dinner may win in terms of ease, home-cooked meals come out on top when it comes to the health benefits. In addition to helping you save money (that delivery fee gets me every time), you're bound to use way less oil when you cook at home than if you order takeout. Plus, the social interaction from eating a home-cooked meal with family or friends is shown to boost mental health.
And according to a study published in Environmental Health Perspectives, there's a new reason to ditch the delivery in favor of slaving over the stove: Ordering in food can increase the level of harmful chemicals in our bodies, called perfluoroalkyl substances (PFAS).
PFAS are a class of chemicals that can be found in many nonstick, stain-resistant, and waterproof products. These chemicals, according to the study, have been linked with health concerns such as cancer, thyroid disease, immune suppression, low birth weight, and decreased fertility. While food crops and livestock can also contain levels of PFAS (if they're exposed to contaminated soil and water), most PFAS are found in food packaging materials.
"If you get a hamburger, you'll notice that it's not really wrapped in paper," says regenerative health specialist Rand McClain, D.O. "It's wrapped in paper that's got a coating on it, and that's the PFAS that keeps it from dripping everywhere. They're used in food packaging to create this oil- and water-resistant medium."
Some countries have even banned the use of PFAS due to their effects on many health concerns, McClain adds. However, in the United States, it's difficult to place a ban on these chemicals, as PFAS represent a group of many harsh toxins. "This is a category, not a particular substance," he tells me.
To find out whether home-cooked meals could reduce concentrations of PFAS, researchers analyzed data from 10,106 participants who had answered detailed questions about their diet over time. They also studied these participants' blood samples to determine whether they contained a number of PFAS chemicals.
What they found was that the participants who ate more meals at home (with food purchased from a grocery store) had significantly lower levels of PFAS in their bodies.
How can you reduce your consumption of PFAS?
It would make sense that food from takeout containers and fast-food packaging would have higher concentrations of these chemicals, but the study also found that people who ate more frequently at restaurants had higher levels of PFAS in their bodies as well, meaning, even if you order the healthiest dish at your favorite restaurant, your food might still be contaminated by its packaging.
But before you purchase all of those ready-to-make dinners in the frozen aisle and deem it "home-cooking," be aware that the food packaging in grocery store items can also contain PFAS. The grocery-store product with the highest levels of PFAS, in fact, is none other than microwave popcorn, as researchers presume that the chemicals from popcorn bags can contaminate this low-calorie snack.
While this news definitely puts a damper on your next at-home movie night, McClain suggests that there are ways to get your buttery popcorn fix and avoid consuming PFAS.
"Take things out of the packaging before you cook them," he advises. "Any sort of energy you apply, whether it be the microwave or any sort of heating, is going to make that chemical leach into the food."
The bottom line: Be aware of the packaging of your favorite foods. As always, shopping for organic, in-season produce is a great way to avoid harsh chemicals from the get-go. But if you do have a spur-of-the-moment pad Thai craving or want to dine at a restaurant with friends, you might want to make sure your food isn't coming into contact with toxic packaging.
McClain says you might even want to order your food unwrapped, as the problem occurs in the packaging, not the cooking process itself. "The food isn't necessarily cooking in PFAS, but it's the packaging after it's been made that's the issue," he says.
"The general conclusion here is the less contact your food has with food packaging, the lower your exposures to PFAS and other harmful chemicals," co-author of the study Kathryn Rodgers says. "These latest findings will hopefully help consumers avoid these exposures and spur manufacturers to develop safer food packaging materials."
While cooking at home might take a little more planning, the lack of PFAS from a home-cooked meal is definitely worth the extra effort. Even if you wouldn't consider yourself a seasoned chef, consider this your sign to start learning the basics. After all, you can't go wrong with a simple pasta dish for the laziest of dinners—just be sure to take the ingredients out of their packaging before cooking, to be safe.