3 Foods Found To Lower Type 2 Diabetes Risk In New Research
mbg Spirituality & Relationships Writer
By Sarah Regan
mbg Spirituality & Relationships Writer
Sarah Regan is a Spirituality & Relationships Writer, and a registered yoga instructor. She received her bachelor's in broadcasting and mass communication from SUNY Oswego, and lives in Buffalo, New York.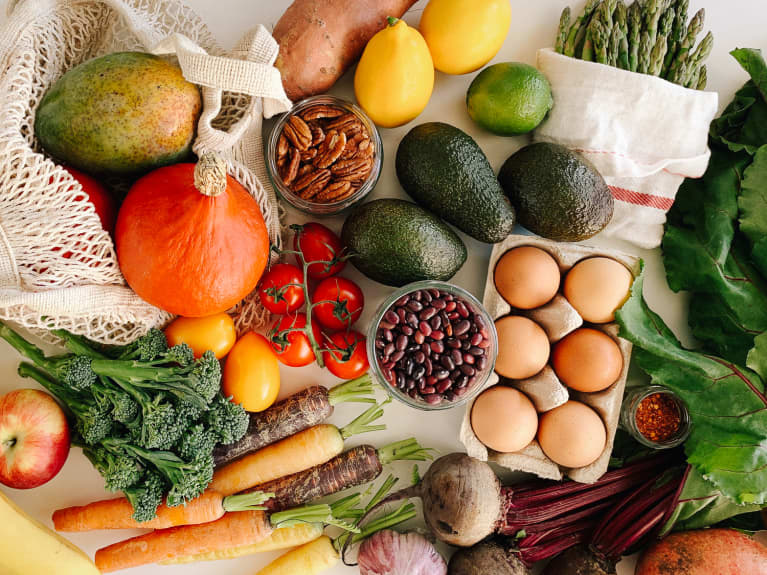 This article was produced to support the mindbodygreen supplements+ line. Our supplements adhere to the highest standards of ingredients and quality. We hope you enjoy these products, for more information
click here
.
Type 2 diabetes is a steadily growing issue in the United States and beyond. Nearly one in 10 Americans have diabetes, and 90 to 95% of those cases are type 2, which occurs when the body's cells don't respond to insulin in the way they should. But according to new research from Harvard, along with the University of Cambridge in the U.K., there are three kinds of foods that are linked with lower risk for type 2 diabetes.
What the researchers found.
To study different foods as they related to diabetes risk, researchers conducted two separate studies to look at vitamin C, carotenoids, and whole grains.
First, researchers from Cambridge studied 9,754 people with type 2 diabetes, along with 13,662 people who'd participated in the European Prospective Investigation Into Cancer and Nutrition. Based on their findings, higher levels of both vitamin C and carotenoids were linked with a lower risk of developing type 2 diabetes. (Bonus points: Those two are great for your skin as well!*)
In the second study, Harvard researchers looked for links between type 2 diabetes rates and whole grain consumption based on survey data from nearly 200,000 people. Those who ate the most whole grains had a 29% lower rate of type 2 diabetes, compared to those who didn't eat them.
Harvard researcher Yang Hu, Sc.D., notes in a news release that these findings "provide further support for the current recommendations that promote increased consumption of whole grains as part of a healthy diet for the prevention of type 2 diabetes."
Vitamin C, carotenoids, and whole grains are pretty easy to come by. Here are some common foods to look out for:
Red and green peppers
Citrus fruits
Kiwi
Broccoli
Strawberries
Brussels sprouts
Cantaloupe
Tomatoes
Cauliflower
Cabbage
Spinach
Carrots
Pumpkin
Sweet potato
Cantaloupe
Kale
Mangoes
Peaches
Nectarines
Yellow squash
Watermelon
Tomatoes
Brown rice
Corn
Quinoa
Spelt
Bulgar
Whole oats
Amaranth
Whole barley
Millet
Buckwheat
More and more, we're beginning to understand the importance of food as medicine and how to harness its power for greater overall well-being. Of course, eating these three food groups won't protect against type 2 diabetes on their own or make up for lack of exercise or too much junk food—but incorporating them into a regular diet of nutritious, whole foods certainly can't hurt.