3 Things To Do Before & During Travel That Will Make It Way Less Stressful
Psychotherapist
By Emily Roberts, M.A., LPC
Psychotherapist
Emily Roberts, M.A., LPC, is an NYC-based psychotherapist, parenting consultant, educational speaker, and author of Express Yourself: A Teen Girl's Guide to Speaking Up and Becoming Who You Are. She received her master's in counseling psychology from St. Edward's University.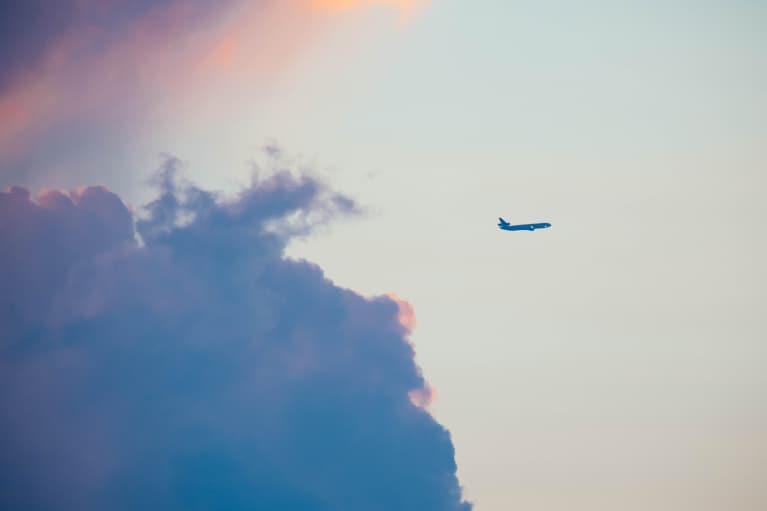 Most of us feel at least some discomfort when we think about leaving home for extended periods of time. And for good reason: The act of leaving a place we're comfortable with to go to a new or foreign environment can send us into fight-or-flight mode, alert and ready for anything. Research shows that travel over relatively short distances is associated with higher levels of cortisol, the stress hormone. As a psychotherapist and someone who struggles with anxiety, I'm all too familiar with this drill.
Fortunately, the more mindful we become of our anxiety surrounding travel, and the more awareness we develop, the more we can train ourselves to move through it in a positive way.
A few things to do before you travel that will help reduce your stress:
1. Identify your triggers.
While you've probably been told before that mantras and positive thinking can help ease travel anxiety, the truth is a little more nuanced than that. The first step in making your travel experience less stress-inducing is addressing your triggers ahead of time. For example, I've figured out that if I watch the news while I'm prepping to go away, I turn into a hot mess, worrying too much about the outcome of my trip instead of staying in the present moment. Now, I avoid the TV and social media altogether the night before a flight.
2. Be positive and proactive.
Once you identify and limit your triggers, you can start practicing positive thinking. Visualize how well things will go: the quick car ride, the short lines, the smooth takeoff. This can help shift your thinking from doom and gloom to a more positive and productive mindset. Then you can start to plan ahead if possible problems do arise. If you hit a rough patch, in the air or in your mind, you want to be prepared. Think about what you'll need to stay emotionally regulated. Does a particular podcast distract you from that fear? Could you download it so it's ready to go on your phone?
3. Be prepared with stress-busting snacks.
Pack an empty bottle that you can fill with water and a snack so you're not stranded with prepackaged plane food or super thirsty by the time the plane takes off. Pack a nutritious snack that you'll actually enjoy (if you're flying, avoid the peanuts because there could be someone allergic to them on the plane), so you have something to curb your hunger and regulate your blood sugar, which will help control anxiety, too.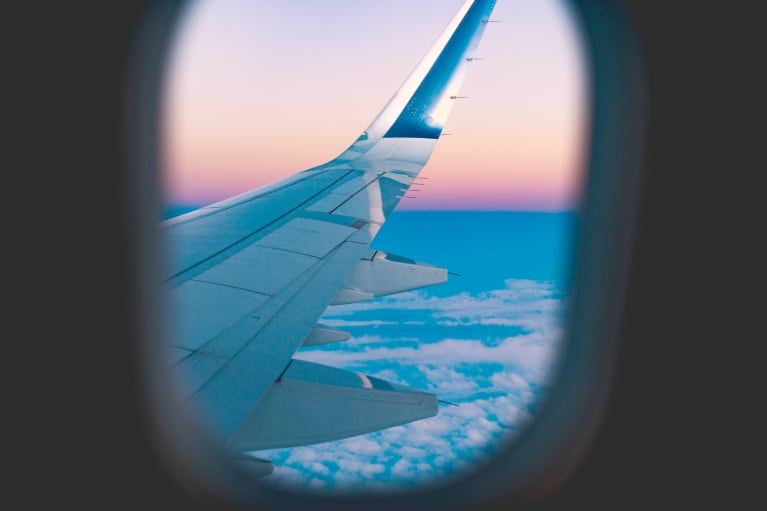 What about calming down when you're already on the road?
1. Come back to the breath.
For thousands of years, humans have turned to controlled breathing for quelling worried thoughts and regulating the nervous system. Research shows that during times of stress the breath can indeed calm us down. Try shutting your eyes and breathing in through your nose for five counts, holding for five counts, and breathing out your mouth for five counts. Just two minutes, or a couple of rounds of controlled or paced-breathing, can reduce apprehension and bring your body back into a state of alignment, especially when it's practiced daily.
Let go of the attachment to how it "should" be. Stress tends to narrow our lenses—it wants us to keep clinging to one particular outcome. Whenever you can, recognize when you're fixating on an outcome you can't control and widen the realm of possibility. When you are stuck in a fear-based response, you're pumping yourself with hormones and exhausting yourself. What goes up must come down, and you will crash emotionally if you don't take control of this vicious mind-body cycle.
By choosing to make contact with the present moment, you are automatically letting go of your attachments to the past and future. Worries about the past and future take you into a panicked state and make you feel disconnected from yourself and your life. Check back in with yourself and tap into this moment in time. Are you basically OK right now? What are you doing right in this moment; what are you touching; are you taking deep or shallow breaths? Pause just long enough to make these observations. Slow down the automatic response of fear by practicing present-moment awareness.
I used to obsess over every little thing that could go wrong during travel. To my surprise, my last trip was different. I had been practicing what I preach and teach for a while: mindfulness, emotional wellness, and daily meditation. My flight was majorly delayed before a connecting flight, but I was calm and collected as I sat stalled on the runway. My traveling companion asked, "Why am I more freaked out about this than you?" I replied, "Stay positive; we will make the next flight; it will work out the way it's supposed to." And guess what? It did.
Bloat got you bummed? Check out these snacks to pack in your bag that won't mess up your digestion when traveling.