Still Using Antibacterial Soap? Now Is The Time To Stop
mbg Health Contributor
By Gretchen Lidicker, M.S.
mbg Health Contributor
Gretchen Lidicker earned her master's degree in physiology with a focus on alternative medicine from Georgetown University. She is the author of "CBD Oil Everyday Secrets" and "Magnesium Everyday Secrets."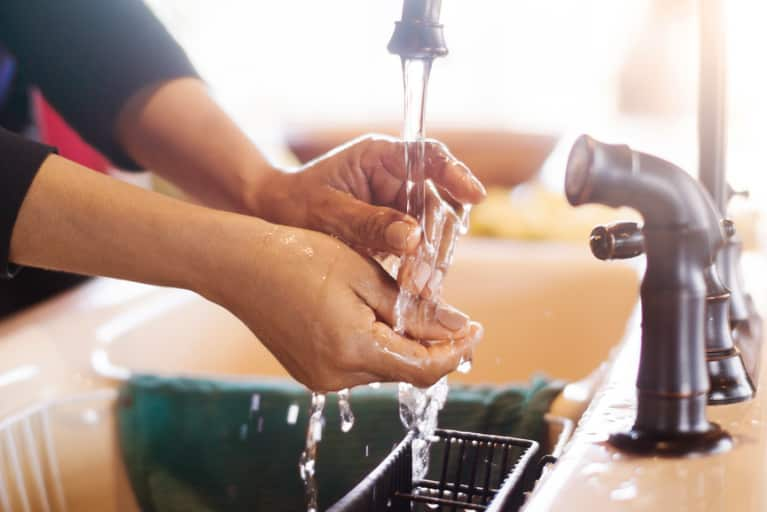 October 4, 2017 — 9:40 AM
Ever feel like health news is too overwhelming, fast-paced, or hard to decipher? Us too. Here, we filter through the latest in integrative health, wellness trends, and nutrition advice, reporting on the most exciting and meaningful breakthroughs. We'll tell you exactly what you need to know—and how it might help you become a healthier and happier human.
In recent years it's become clear that antibacterial soap isn't all it's cracked up to be. For example, Triclosan—one of the common ingredients in these household products—has been linked to a wide range of human and environmental health concerns. In fact, the FDA issued a ban in 2016 that disallowed the use of triclosan, triclocarban, and 17 other chemicals in handwashes and body washes.
Sadly, this didn't completely solve the problem, and some soap companies continue to use these ingredients and market antibacterial soaps as "more effective" at reducing germs and preventing sickness than other, gentler options. According to a recent Mayo Clinic Health Letter by Dr. Daniel Roberts, that is simply untrue. He wrote that "Recent findings indicate there's no reason to use antibacterial soaps. They're no more effective than plain soap at getting rid of germs." Despite good marketing, there's just no scientific evidence that they are better at reducing illness and infection, and, in fact, they have been shown to greatly contribute to the rise of antibiotic-resistant bacteria, which has become a major global health concern, and hormone dysfunction. In other words: Opt for plain soap and water; lathering with this combo will help lift germs from the skin and wash them down the drain.
At mbg we're all about limiting our exposure to toxins and chemicals as much as possible, so this is a good reminder that we can feel free to steer clear of any bar, foam, or gel soaps and body washes with the word "antibacterial" on the label. It might be a wise to also check and see what they're using at your office or school—just to be sure.