In The UK, Starbucks Is Making A Sustainable Statement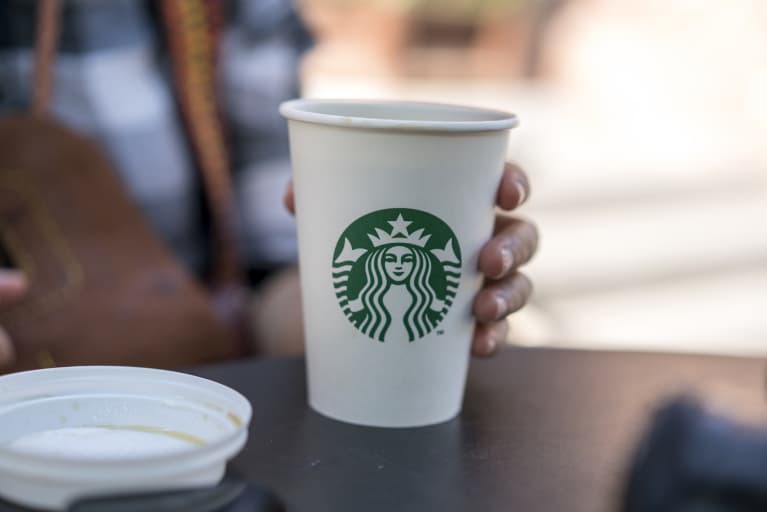 January 9, 2018 — 19:00 PM
To-go cups may be a huge part of coffee culture, but they have a dirty secret. A plastic lining deems most of them unrecyclable so they usually end up rotting in landfills. A handful of Starbucks locations in London are looking to clean up the caffeine market by implementing a tax on single-use cups.
Starting next month, 25 Starbucks outposts in central London will charge 5 pence (British pennies) for their to-go cups. While it's a small increase, the chain hopes it will be enough to inspire consumer change.
As it stands now, only 1.8 percent of Starbucks customers in the UK bring their own reusable cups. Over a three-month trial period, the 25 stores will collect data on whether more customers begin to supply their own cups. Proceeds from the tax will go to Hubbub, a nonprofit that will research how Starbucks can more effectively encourage a sustainable clientele.
"We recognise that there is growing concern about the number of single-use paper cups being used and that our customers are interested in ways that we can help them reduce, reuse and recycle," read the press release on the news. The release also states the the chain will "redouble efforts" to encourage customers to use ceramic cups when dining in.
4 billion Starbucks cups were trashed in 2016 around the world, so here's hoping the new model spreads stateside and beyond. Starbucks has doubled down on other sustainable initiatives in recent years—stores nationwide are now using greener building practices, sourcing ethical coffee, and reducing food waste—so this is a logical next step. The chain also already offers a small drink discount when you bring your own mug too, so keeping a reusable Venti cup on hand can add up in the long run.
Pssst...this major food company is also making encouraging green commitments.